Digital Goal Experience
A free digital experience that will maximize planning engagement for digital investors
Company
Charles Schwab
Year
2019-2021
Roles
Senior UX Design Manager
UI Designer
Design Thinking Facilitator
UX Researcher
Project Manager
Tags
UX, UI, UX Research, Innovation,
Project Management
The Innovation Accelerator is Schwab's incubator for uncovering new opportunities that were addressed by underserved client needs. A multi-disciplinary team (UX Designer, UX Researcher, R&D, Data Scientist, Project Manager, lab coach) is responsible for conducting a 12-week+ sprint to create and test new and disruptive ideas to determine client validation or to discover actionable learnings. We try hard to fail and fail fast and turn those failures into learnings for further action. We use the discover loop of the design thinking framework: Empathize for our users, Discover unmet needs and opportunities, Ideate on those client opportunities, create a prototype based on one or two concepts, and test those concepts with our clients.

I was a lead UX/UI designer on three Innovation Accelerator Labs. These labs include: Creating a new digital goal experience for our clients, developing a digital document collaboration tool to house client documents and building a social tool that will attract and engage more young investors.

As the Senior UX Design Manager, I lead and mentor the design and research team. I focus my time developing and coaching individuals on agile methodologies, design best practices and the product development lifecycle. I have established weekly design reviews and trainings around design thinking to increase proficiency and create a safe environment of continuous learning to boost individual careers. My goal has been to push teams to create new ideas and deliver on new business solutions with measurable business impact across the Innovation Accelerator team.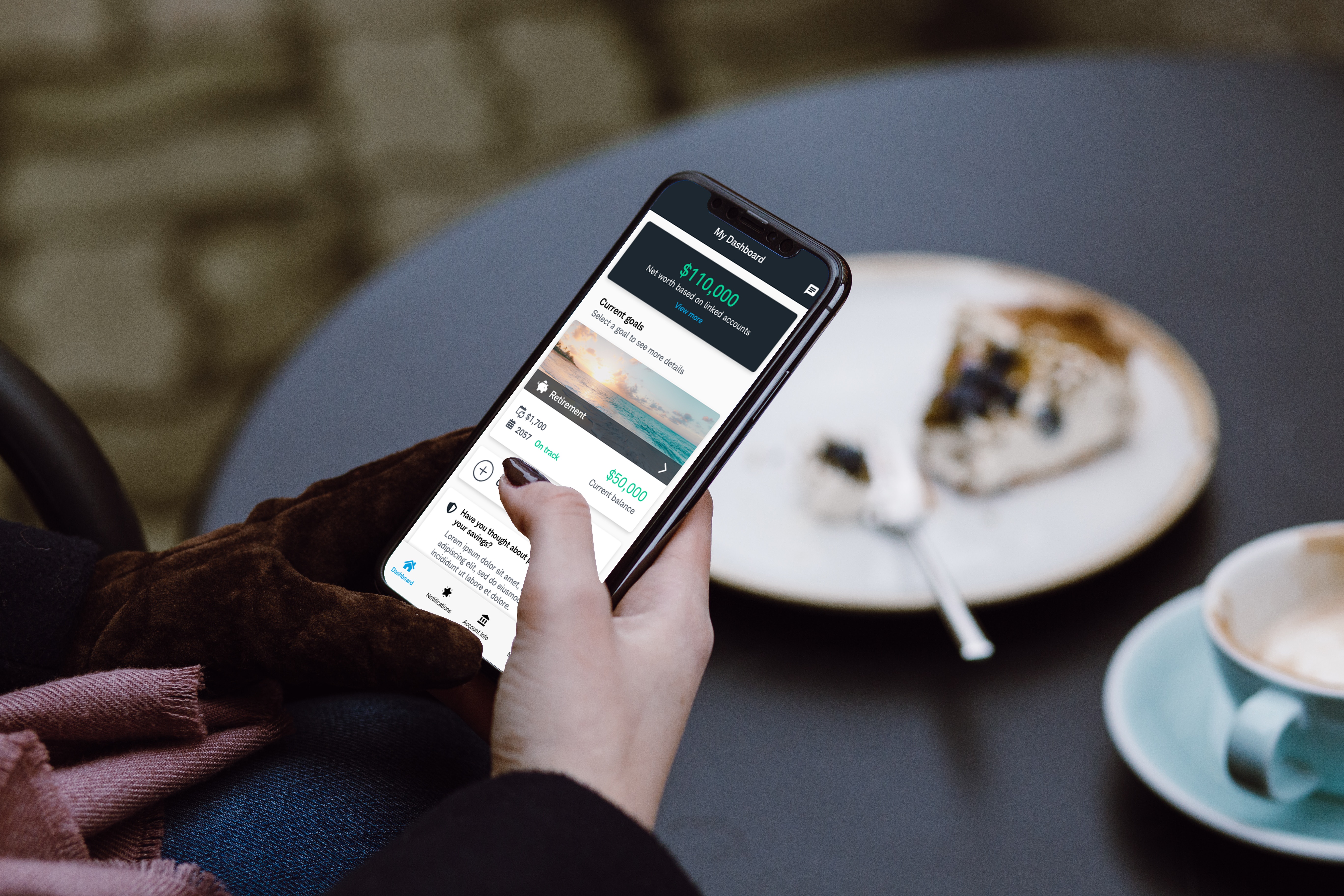 Digital Goal Experience Lab
In this lab, we were tasked with exploring a free digital experience that will maximize planning engagement for digital investors. Research showed that clients with a financial plan feel more confident about their financial future. Financial plans serve to generate next best actions for clients that take them towards their financial goals while utilizing Schwab products and service, with potential to drive Net New Assets (NNA).
Our goals for this lab were to:
Drive NNA

Drive better financial client outcomes

Improve client satisfaction

Increase planning penetration across all channels ( mobile, schwab.com, audio assistants, etc)
Reframe the problem statement
What free digital experience will leverage planning engagement to drive NNA for
digital investors?

Create a digital financial planning
platform that:
Gives the client the full and dynamic picture of their financial health

Minimizes initial time to value and provides ongoing value with personalized insights

Engages with them on their terms, in their device
What client job are we solving for?
As a client, "I want to make sure I get answers to my immediate financial questions, and to further understand the value of taking actions towards my financial goals, even if as those goals evolve."
Our target audience:
Disengaged saver and investor

Advisor-guided investor

Goal-driven investor

Tech-savvy/minded

30-50 years of age

Existing clients
What questions should
we consider?
What are the biggest barriers for clients on the next steps generated from a financial plan?

What value do clients expect from completing next actions in a free digital financial plan?

What would a client want to know three weeks after completing their free digital financial plan?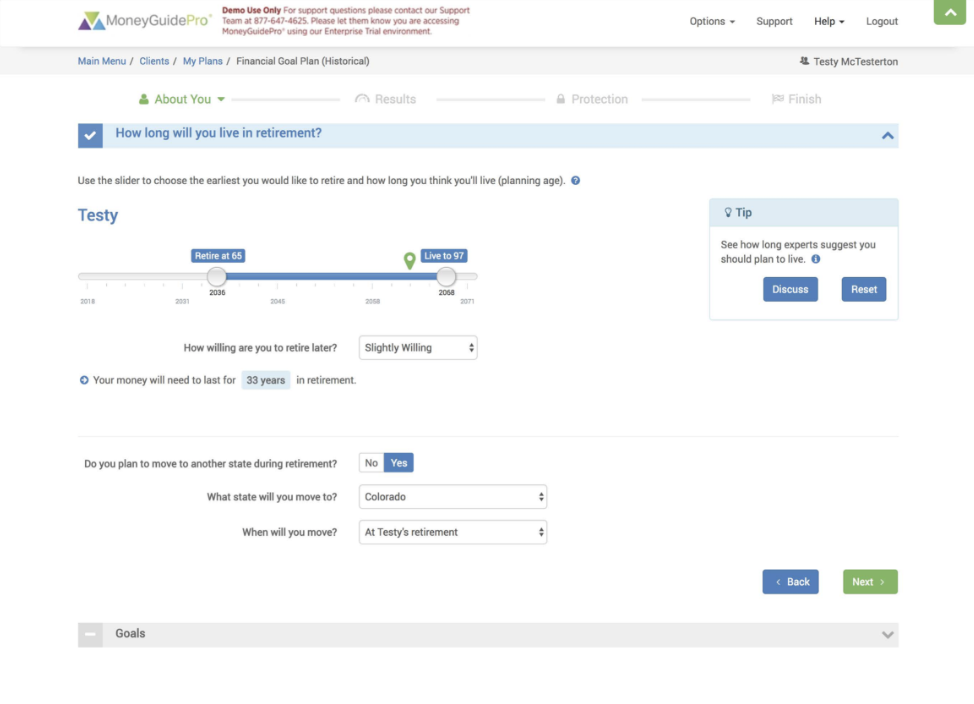 Understanding the root of
the problem
After speaking with our colleagues (6 subject matter experts in planning and open account space), we determined that we needed more information about what it is about planning that drives positive outcomes. We looked at the current financial planning experience MoneyGuide Pro (MGP) and started interviewing clients to understand how and why they used this product.
The team developed 14 hypotheses to determine a perspective of what our clients need today and in the future. These hypotheses were derived from previous research and findings from other Schwab teams. We graded our hypotheses against new market, competitive and user research.
The hypotheses that resonated most with research are bolded below.
H1: Sets financial expectations for clients
H2: Clients don't know what to do next
H3: Helps clients track their progress
H4: Helps clients get a holistic view of their finances
H5: Offers clients flexibility/control over defining their needs
H6: Prepares clients for unexpected events
H7: The plan is personalized for clients
H8: Nudging our clients to best practices
H9: Provide education around the "why" (around provided insights)
H10: Helps create sound financial habits
H11: Helps clients set up automatic processes
H12: Understanding where you are within current market conditions
H13: Having one single point of contact to guide/help client
H14: Provide clients with a good feeling
How can we turn anxiety into confidence?
We learned from client feedback and interviews that our clients are "anxious when planning for their financial future".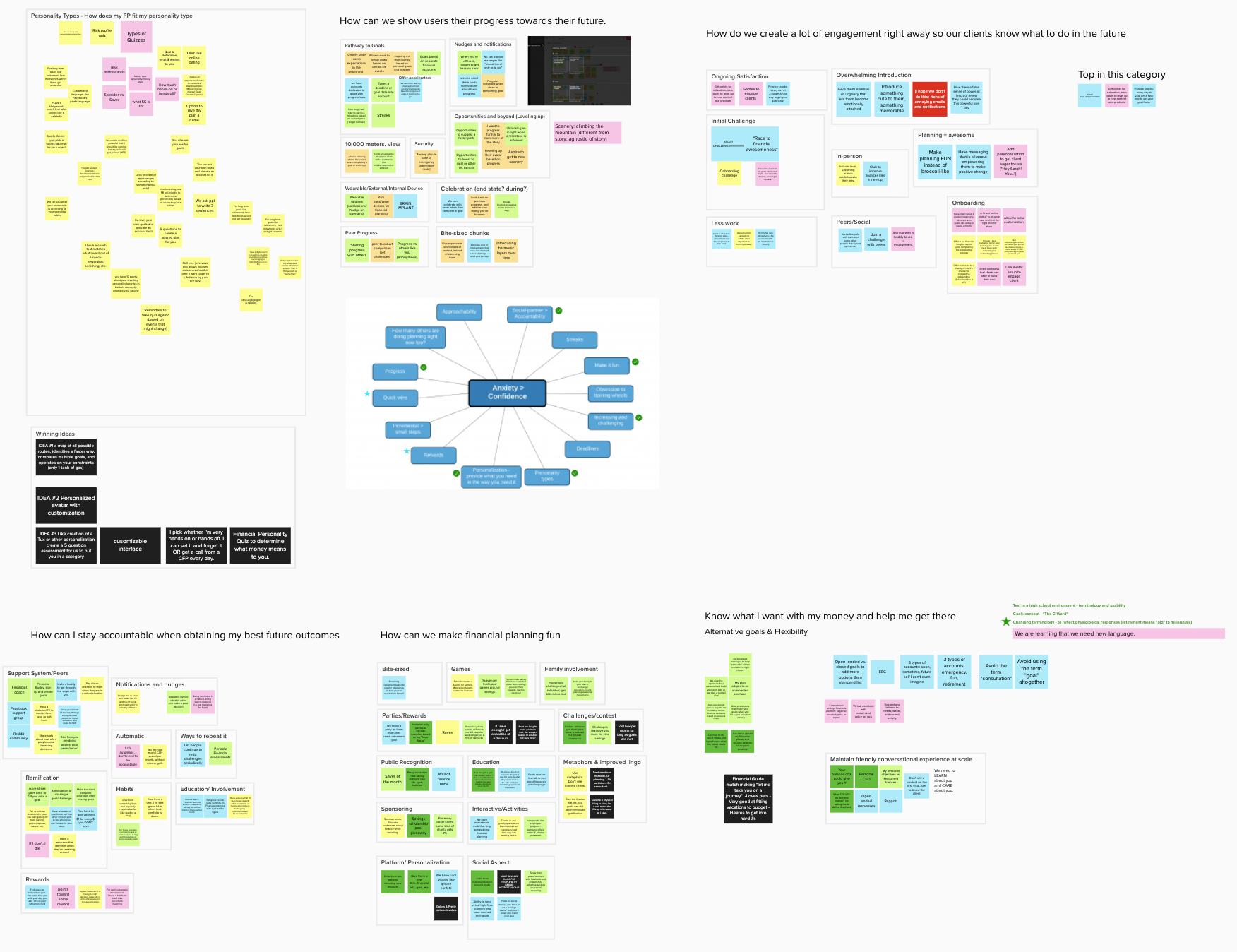 Learning from new habit formations
We dove deeper to understand where our clients had the most stress and anxiety in planning for a life event or starting and maintaining a new habit.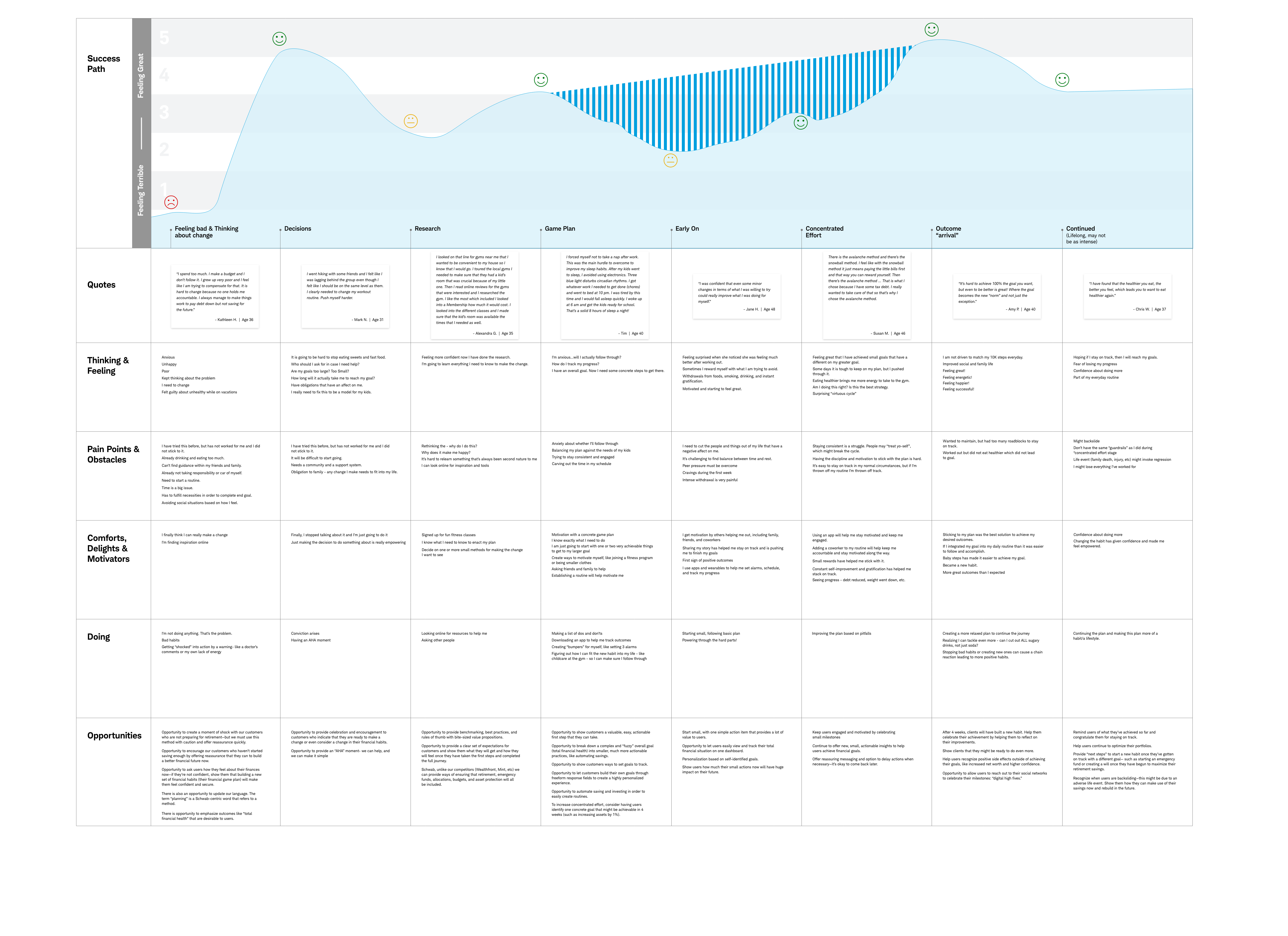 What did we learn from this journey map?
We conducted a survey with 50 participants. We asked our participants, "what new habit have you recently started?" "What research did you do prior to starting your new habit?" "Did you reach your end goal?"
Here are our findings:
Most participants did not know where to start, where to research and felt upset about wanting to change their current habits (losing weight, stop smoking, sleep more, etc)

Participants were most happy and less stressed once they have made a decision to change current habit or start new habit, creating a game plan, motivation to continue making the change (once making it over initial hump) and reaching outcome or goal

However, participants felt unhappy and anxious around doing the research and starting off with those first days and weeks to follow game plan. These were the areas of most drop off for participants. They didn't have those initial "rewards" to stay motivated to continue.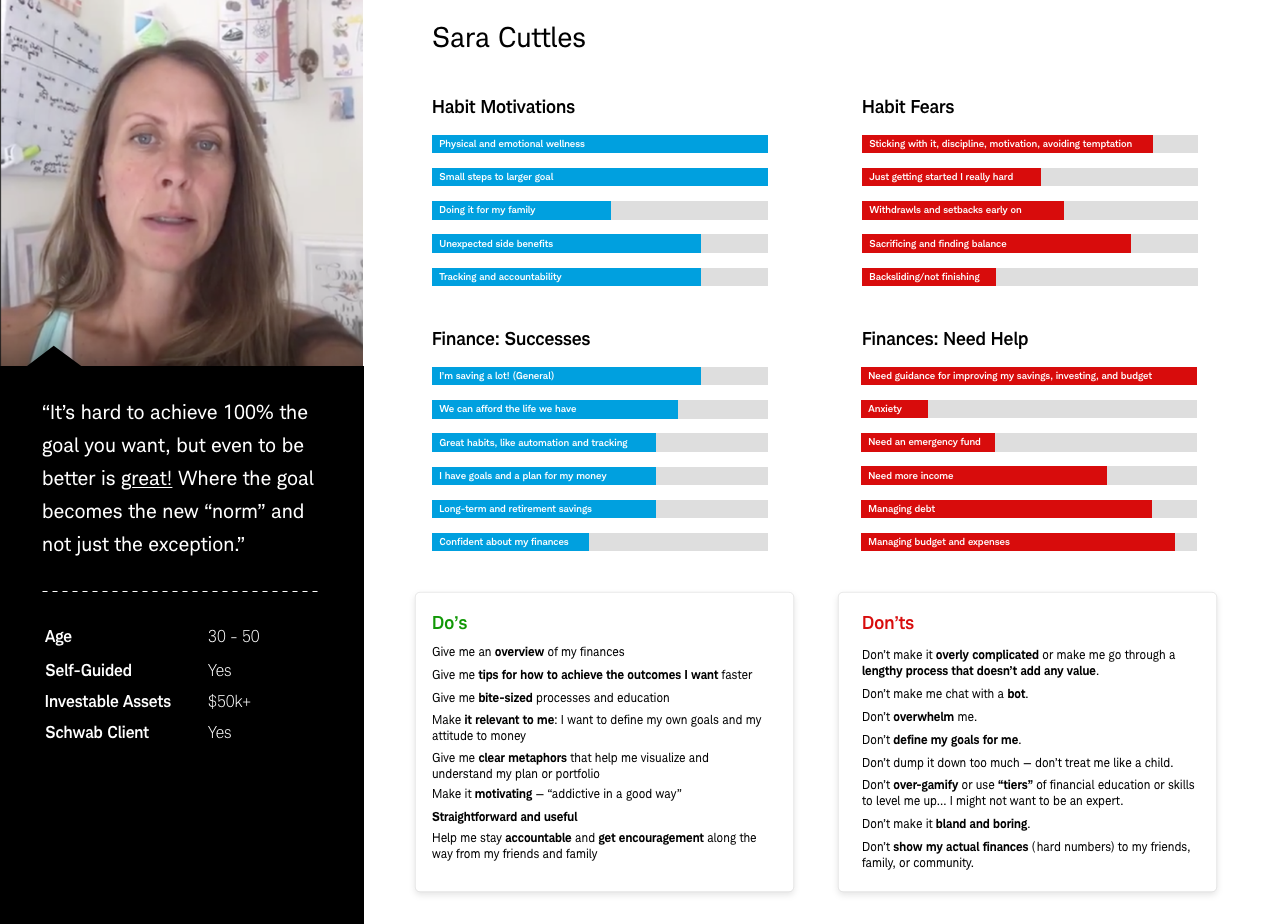 Persona
Based on the interviews/workshop we set up one persona. We referred to Sara throughout the entire product development process.
A few quotes from Sara:
"I need a platform that allows me to see everything in one place, track my progress and help me uncover new opportunities."

"Don't make it overly complicated or make me go through a lengthy process that doesn't add any value."

"Give me bite-sized processes and education."

"Don't over-gamify or use tiers of financial education or skills to level me up...I might not want to be an expert."
We empathized with our users and defined the problem space, next we ideated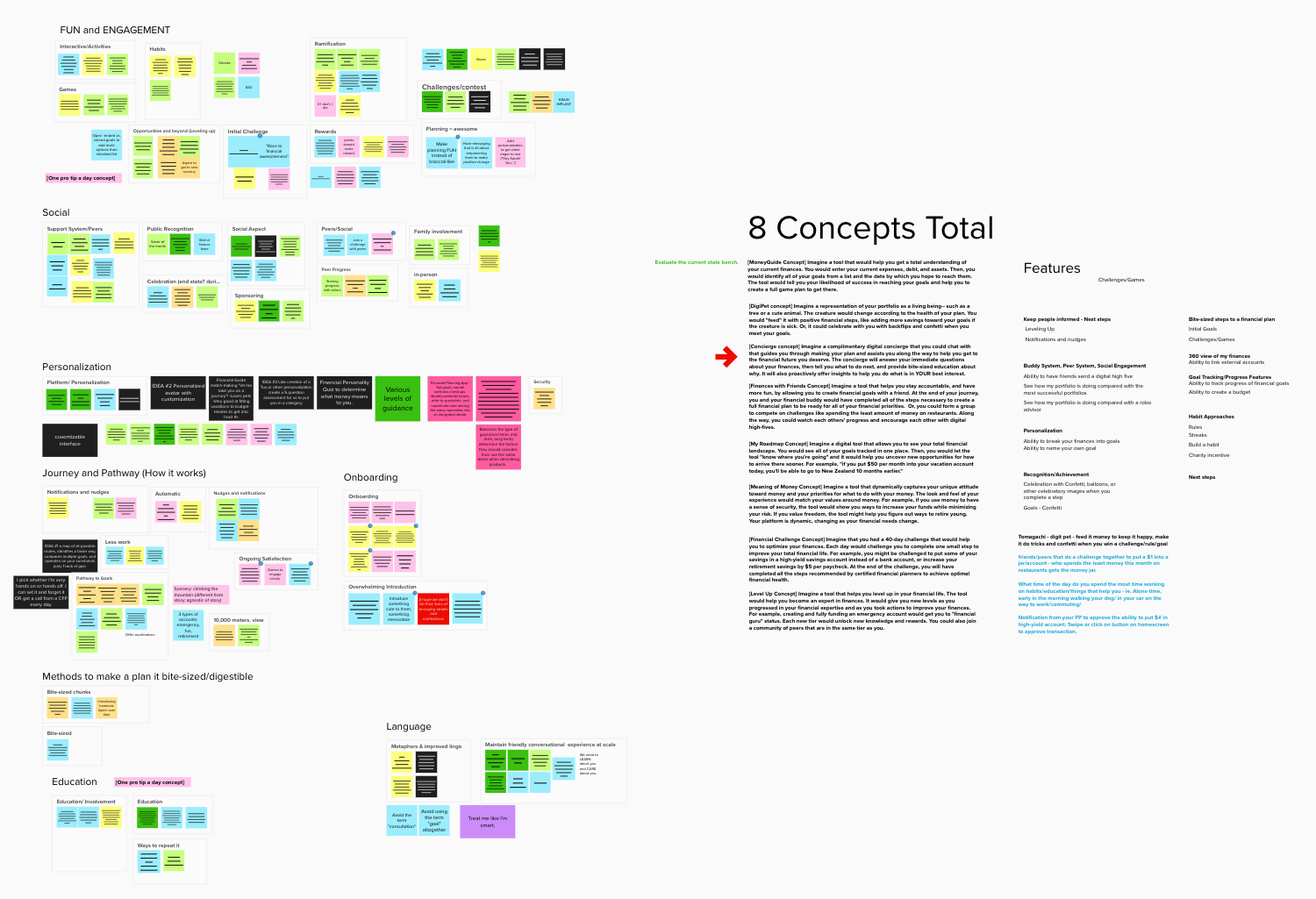 A few of our concepts
DigitPet
A concept that uses an animal or plant as a metaphor/representation of your finances.
Concierge
A complimentary digital concierge that guides you through making your plan and assists you along the way.
Finances with Friends
A tool that helps you stay accountable and have more fun, but allowing you to create financial goals with a friend.
Financial Challenge
40-day challenges for you to complete one small step to improve your total financial life.
My Roadmap
A digital tool that allows you to see your financial landscape, and helps you uncover new opportunities for how to arrive to goals efficiently.
A cage match between concepts and current experience (MGP)
After getting the survey results back, we found out that no single concept stood out as head and shoulders above the rest. We saw that My Roadmap concept and MGP scored the highest amongst the rest. We then went back to the concept board to see how much further we could push each concept including My Roadmap.
This is what we came up with next.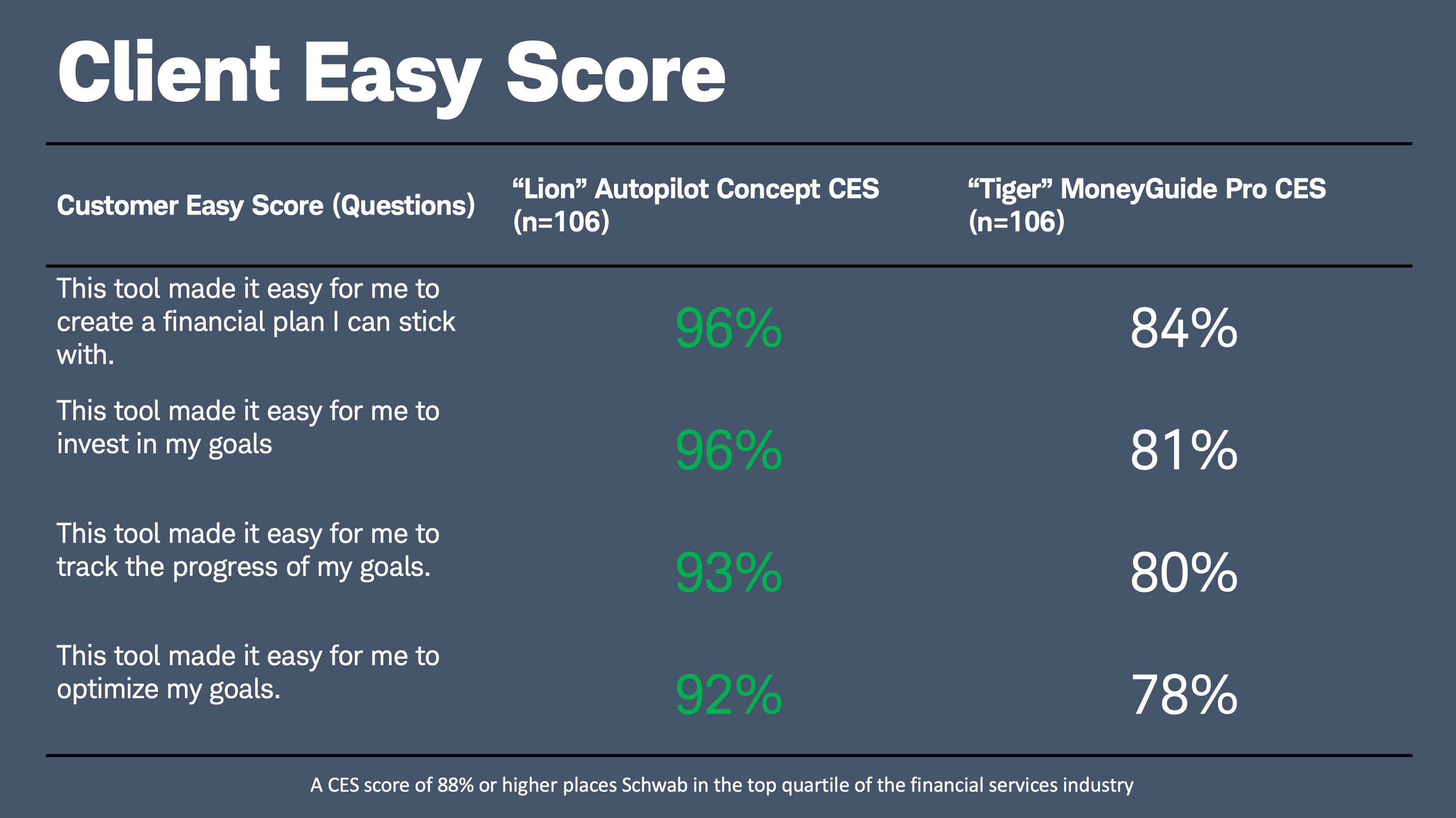 We used our feedback to further iterate upon the designs

And so we came up with this...
Final key learnings
Keep it simple: Our clients appreciated not cognitively overloading them with content. It is important to keep the design simple because it is easier to process in the brain. Less is always more.

Consistency across the omni-channel experience: Our goal is to create a seamless experience across all devices. Make sure this is done without the client knowing about it.

Navigation should be simple and intuitive: Learnability of our design is key for its success. Our clients should intuitively be able to navigate through our app via clear pathways and be able to complete all primary tasks without requiring any explanations.

Minimize data input: If you know what the form fields should say due to the information that was previously collected, make sure to autofill the forms. Our goal is to have our clients do less work, but earn more in the end.

Sandbox Functionality: Clients are looking to play with "what if" scenarios and highly valued the ability to see what altering variables might mean for them.

Automation. It's a win/win: Clients work less and have more stable outcomes, and our revenues become more reliable.

A "lighter" planning experience can provide great outcomes: Setting up even one goal will provide value—and once clients see the value, they are motivated to do more.
150
Survey + interview participants
+80
Final Net
Promoter Score