Young Social Investor
A social and simulated financial interaction to encourage young investors to
invest in the stock market
Company
Charles Schwab
Year
2019-2021
Roles
Senior UX Design Manager
UI Designer
Design Thinking Facilitator
Project Manager
UX Researcher
Tags
UX, UI, UX Research, Innovation,
Project Management
The Innovation Accelerator is Schwab's incubator for uncovering new opportunities that were addressed by underserved client needs. A multi-disciplinary team (UX Designer, UX Researcher, R&D, Data Scientist, Project Manager, lab coach) is responsible for conducting a 12-week+ sprint to create and test new and disruptive ideas to determine client validation or to discover actionable learnings. We try hard to fail and fail fast and turn those failures into learnings for further action. We use the discover loop of the design thinking framework: Empathize for our users, Discover unmet needs and opportunities, Ideate on those client opportunities, create a prototype based on one or two concepts, and test those concepts with our clients.

I was a lead UX/UI designer on three Innovation Accelerator Labs. These labs include: Creating a new digital goal experience for our clients, developing a digital document collaboration tool to house client documents and building a social tool that will attract and engage more young investors.

As the Senior UX Design Manager, I lead and mentor the design and research team. I focus my time developing and coaching individuals on agile methodologies, design best practices and the product development lifecycle. I have established weekly design reviews and trainings around design thinking to increase proficiency and create a safe environment of continuous learning to boost individual careers. My goal has been to push teams to create new ideas and deliver on new business solutions with measurable business impact across the Innovation Accelerator team.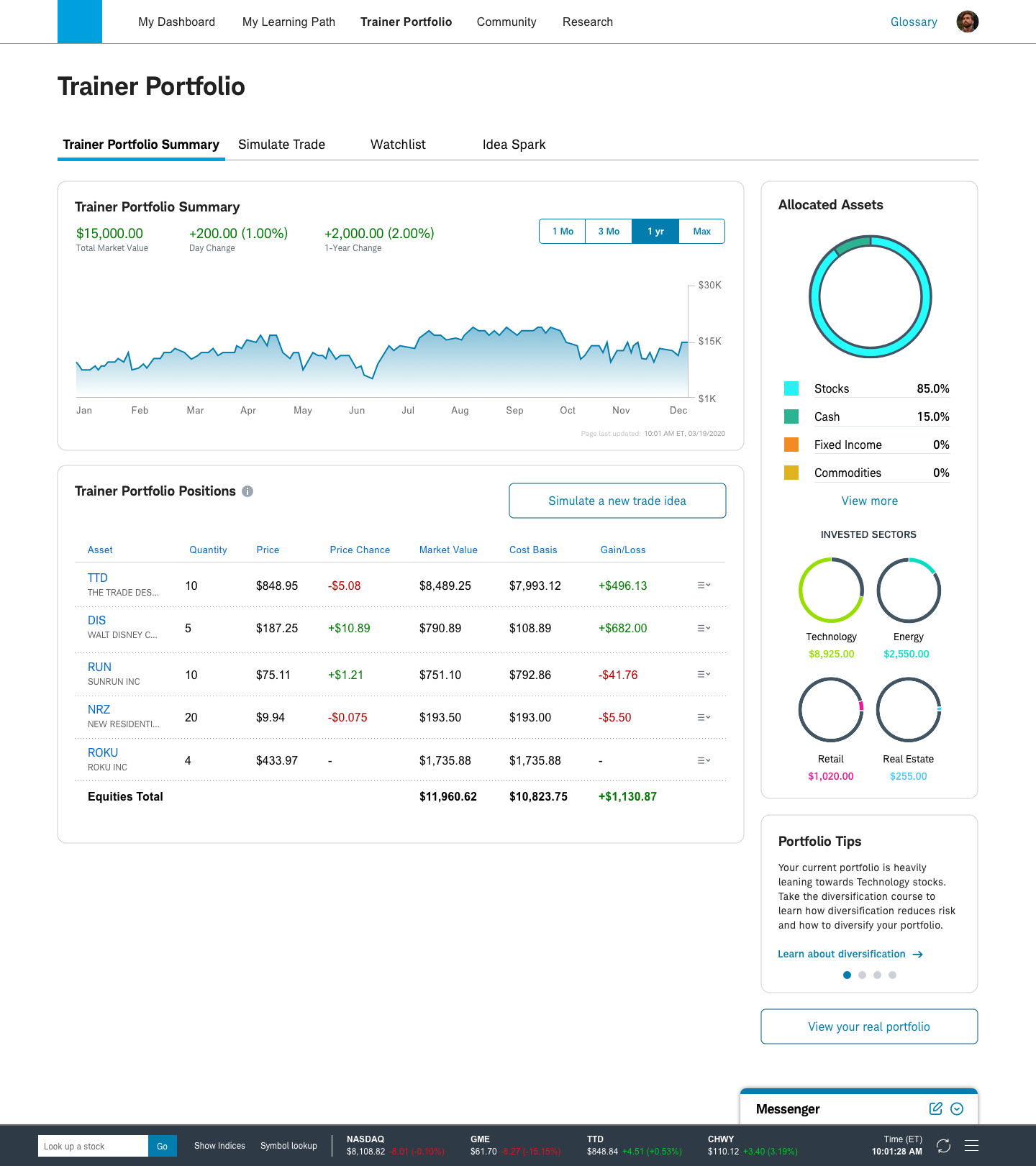 Young Social Investors Lab
In this lab, we were exploring if social and/or simulated financial interactions encouraged young investors to invest in the stock market. We were tasked with building a brand awareness and drive Schwab digital adoption with an under-penetrated client segmentation of Millennials and Gen Zers. We needed to promote financial literacy through intergenerational learning between experienced and novice investors. We had opportunities to leverage other Schwab technologies, such as Stock Slices, to drive engagement among the young investor population.
Our goals for this lab were to:
Drive NNA

Drive younger investors to using Schwab

Increase financial confidence amongst young investors

Generate greater Cognitive Performance Scale (CPS) score among young investors
Reframe the problem statement
Do social and/or simulated financial interactions encourage young investors to invest in the stock market?
What client job are we solving for?
We must build confidence in trading and investing through social engagement using simulated experiences. As a client, "I want to be provided a valuable learning experience about finance and investing through learning by doing, and not an inundation of educational content".
Our target audience:
Young novice investors

Tech-savvy/minded

Self-guided

Fluent in social media

18-34 years of age
What questions should we consider?
How fertile is the ground for building social engagement opportunities for young investors at Schwab?

How will the groups form (e.g., on Schwab platform or in partnership with a social media company)?

Are there any learnings from TDA's Paper Money experience?

Understanding the problem
Before we initiated conversations and interviews with our clients, we analyzed and unpacked the problem statement. We needed to understand what the business meant by "social", "simulation" and "young investors". Once we figured out who our young investors were, we started our user interviews to find more about our client behaviors.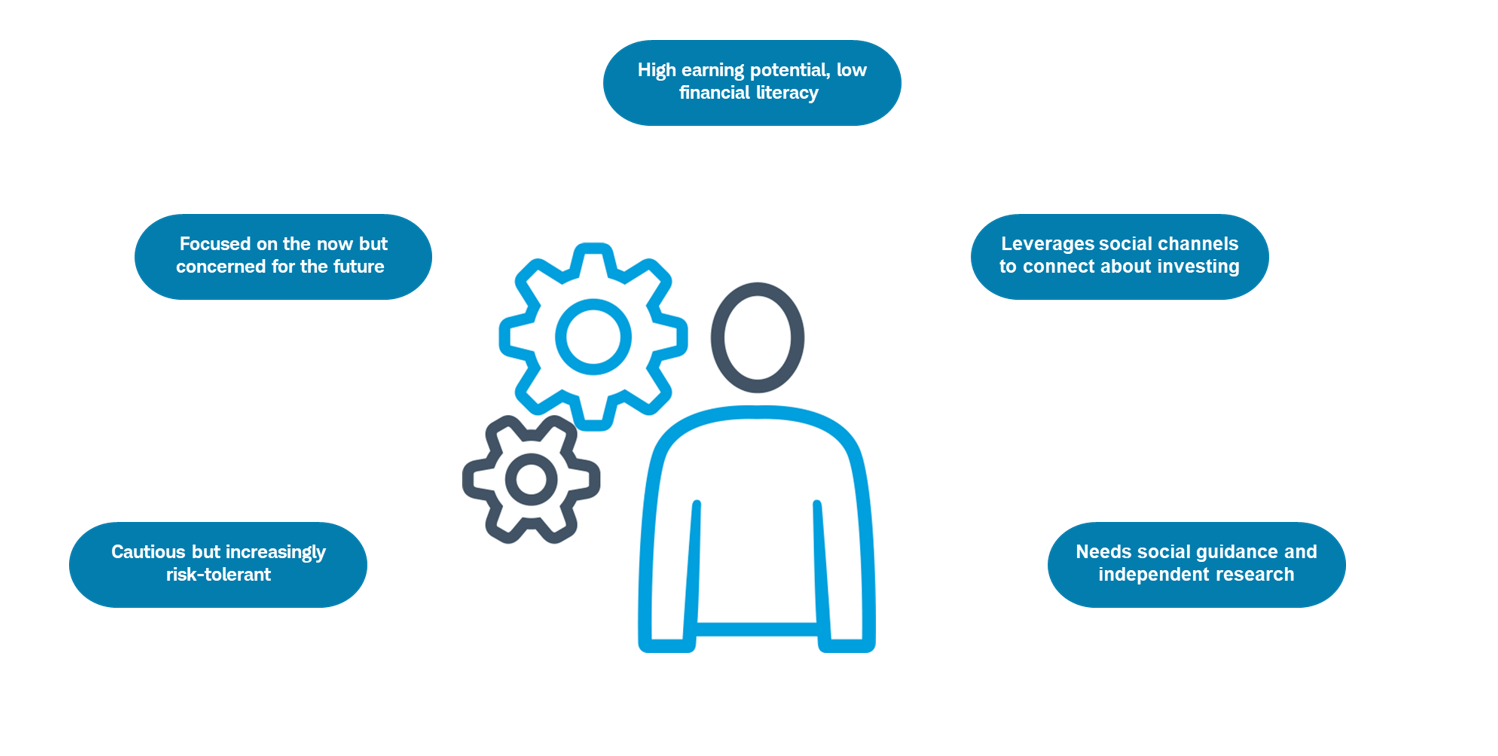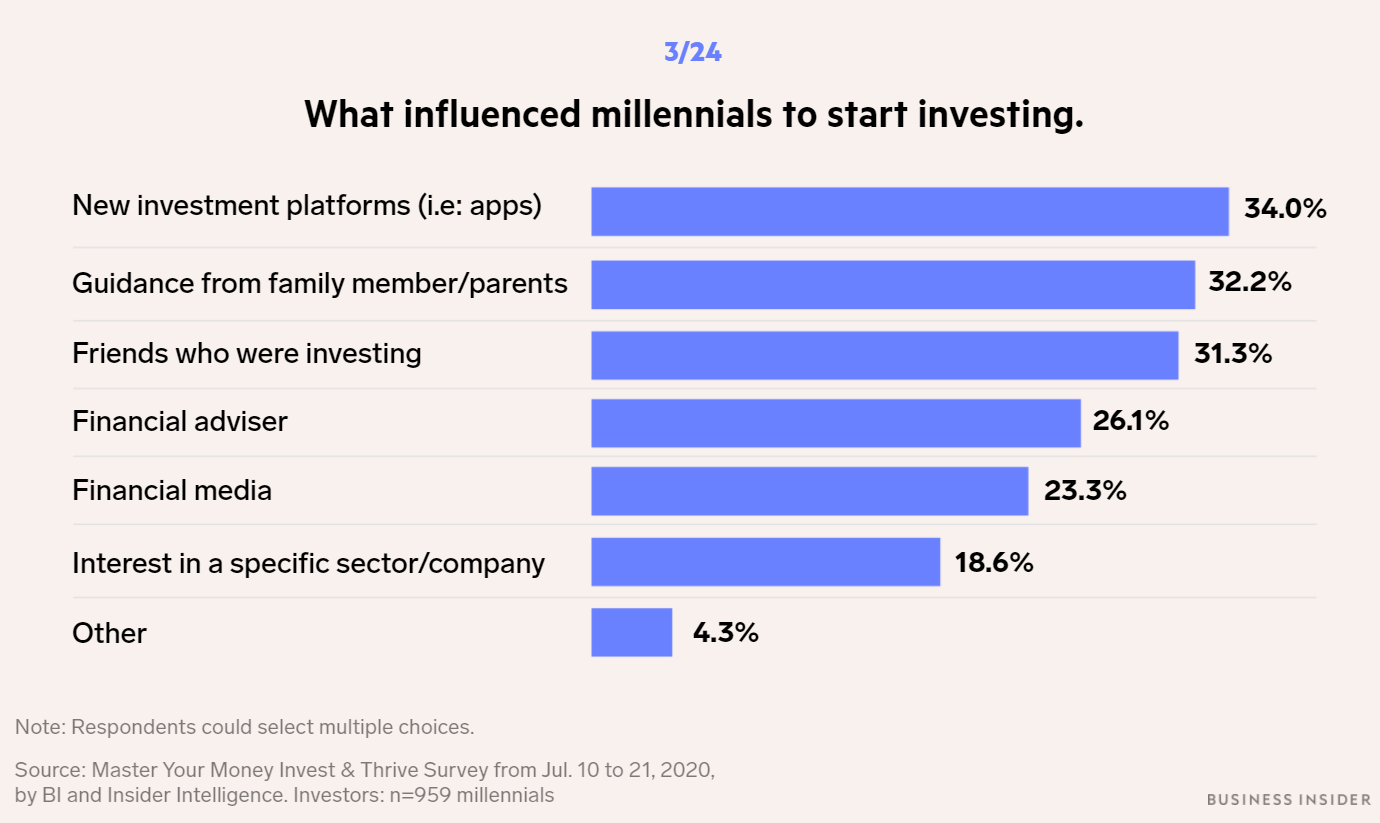 Research Trends
Throughout our market research, we found these trends:
A "retail-style" digital financial experience

The emergence of Social Trading platforms

The use of gamification to captivate younger investors
Throughout our competitive research, we found these themes:
Copy Trading

Pooling money as a team

Simulated Trading (Paper Money)

Exclusive investor clubs and investor communities

Setting investor goals

Following other traders and forums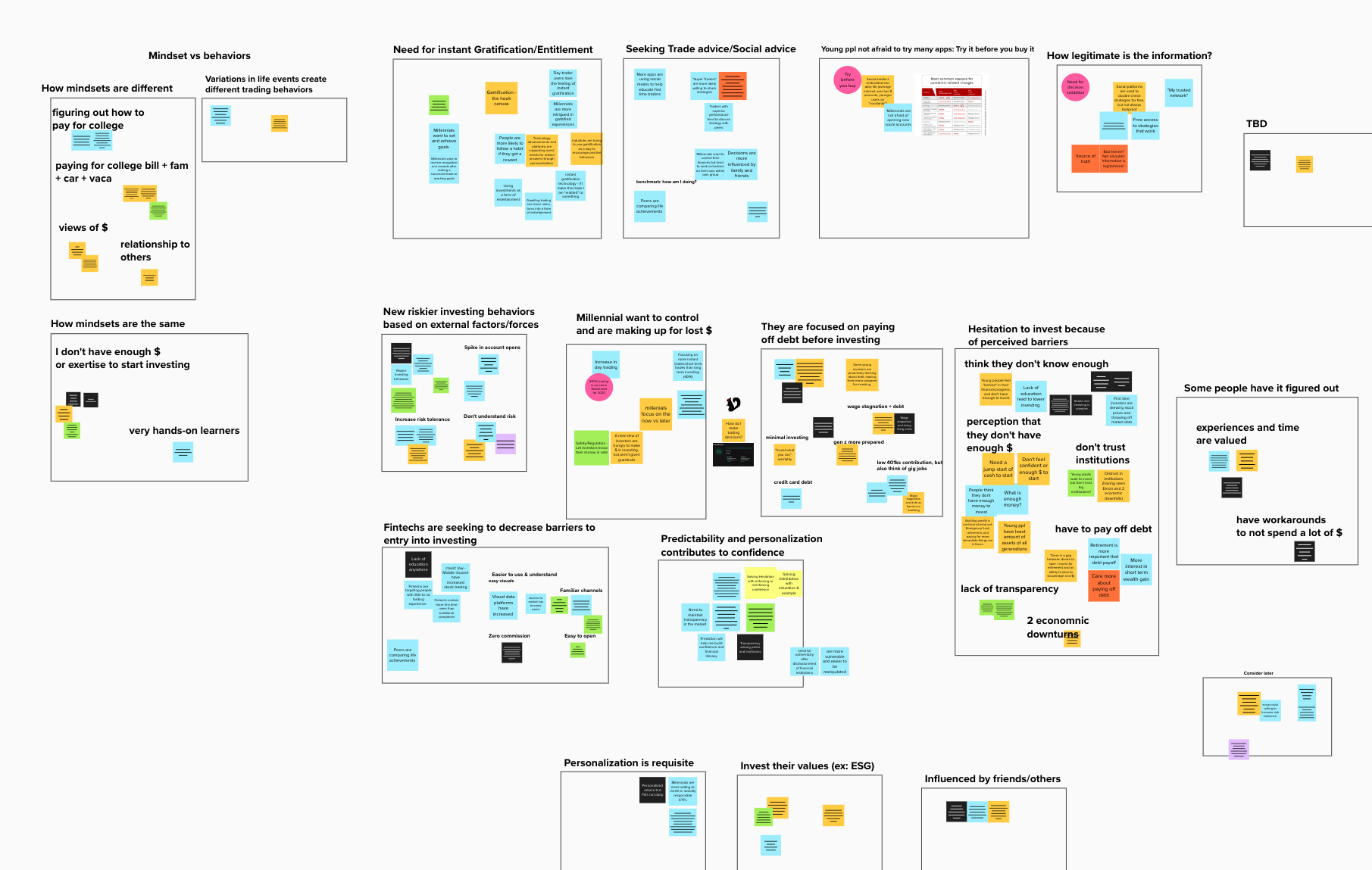 Based on our research we found these opportunities to address the social aspect of the problem space
I want to boost my confidence when I make a decision while investing.

I need education that is applicable to what I am trying to accomplish while investing. It has to be in the moment and bite-sized.

After I make a financial decision, I would like instant feedback whether that be negative or a link to instant gratification.

I want a safe space to invest. I want my followers and commenters to be transparent with their comments and provide authentic information. I do not want to hear from people who have alternative interests.

I don't want to miss out on an investment that could benefit me. Help me prevent FOMO.

I want a simple and easy to use tool. To test investing decisions without overloading my cognitive function.
Our opportunities led us to initial creation of concepts

A cage match to see which concept(s) resonated most with our users
Trending pros from our users
"It was easy to search and find new ideas"

"It involved less work to get started"

"It allows me to work together with an expert investor"

"It gives me an extra check before I make an investment"

"It is a great way to crowdsource ideas"
Trending cons from our users
"I don't trust others to give me helpful feedback"

"These tools can be overwhelming"

"Some were too similar to other tools in the market"

"I don't trust the matching capabilities"

"There may be too many conflicting opinions and I won't be able to make a decision"

"A voting system takes away autonomy"
Using the Jobs-to-be-done (JTBD) framework
We looked at these three JTBD categories to push our five original concepts
Functional Jobs
The core task or tasks that customers want to get done
Emotional Jobs
How customers want to feel or avoid feelings as a result of executing the core function job
Social Jobs
How customers want to be perceived by others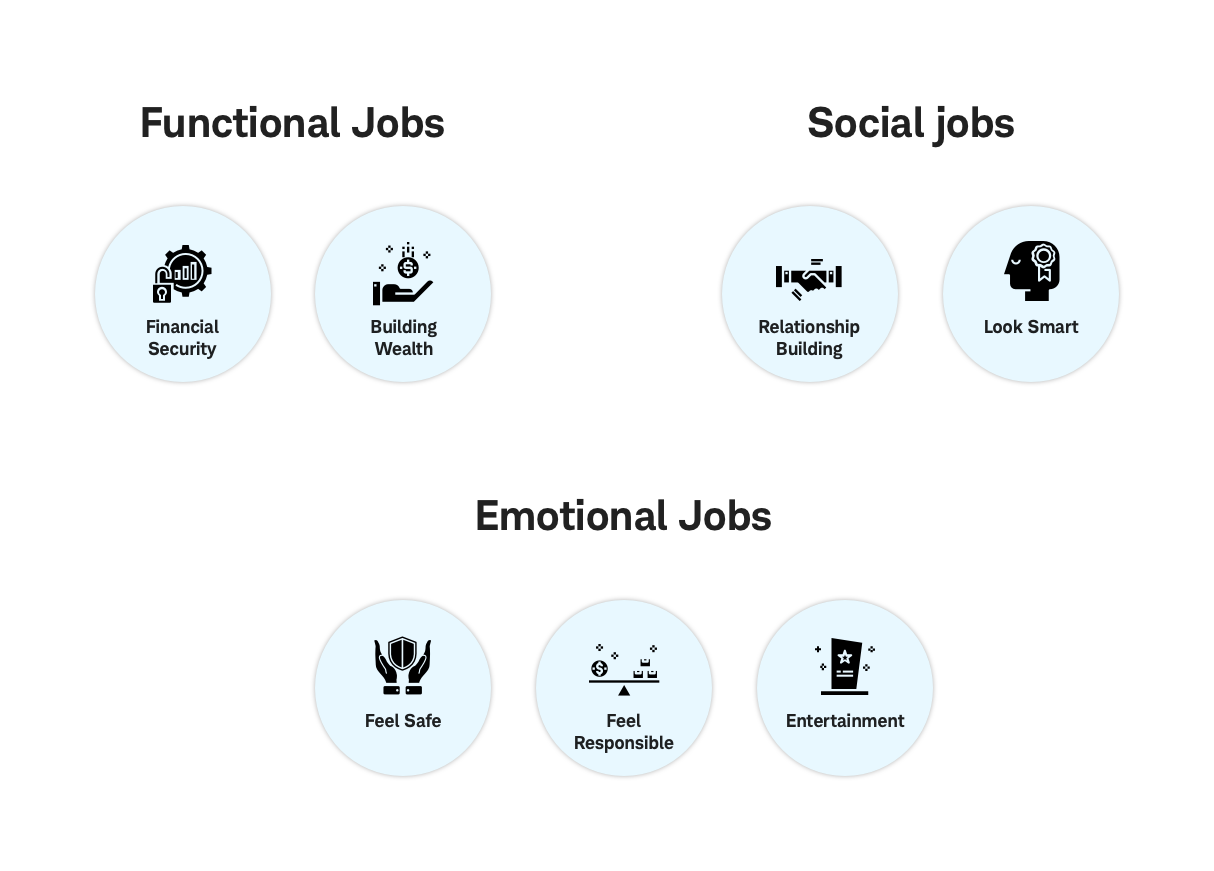 It was time to refine our original concepts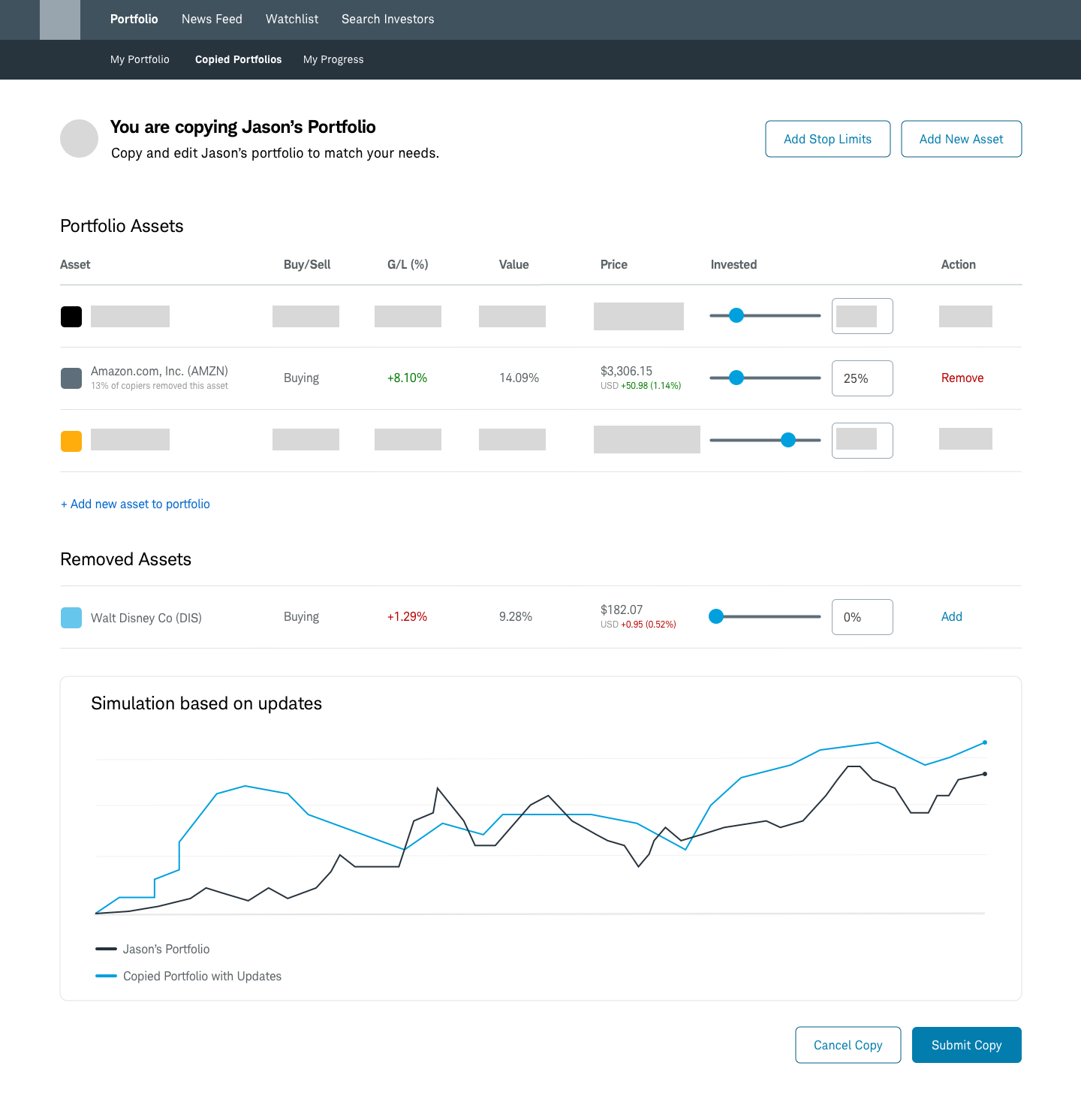 Portfolio Copy
This tool lets you search, filter, see into, and follow investors' high performing portfolios and copy their portfolios with any amount of money. Tailor the copy to your needs by re-allocating the percentage of funds or adding or removing securities from the portfolio. Instantly simulate how your portfolio might perform with your proposed adjustments before you execute your copy.
What worked:
Follow experienced investors to gain confidence through "guidance"

Customization

Low entry cost and minimal research for new investors

Seeing successful portfolios; If others are successful, then I can be too

What did not work:

Trust in other user issues - Authenticity is a gauge for trust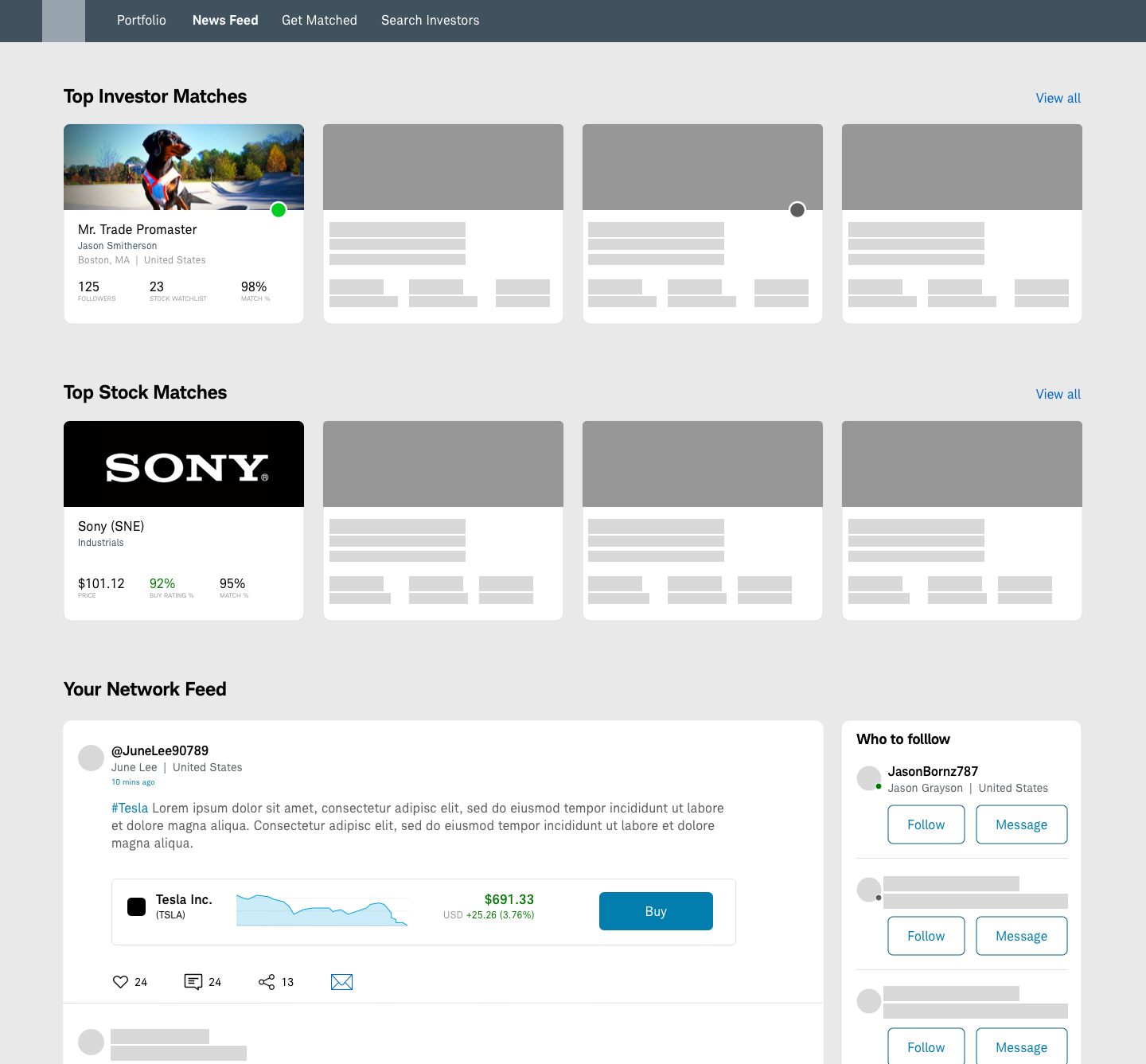 Trade Match
This tool matches you with other investors and groups to discuss ideas. Enter your interests – stocks, sectors, topics, etc. – to get matched with members who have similar interests. Filter your matches by investing experience and how well your interests align, then choose whether to add them to your network. See trending stocks and topics within your network and jump right into a conversation. Get more matches based on your conversations.
What worked:
Showing trending/hot stocks in the market

Talking to other investors to find new ideas

Finding other investors with similar interests and goals
What didn't work:
Doubt around the matching system - finding the perfect match for me

Might be too time consuming

Trust in other user issues - Authenticity is a gauge for trust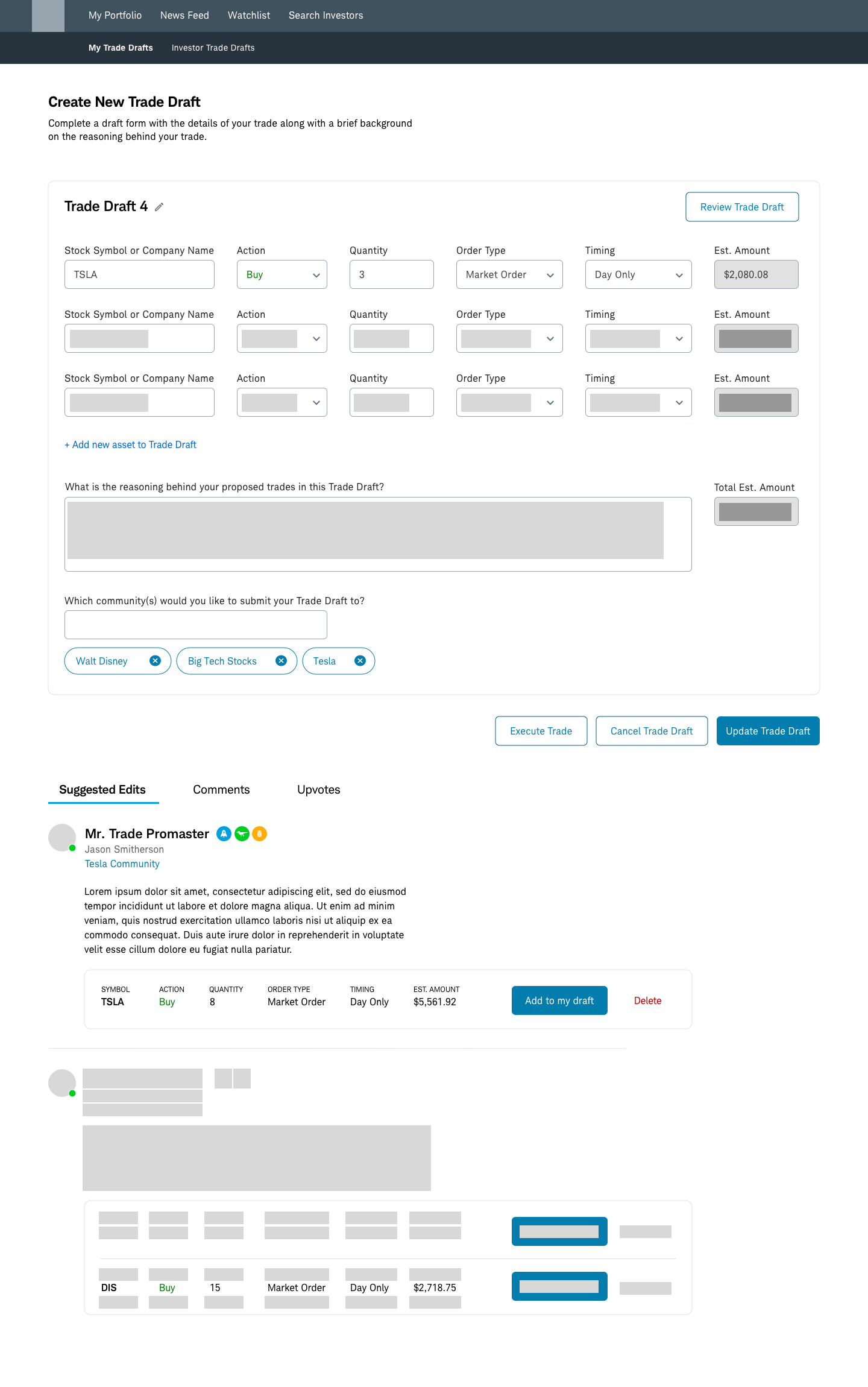 Trade Draft
This tool allows you to vet your trades on topic specific community boards before executing a trade. Complete a trade draft form with the details of your trade along with the reasoning behind your trade. Community members provide feedback by proposing an edit to your draft, along with their reasoning or upvoting a draft if they think it's fine as-is. Edit or execute the trade based on feedback. Gauge credibility of community feedback through badges.
What worked:
Having guardrails to ensure they aren't making any mistakes

Want to know reasoning behind trade decisions

Helps applicable learning in the moment

Knowledge from a community of investors with expertise that can be valuable
What didn't work:
Conflicting opinions may lead to inaction, making wrong decisions or loss of control

Trust in other user issues - Authenticity is a gauge for trust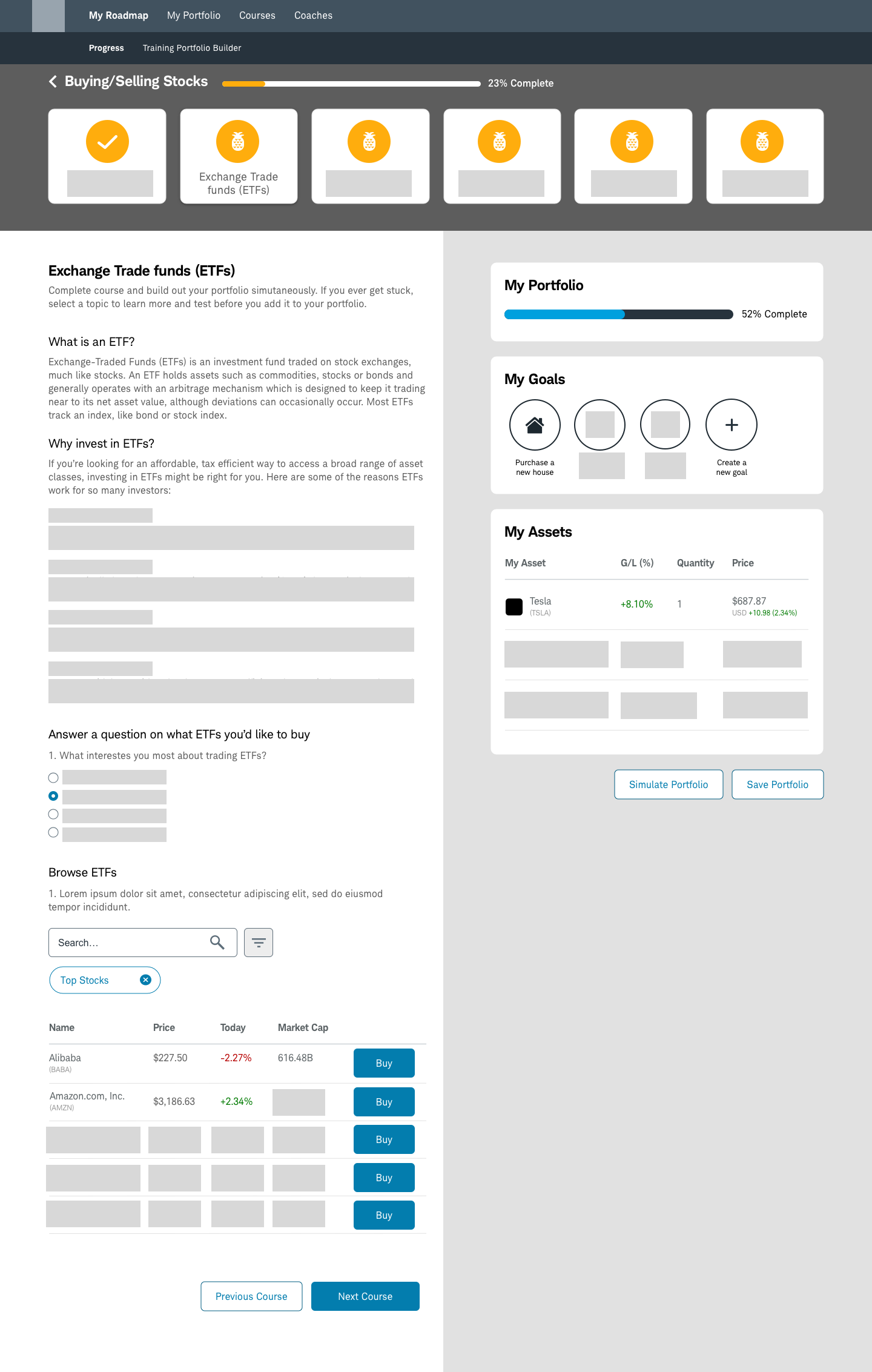 New concept: Educational
Portfolio Builder
This tool bolsters your knowledge of core investing principles while building a new or existing portfolio. Learning pathways help you level up your skills, from the basics of buying/selling through more advanced topics like options trading. Start a training portfolio or replicate an existing one in an editor to apply your learnings and simulate performance as you build. Launch your training portfolio into the real world when you're ready, and tailor as needed.
Key Features:
Learn investing skills while building/improving a portfolio you can launch and use

Level up your skills, no matter where you are in your journey

Simulate portfolio performance in draft form before implementing a live portfolio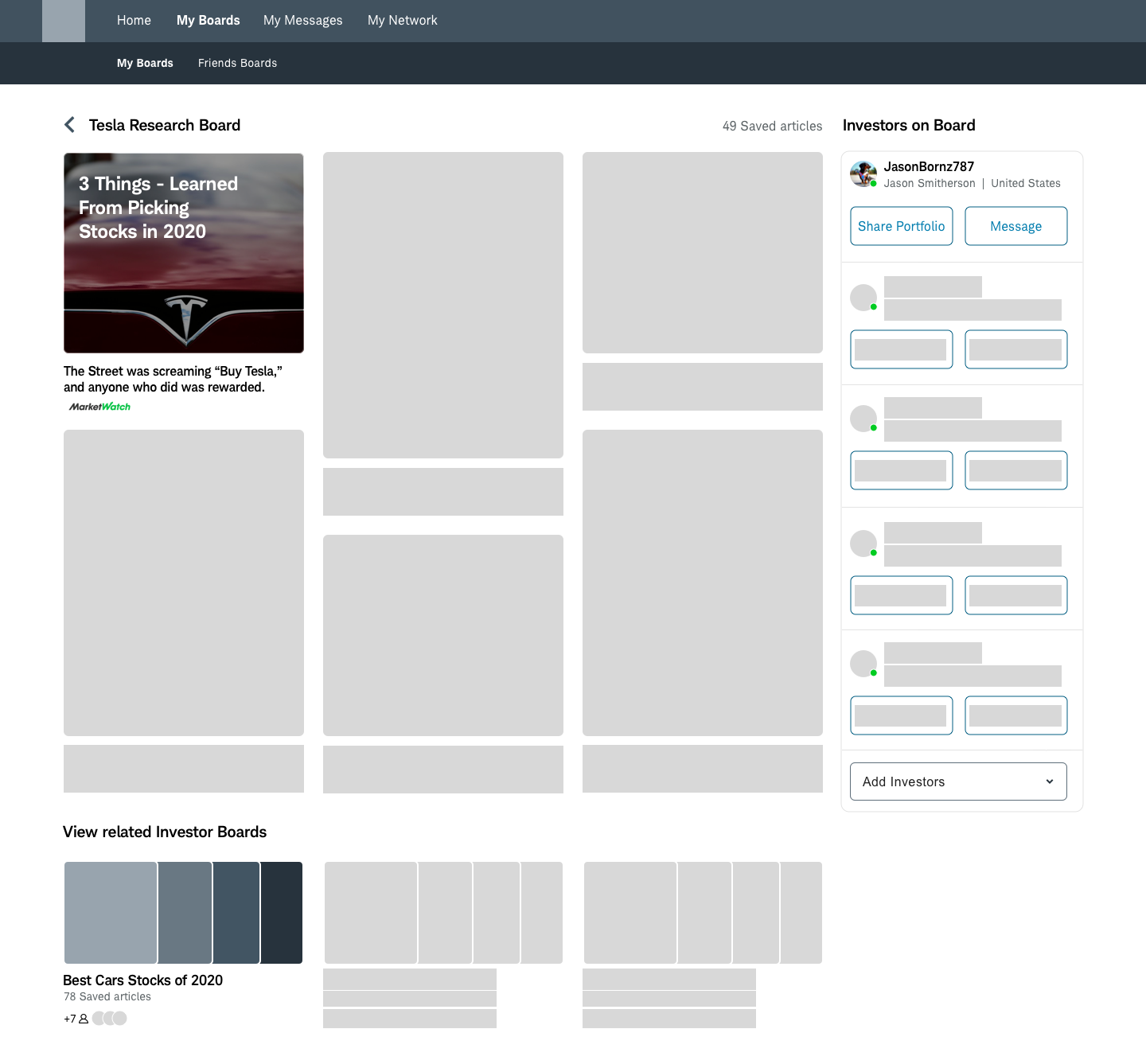 New concept: Research Collaboration
This tool organizes your investing research in one place and connects you to a community to build on that research collaboratively. Add article links or documents to your topical research board. Based on the research you are compiling, the tool will recommend related research pieces and other users who have similar research so you're not doing research alone. You can opt to share your whole portfolio with trusted individuals.
Key Features:
Makes research ideas easier

Enhanced research org tools to keep track of research all-in-one place
Connect and collaborate with like-minded investors

Research interests together

Share ideas

Improve portfolios together
Get automated research suggestions based on work you've already done
Product market fit results based on JTBD framework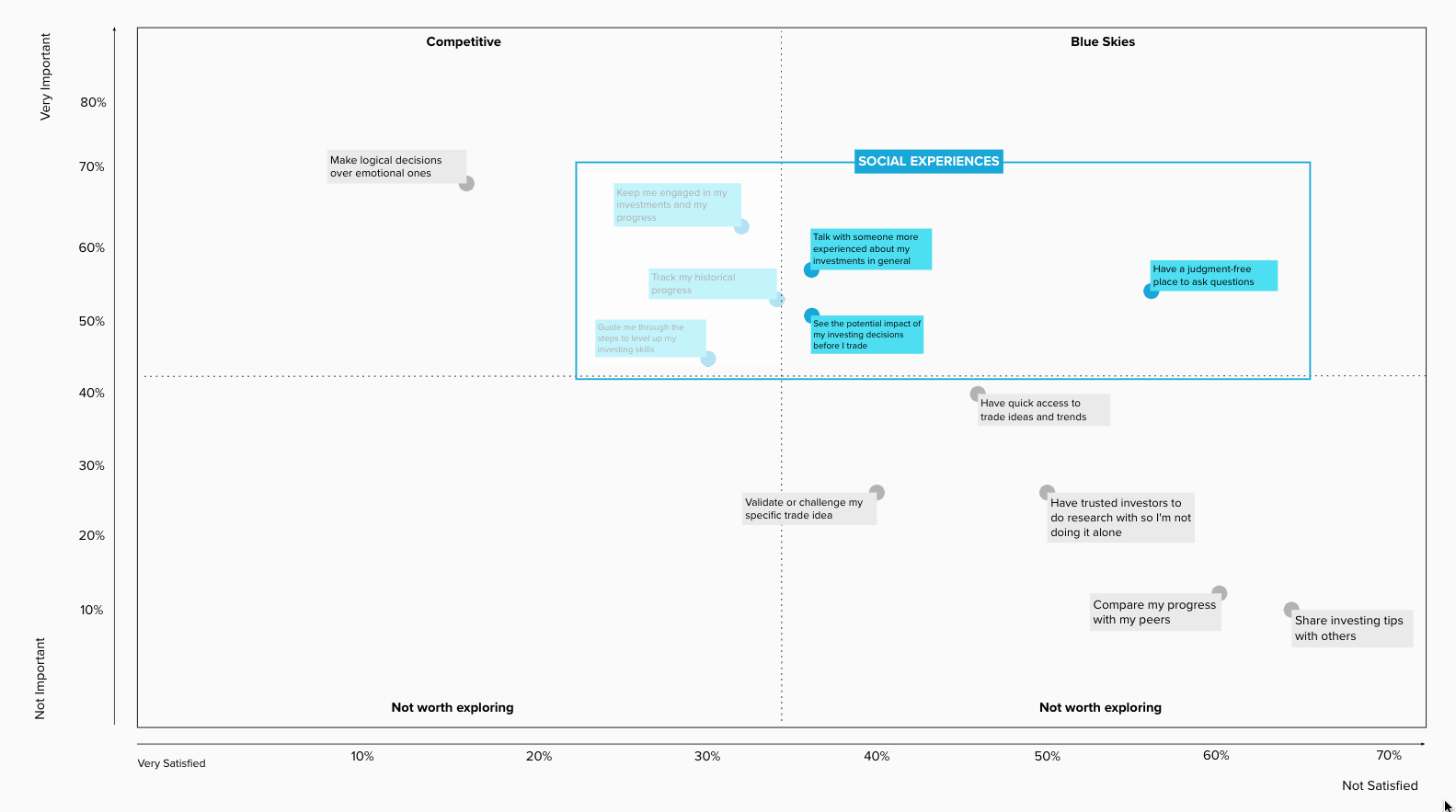 With user feedback and research, we have created a target audience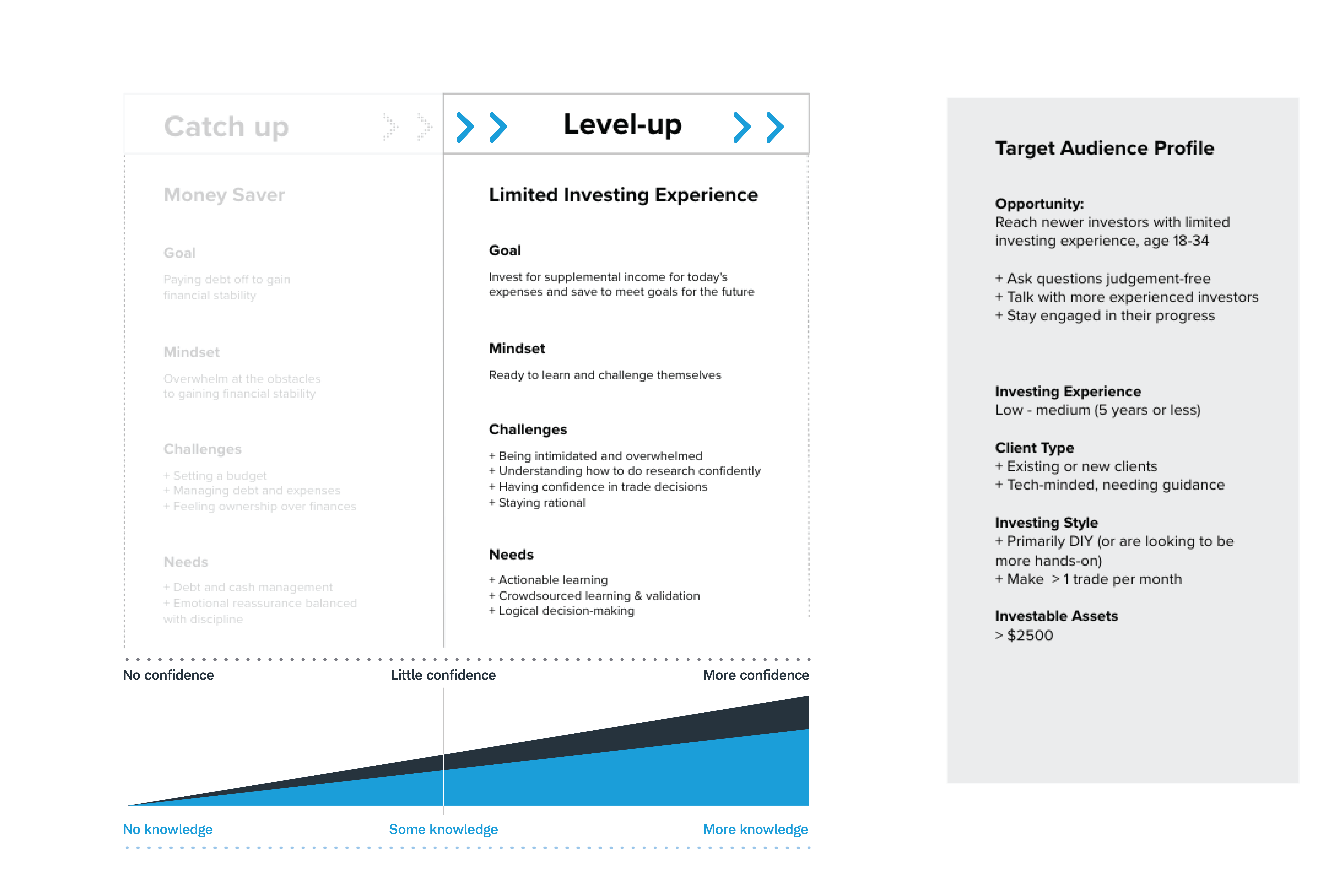 Round 3 of design iterations

Summary of our third iteration of designs
Resonates with investors with:
Less investing confidence

Lower perceived investing knowledge

More open to guided learning

Needed to build a foundation
They also viewed as a tool to work alongside their current investing tools.
So, what did our final concept look like?
What did I learn from this lab?
Do social and/or simulated experiences encourage action in the stock market?
Social media alone doesn't make people invest more, but it does inform ideas of what to invest in next.
Simulated and education help increase confidence to invest more.