Boozl
A happy hour finding tool which help people find drinks and food deals in your area
Company
Boozl
Year
2018-2020
Roles
Founder
Product Owner
UX/UI Designer
Tags
UX, UI, Mobile, Business Strategy,
Entrepreneurship & Innovation,
Food & Beverage Industry
Boozl is a happy hour finding app which helps people in finding the best drinks and food deals in the area. Boozl gives out an outstanding experience with our personalized recommendations about the happy hour deals based on users interests and historical patterns. This helps people in finding the best deals in less time in the nearest distance possible. People can gain rewards for writing reviews and sharing pictures of the drinks at the happy hour.

It is a free platform where business owners can use it to advertise their happy hour deals to target more specific set of audience. It is set to solve one of the biggest problems of the bar and nightlife industry i.e., what to come up with for a happy hour deal? Boozl helps businesses solve this problem with our unique and most robust algorithm that helps the business owners get the data that gives out the information about the potential deals that could drive traffic to their venues. Boozl helps people try new drinks, explore new establishments and shows them the deals wherever they are located.

Boozl helps to connect bars to the right demographics and vice versa in a cheap and efficient way through our platform. This is going to help the bar & nightlife industry from their downward trend of declining sales and revenue while also helping the bar goers finding the
cheap deals.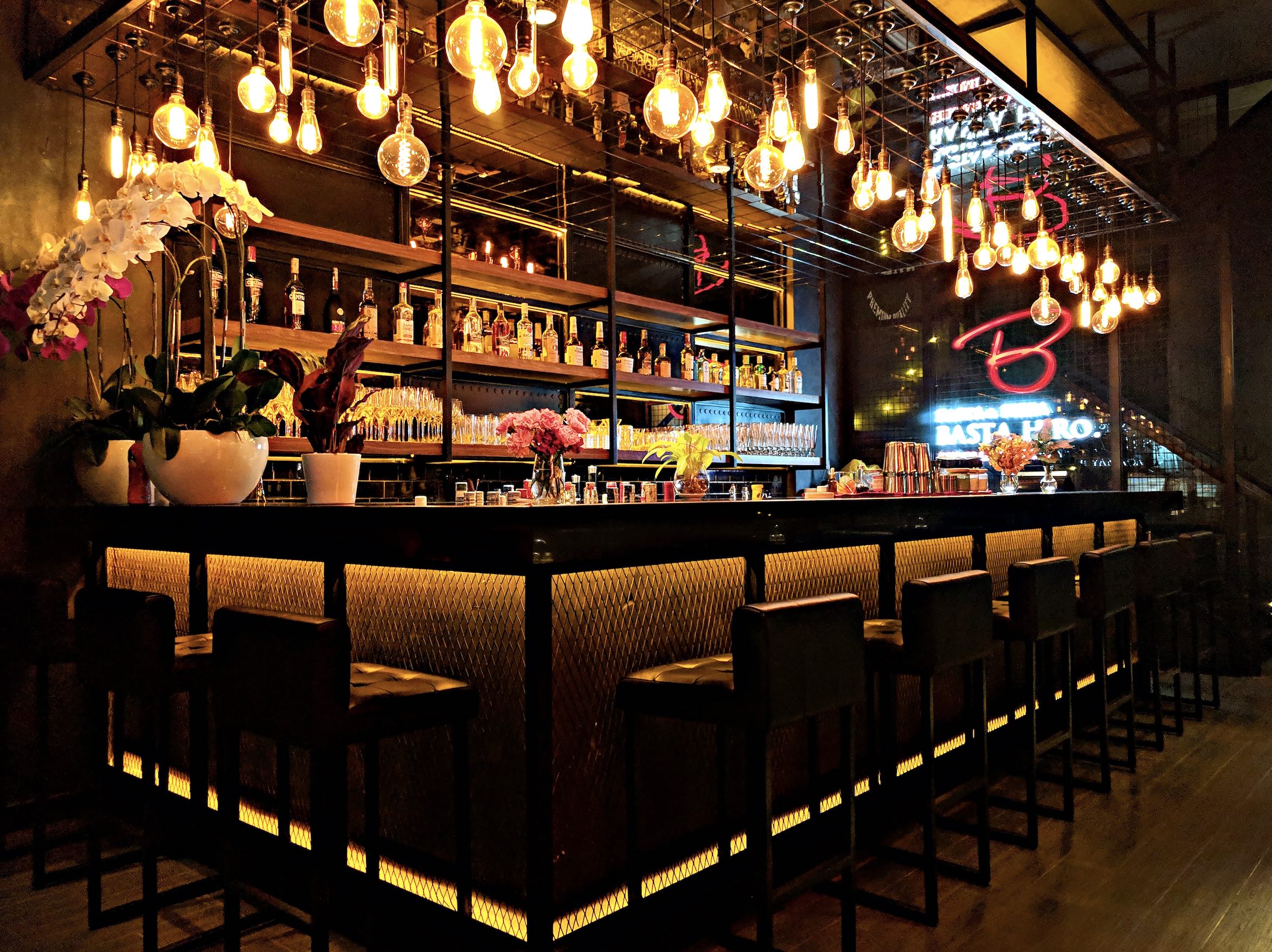 The Problem
The United States nightlife industry is suffering. Over 10,000 bars have shutdown in the past decade with closures reaching a peak six per day. Less and less people are going to venues due to high costs and long wait times, which result in the decline of revenue. The cost of the advertising for businesses is very high while not being able to target the right audience via existing platforms. People are finding it difficult to locate the best happy hour deals in their area.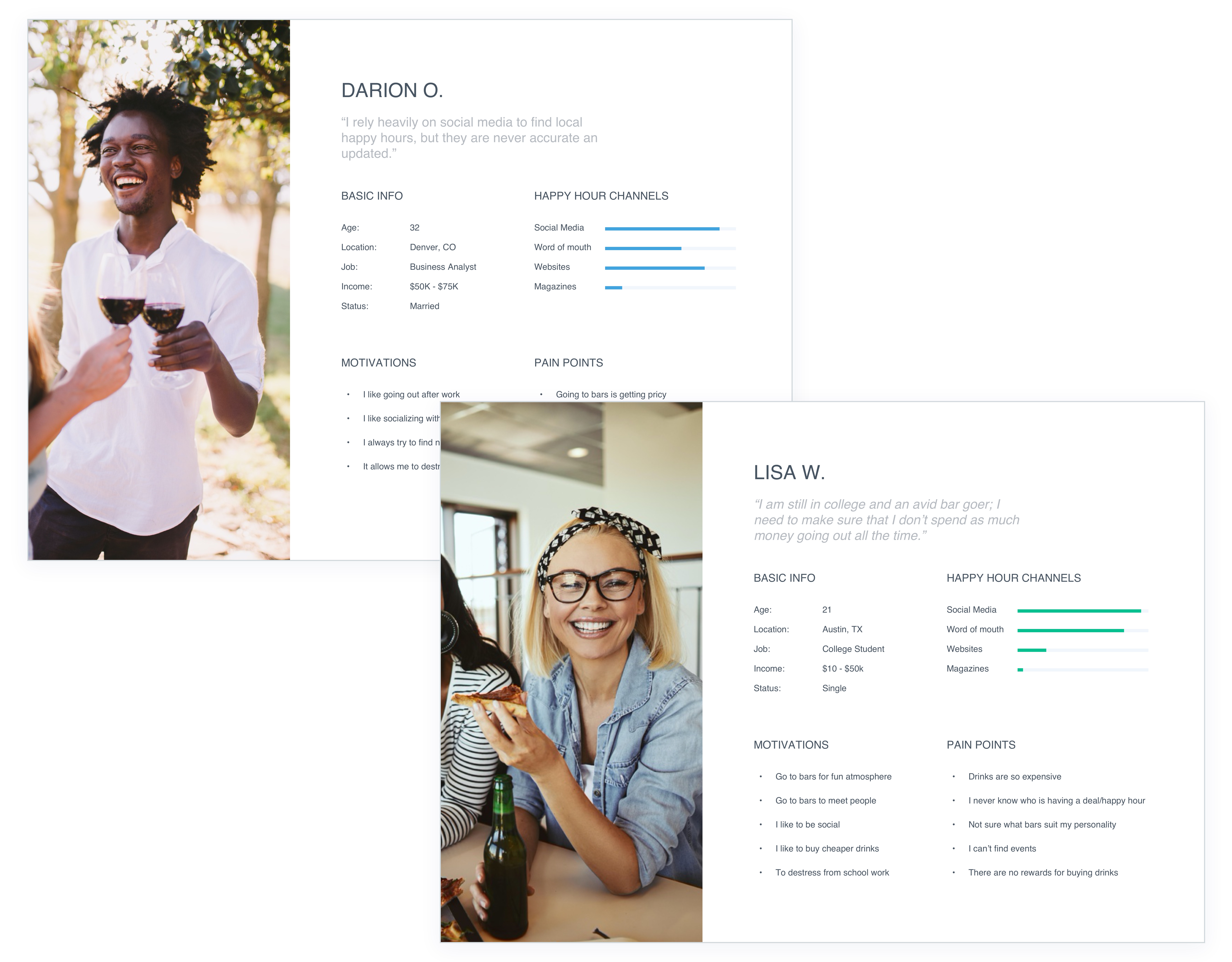 Research & Approach
Bars and restaurants are facing several challenges when it comes to increasing costs and brining in more people. Businesses never know what offers and deals to attract people in order for the business can advertise more efficiently. Businesses also don't have a dashboard of data showing results in order to make quick decisions about their happy hours.
Customers on the other hand always want to get their money's worth and save money at any point in their lives. There are a few apps out there right now such as Google maps and Yelp to help people find the best places, but do not show accurate and updated happy hour deals. People don't always know what they want to order and they can't trust reviews.
Solution for the business
My solution for the businesses was clear after research and interviews. I needed to create a freemium happy hour platform with the ability to promote beverage and food deals. I designed a dashboard that displayed real-time data to help business owners make those critical decisions about publishing deals. They could also see who was visiting their businesses, which allowed business to directly advertise to their clients based on their behaviors. This also let businesses target an appropriate and wider audience using profiles and geographical information. As a result, the businesses are provided a list of recommendations based on user data.
Solution for customers
I provided customers an app that displays happy hours for drinks, food, and events at nearby bars and venues. Customers were given data driven recommendations based on their interests and profile information. Customers were able to earn rewards and coupons when they checked into businesses and wrote reviews on the app. I also provided a social experience, that let customers upload images, follow friends and drink/food bloggers, comment on friends pictures and much more.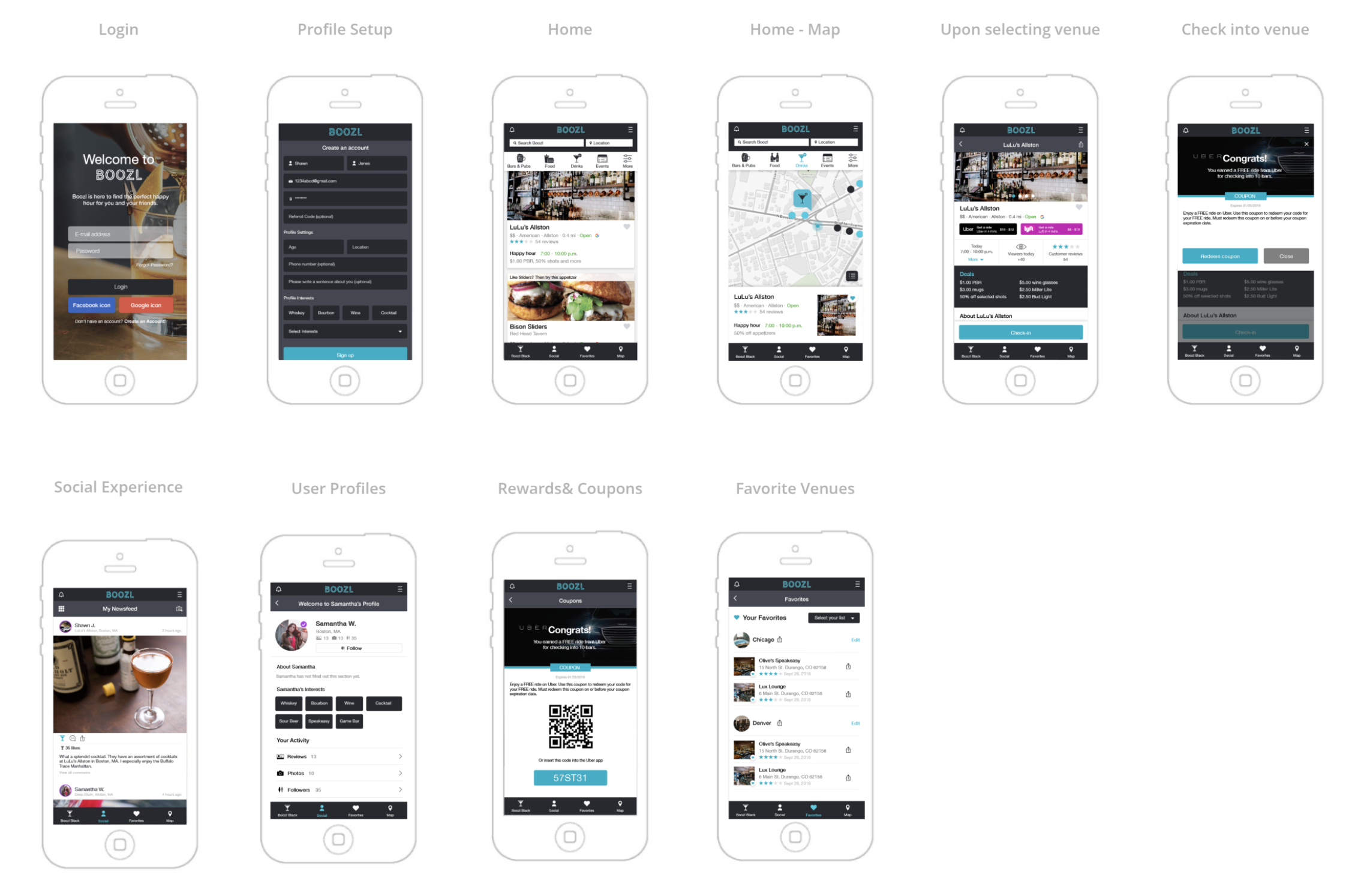 Wireframes
I have only showed a select few screens, which displays a few features of the app. The main purpose of these mid-fidelity wireframes were for testing. I had 15 participants go through the several user flows of setting up the app, finding a bar, trying a new beverage and posting an image to the Boozl newsfeed.
After the interviews were completed, I gathered the feedback and made appropriate adjustments to each user flow. Here are a few comments from the users:
"I appreciate the app giving me a ride to and from each bar. It takes the hassle out of using a separate app to make my transportation decisions. I also like the fact that the rates display on the app."
"I found it easy to get started. Boozl doesn't ask me too many questions and if I want I can skip and explore the app before I use it."
"I wish there was a quick list of drinks and food on happy hours instead of each bar displaying the happy hour time(s)."
"The social aspect is too similar to Instagram. I wonder how you can make it different and just as engaging. I do like that it shows only food and drink pictures as well as reviews. Maybe you can leverage this for your reviews."
The user flows and user feedback helped me in next rounds of ideation by giving me exact areas of opportunity. The next step was to iterate on the designs and create solutions for each user pain point.
Leveraging user insights to iterate on designs
Insight #1: Navigation
Users value simple navigation and clear usability, which allows them to filter through options to find businesses with the best deals. Boozl's users value features and functions, more than the appearance of the app.
Insight #2:
Personalization
Personalization is more important than customization. Users would rather add their interests while creating an account rather than view meaningless deals based on generic filters.
Insight #3:
Incentivize Behavior
Too keep users intrigued and using the app, they require some sort of incentivized rewards program. They want to earn rewards by just using the app.
Insight #4:
Stay Connected
Users want to be notified that new deals are in their area. If they can save money by going out to businesses, then they will most likely choose their favorite businesses with the best deals.
Solution 1:
Simplify the experience
Removing unnecessary details that may confuse the user when performing a desired task such as making a decision on what businesses to go to that have the best deals.
Solution 2:
Make it personal
Creating a personalized experience is important at the beginning of any onboarding experience. It was important to get best most useful information out of the user during the onboarding phase of the app. This gave Boozl the most useful data to make their recommendations more personal.
Solution 3:
Reviews = Points
When users check into a business, they have an option to write a review based on their experience, drink or food. This will earn them points for free drinks and other great rewards.
Solution 4:
Notify Users
Businesses are able to target specific users and send notifications on new items, new deals, promotions and events. The users will review these deals if those businesses are favorited or if they are near that business.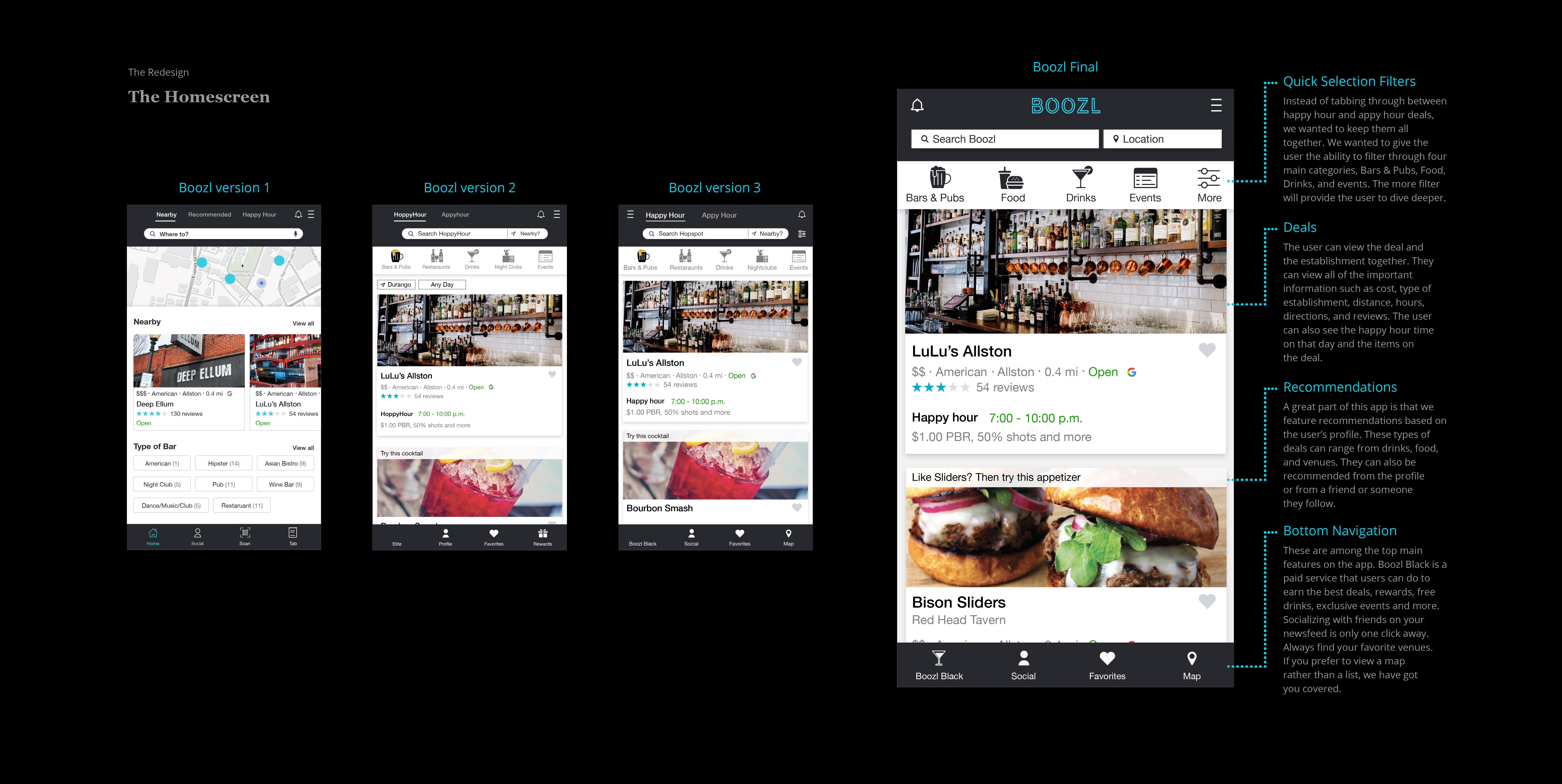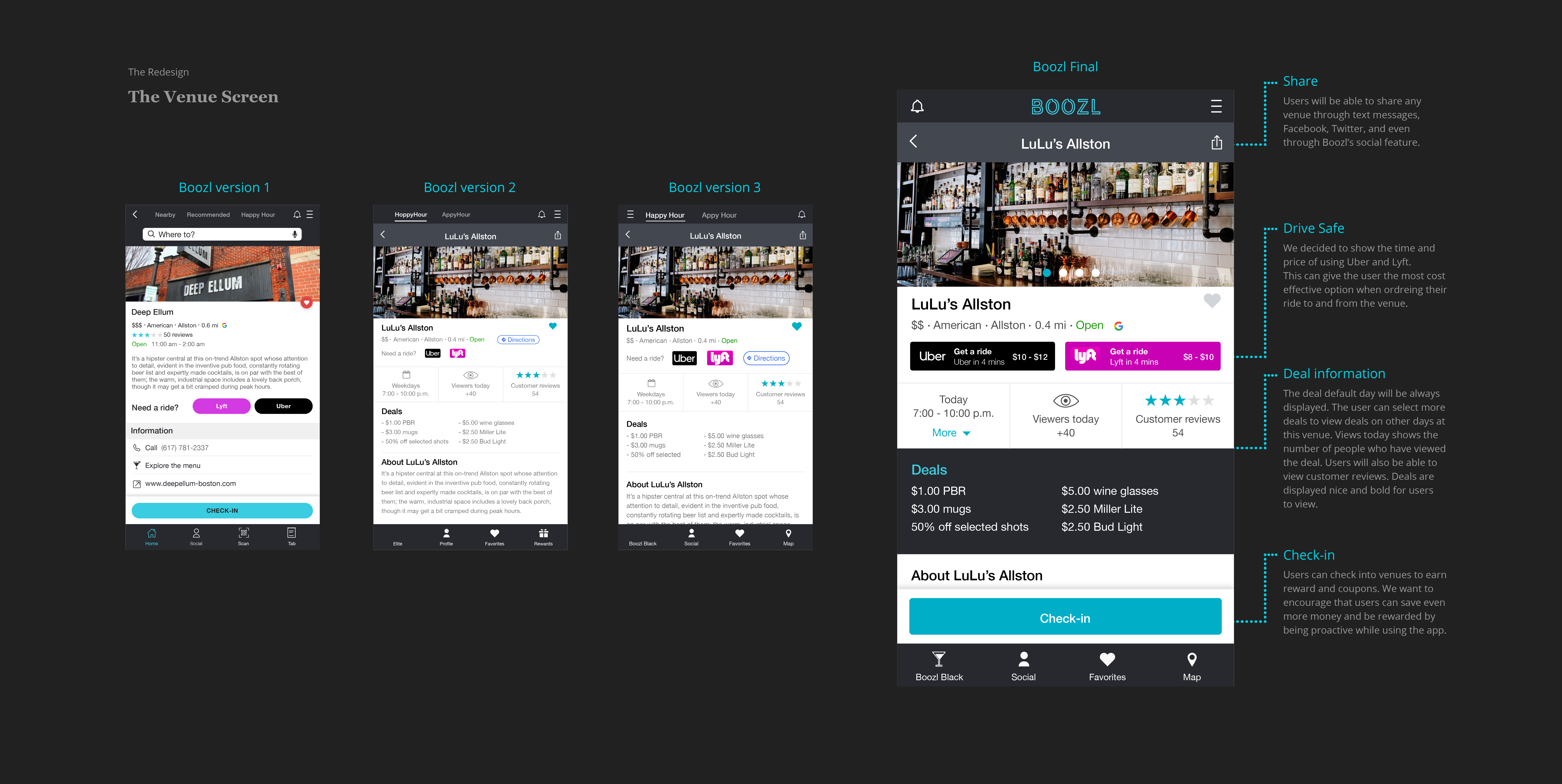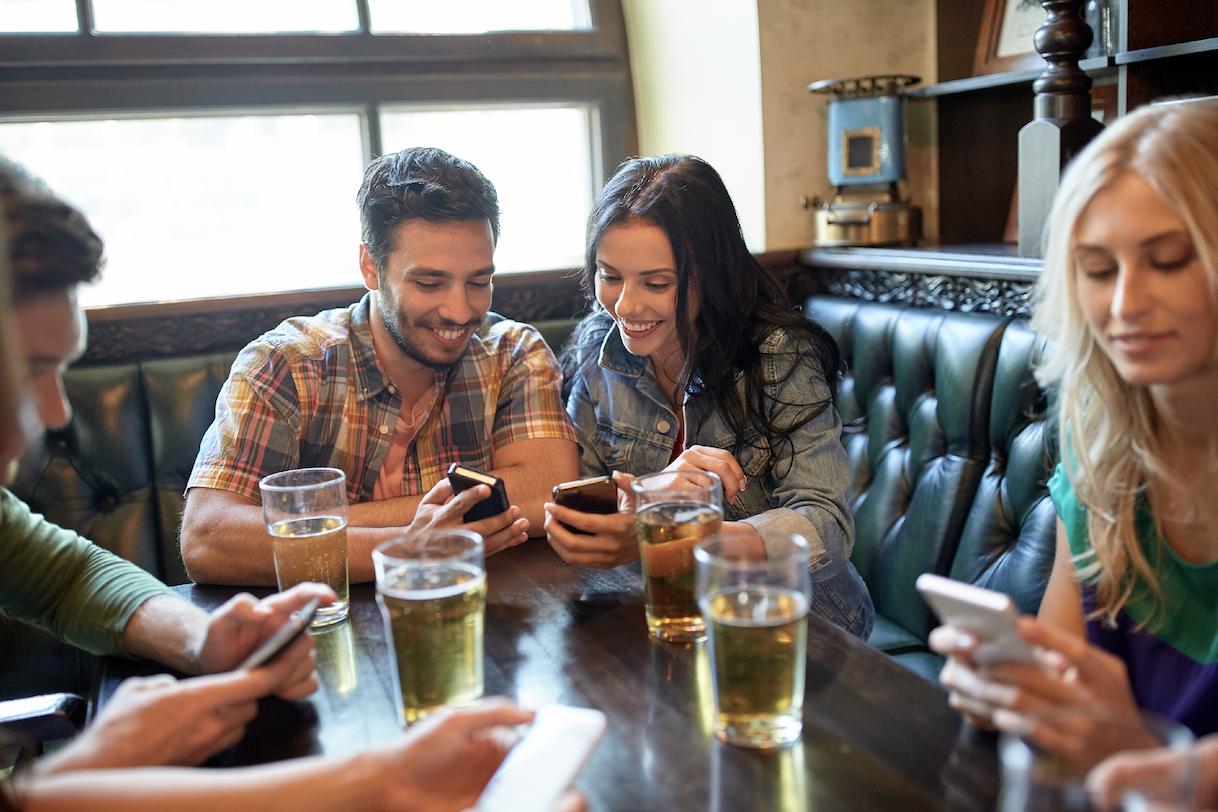 Conclusion
My plan was to continue to improve the designs on the app as well as continue the design and functionality of the business dashboard. I wanted to continue my work on the Boozl project, but due to Covid-19, things have been on hold. If I take this project back on, be on the lookout for Boozl. Who knows, maybe you will earn your first free drink on Boozl!