IBM AI Skills Academy
Advancing Artificial Intelligence (AI) skills for IBMers and clients to drive the acceleration and implementation of AI into every area of business.
Company
IBM
Year
2018
Roles
Lead UX/UI Designer
Graphic Designer
Video Editor
Tags
UX, UI, Design Thinking, UX Research,
Educational Design, Project Management
Artificial Intelligence (AI) is changing every profession in every company. Professionals will need to learn to use, apply, and create AI solutions. IBM established the AI Skills Academy to provide AI education for IBMers. The IBM AI Skills Academy offers content for three roles: technical, industry, and general IBM. The AI Skills Academy mission is to advance AI skills for IBMers and our clients to drive the acceleration and implementation of AI into every area of business. IBM AI Skills Academy provides an end-to-end learning journey which maps and syndicates current AI thinking and teaching in two unique ways: the curriculum is categorized as either "creating AI" or "applying AI." These two identifiers are ways in which skills are synthesized in real world settings – working with IBM clients.
Problem
There are currently over 366,000 employees at IBM. Of that number, less than one third are software developers or have experience working with Artificial Intelligence (AI). For everyone else, understanding AI is quite a challenge. Developing a generic curriculum to train a variety of employees would take strategic planning and thorough execution.
Research & Approach
I started to spend sometime researching concepts of portals and educational curriculums. I created an end-to-end journey map for two personas using interviews of current IBM employees (software engineers/developers) who had experience training in the field of AI. I designed a portal that represented these characteristics: modern, futuristic, and robotic.
Observation & Insights
With our team of instructional designers and project managers, we conducted a design thinking exercise using IBM's methodologies. I facilitated a vision, mission and values workshop. I usually start with understanding the strategy and building out a product roadmap, but we already a quick timeline and direct objectives from our stakeholders. We needed to figure out what would go into the curriculum and how we could create different paths based on roles.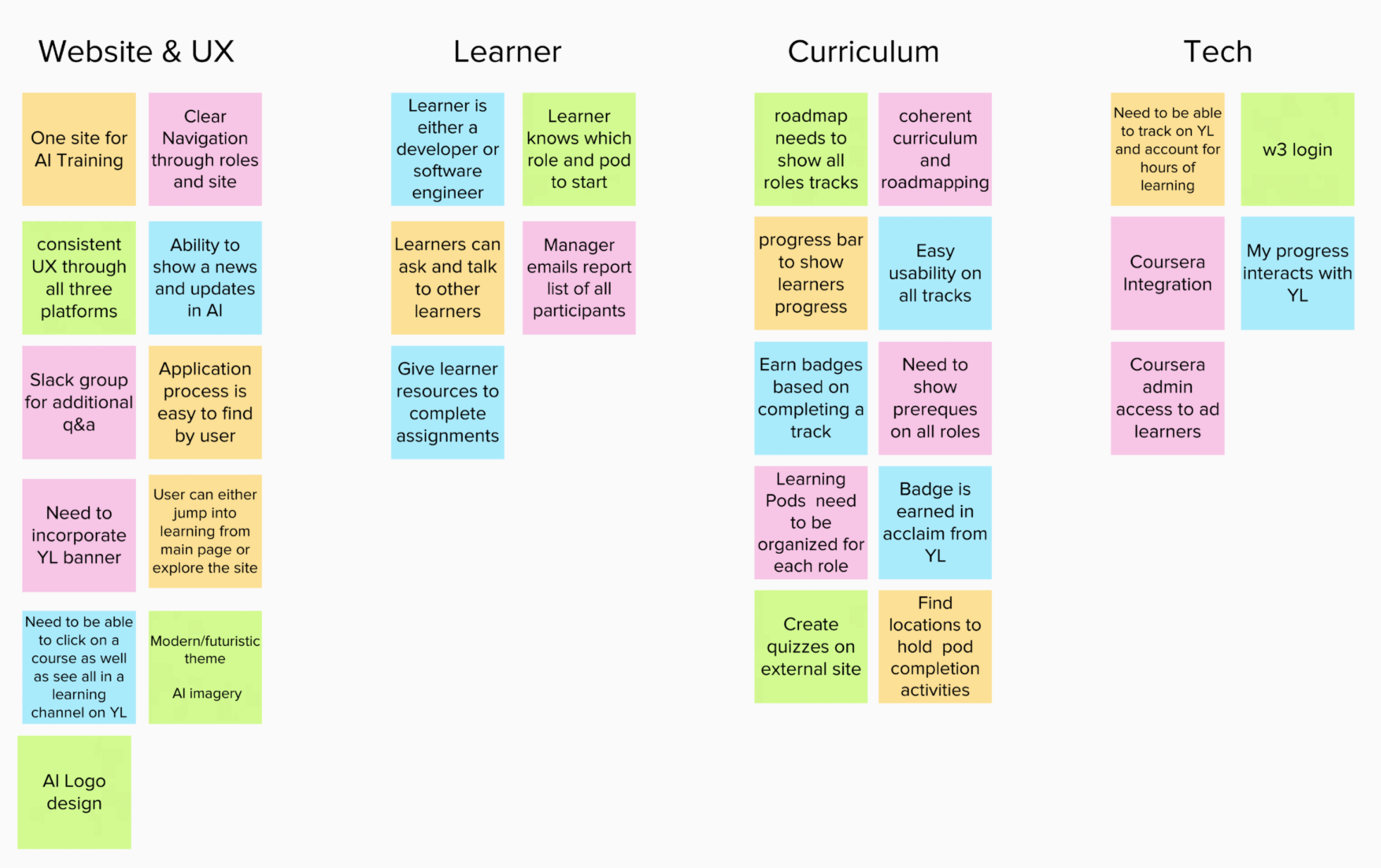 Personas & Mapping
IBM is unlike most organizations when it comes to product development. They want a product within a quick turnaround. I decided to create two personas for the team, one of a software engineer who has a background in some Artificial Intelligence (AI) and one of a non-software role like a project manager who may be working on a project with AI involved. The example on the left is just a segment of initial brainstorming from our team workshop. It shows how granular we had to be to think about the entire product ecosystem.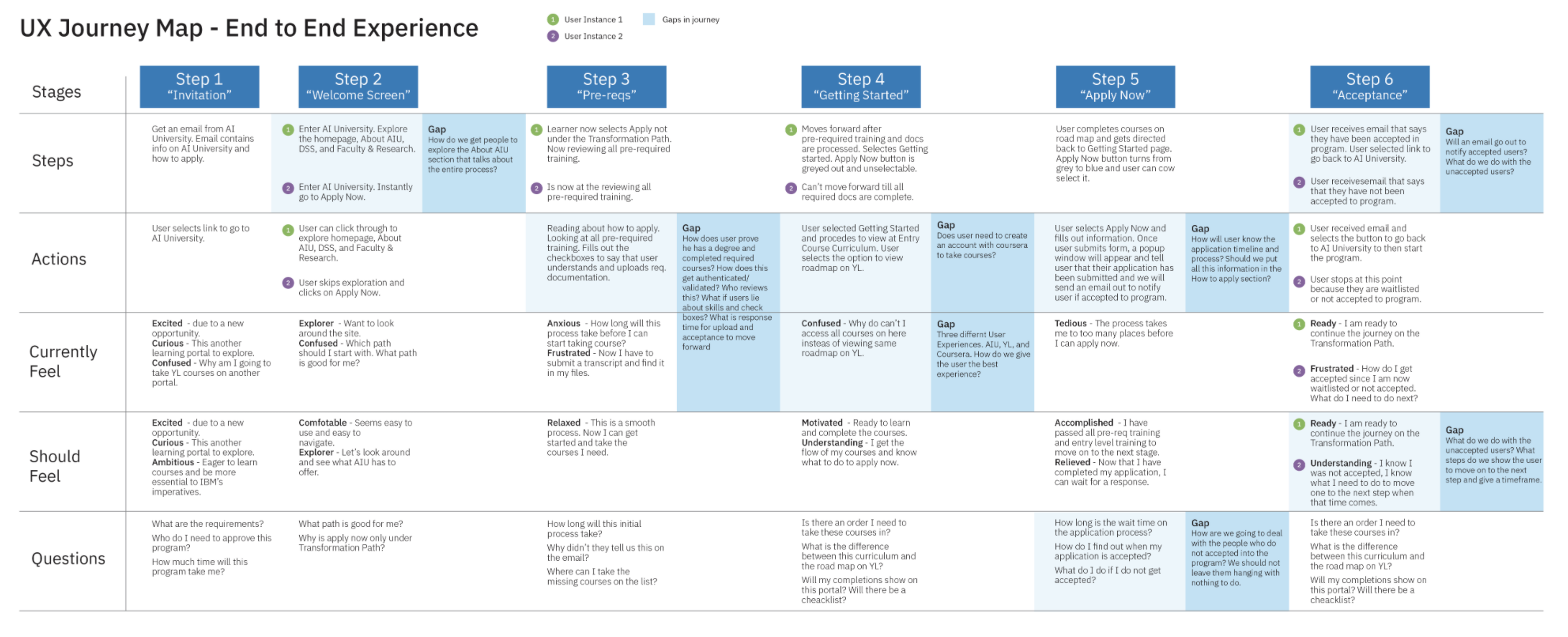 Journey Mapping Workshop
The journey mapping workshop led to the formulation of several unmet questions.
How can we improve the overall user experience for navigation on three separate and very different platforms?

Each professional has a very limited time to learn on the job. How can we engage the user and keep them on track on their learning roadmap with their limited availability.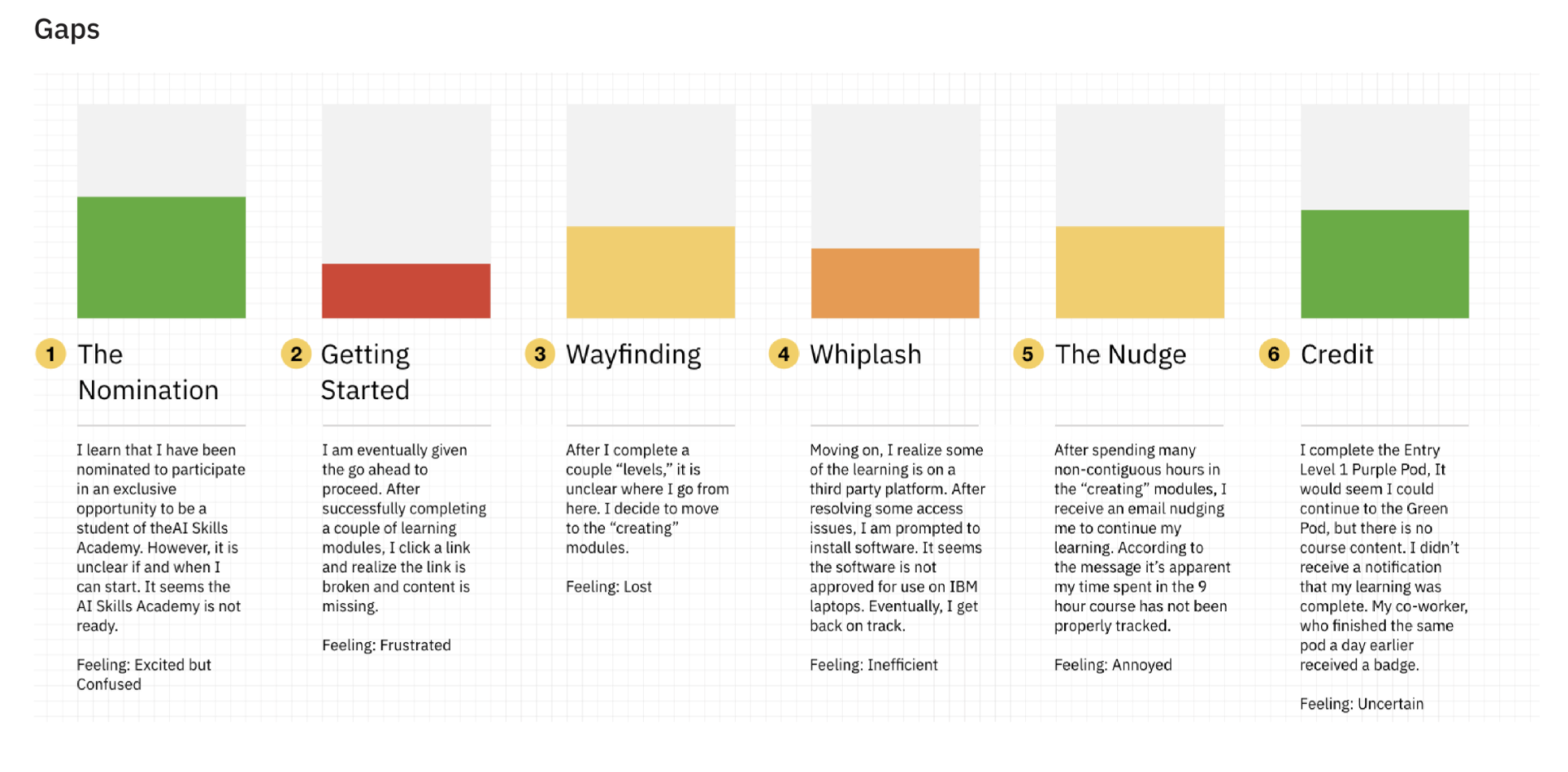 Finding the gaps in the user journey
After completing the first journey mapping session, we uncovered several key gaps that we used to highlight potential areas of opportunity. Some of our biggest gaps were with getting started into the program and finding the best path that suits your role at IBM and career goals. The second area was in a disruptive user experience when navigating to some courses that were not sponsored by IBM. Some courses are on third party platforms such as Coursera and Udemy. This creates a jarring experience since our portal has to look and function like an IBM tool. The last potential gaps were around way finding and navigation around the IBM AI Academy and giving users nudges to continue learning.
After some quick ideation, it was time for a design
The IBM Artificial Intelligence Skills Academy
We created a new service offering and educational program called IBM AI Skills Academy, which helped technical and business professionals build AI skills through training in virtual classrooms and hands-on lab environment, to enable employees to find new value in their workflow. The curriculum covers areas essential to AI initiatives, including deep learning and machine learning frameworks, applying algorithms, open source technologies and data visualization.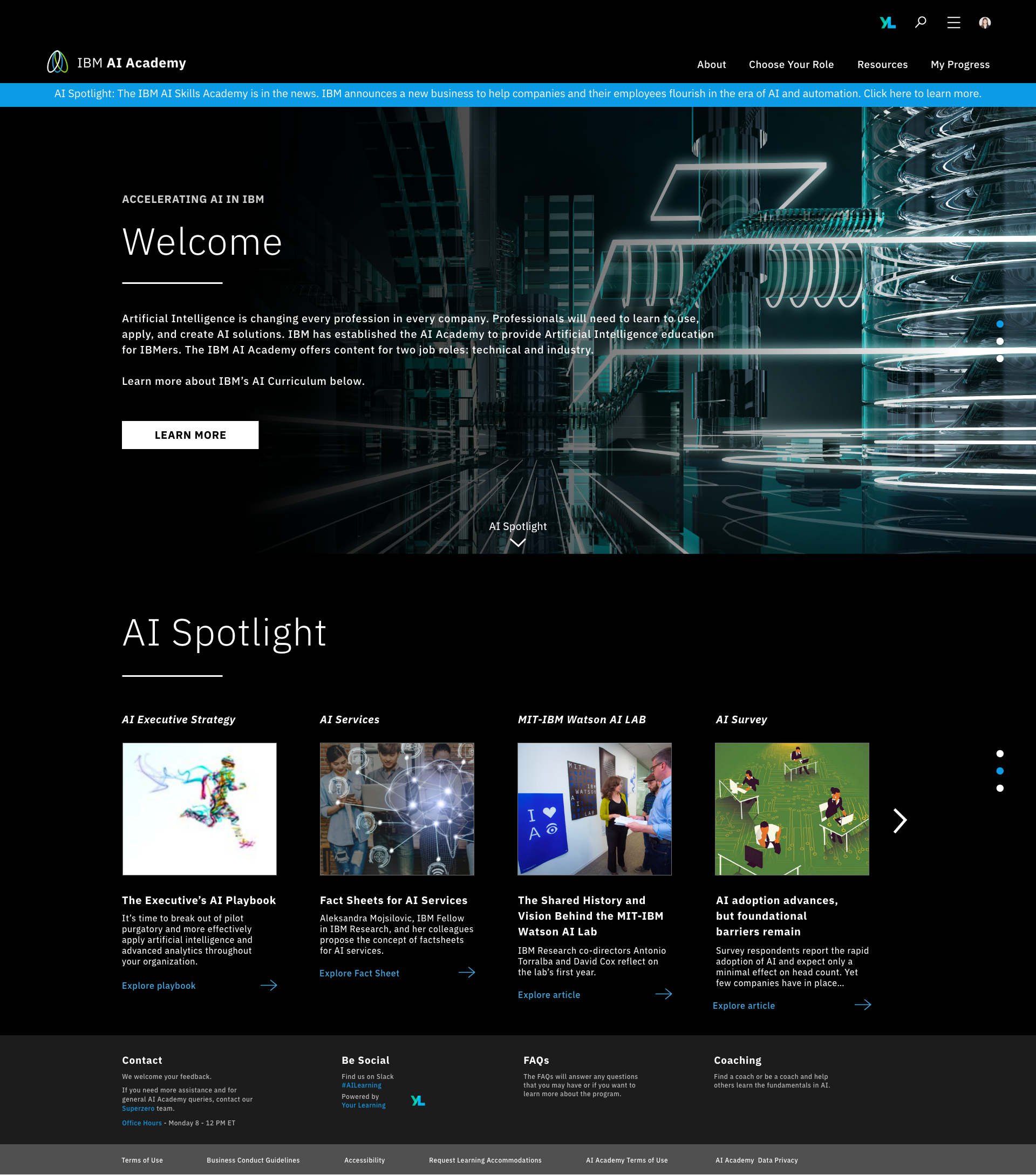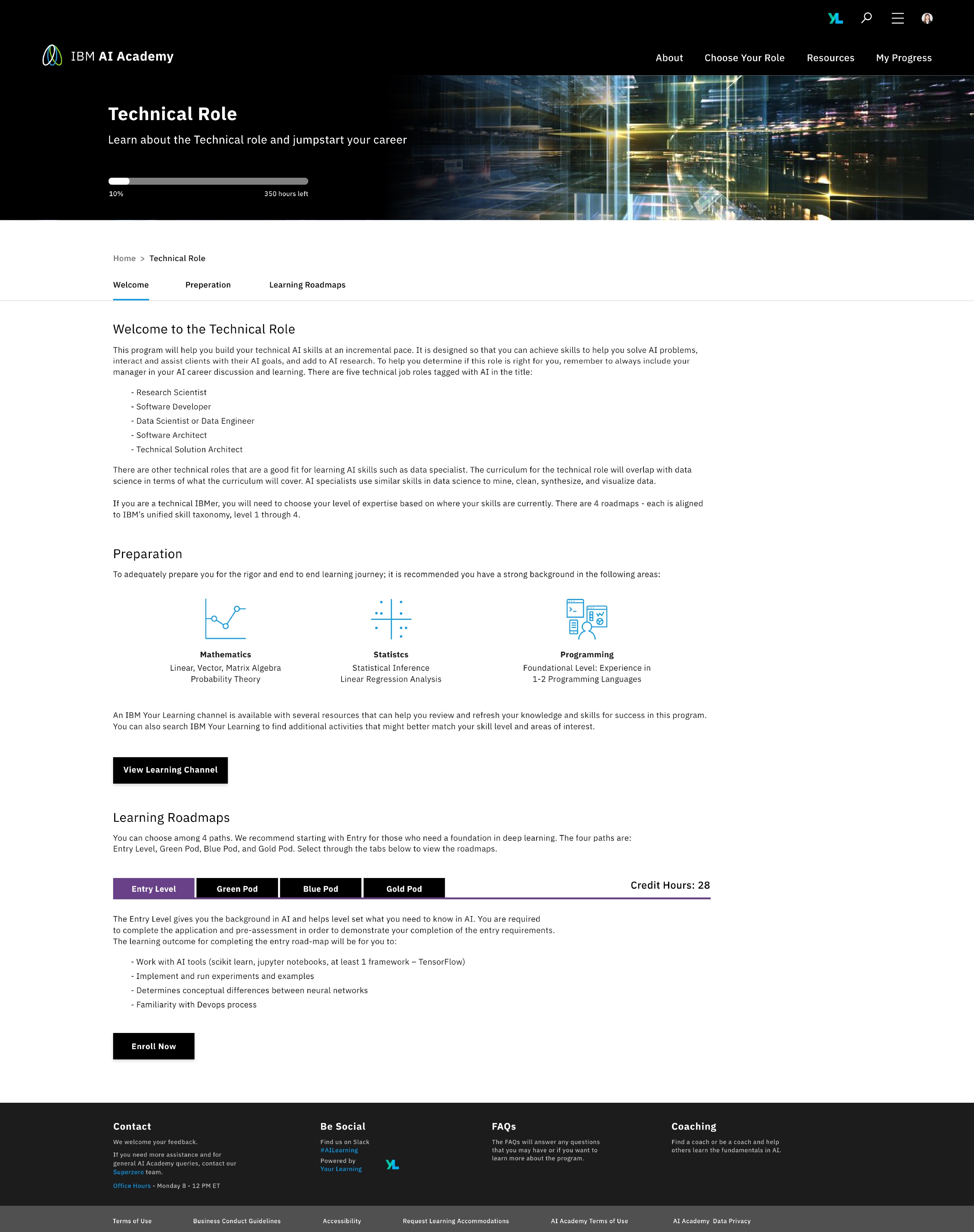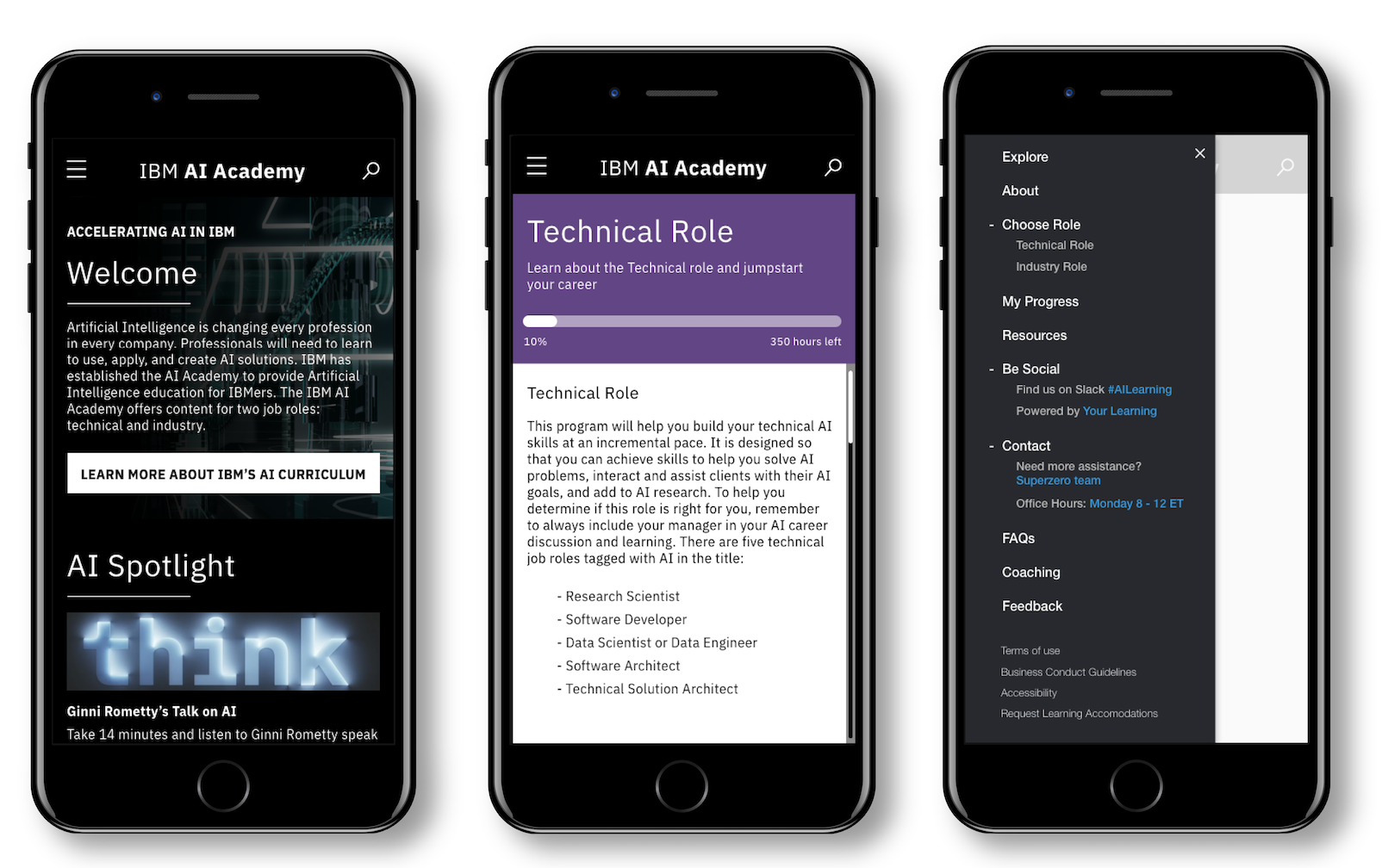 Responsive mobile app
The last stage of this project was to create a responsive mobile design. I made sure that the usability was as seamless as the web version. using IBM's design system for mobile, I created a responsive mobile app that displayed the key features that the user would need in order to navigate and continue their education at any place and anytime.
Results and conclusion
IBM's AI Skills Academy was very impactful across the overall business. When it comes to AI, company executives see the huge potential competitive advantage that it can provide. They know that companies face massive skill and culture challenges. In fact, according to new research from the IBM Institute for Business Value, in the next three years as many as 120 million workers in the world's 10 largest economies may need to be retained or re-skilled as a result of AI and intelligent automation. IBM's IA Skills Academy is the perfect platform to train these thousands of employees in the areas of AI and automation.
After successfully training 500 employees in AI, IBM's Ginni Rometty, decided it was a good idea to train every employee in AI. The team came back together to rethink how this was going to impact the current product because it was not setup for that many different roles and multi-function roles. We stuck in a room and talked about how we could build a Generalist Curriculum that would house all the other roles at IBM. It was a big feat to train up 366,000 employees, but we did. Our team came along way to develop the IBM Skills Academy. Our efforts enhanced the speed and accuracy of training a mass amount of employees all at once.