Copper Banking & Investing
The Copper design team's mission is to empower and inspire our teens to make sound financial decisions while providing them a simple and intuitive experience, so they can become financial independent from their parents.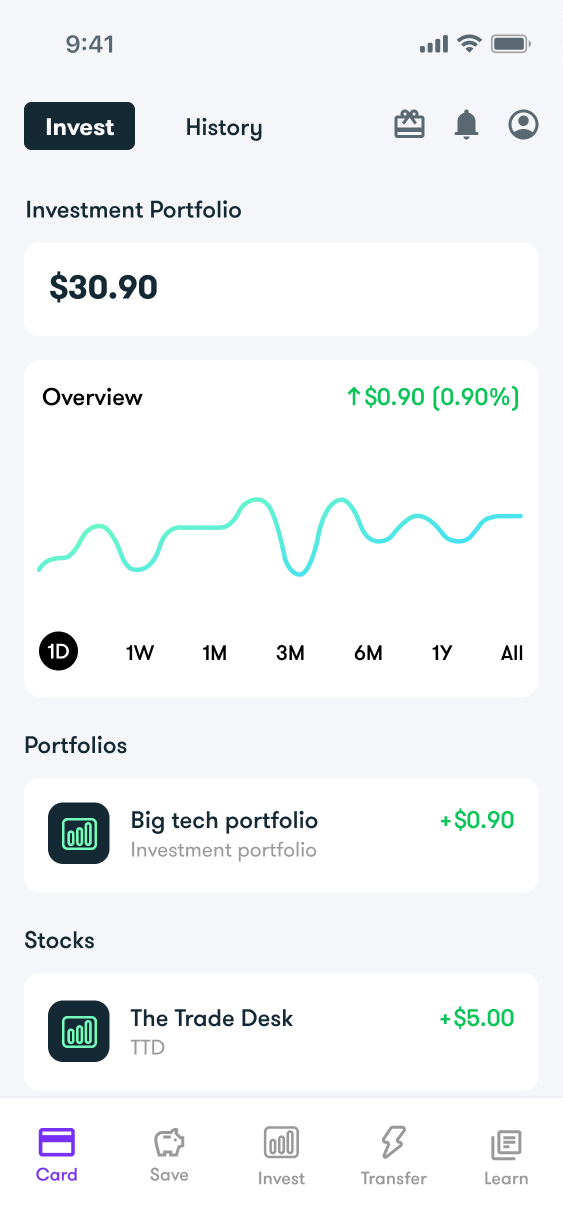 Company
Copper Banking
Year
2021 - Present
Roles
Director of Product Design
Design Thinking Facilitator
UX Researcher
Project Manager
Design Mentor and leader
Tags
Product design, UX research, innovation, design system,
project management, design strategy, product strategy
Copper Banking was founded with the mission to help teens gain real world experience with money by giving them access to their money in a way that traditional banks aren't able to do. The Copper app and debit card teaches teens how to make smart financial decisions by creating a platform for parents and teens to connect. We are founded on the belief that teens should have equal access to financial education and should be empowered to learn by doing. Cause you're never too young to get your money right.

As the director of product design, I lead a lean Agile design team within this small but energetic start-up. I've been a strategic partner with the CTO and CEO to create purposeful and meaningful product features. I've incorporated a new innovation process into the product lifecycle for collaborative idea creation, design thinking and user research. I continue to mentor designers and marketing specialists through best practices and new trends within the financial industry. As the director of product design, I have increased design and development efficiency by establishing a new Copper Design System that embraces the modern approach of banking and investing.
Maintain design process
As the director of product design I have managed to create a design process that incorporates surveys, user feedback and usability testing. This increases the product team's early rate of success knowing that we've tested prior to development and release.
Lead new product initiatives
One of my core duties has been acting Chief Innovation Officer. I am tasked with developing innovative new initiatives, strategies and products. One of the ways that I am doing this is by creating a grading system to help prioritize new product features. Another way is by creating a feedback funnel directed towards the innovation team to help consolidate user feedback and research.
Manage new projects based on business and design objectives
Partnering with Copper's CTO and lead project manager, I make sure there that our new features and designs are aligned with company mission and goals. We also prioritize our product features based on Copper's mission to acquire more users and increase monthly average card swipes.
Maintain and evolve Copper's innovation process
Copper's new innovation process has made a large impact on the way we launch product features. I used my previous knowledge from working on Charles Schwab's Innovation Accelerator to help shape this process at Copper. The main focus is to discover problems arising from user feedback, validate ideas from leadership and individuals and research and test our ideas and designs.
Gather and synthesize user feedback + NPS feedback
One of my most successful accomplishments has been to create a central funnel of all Copper's channels of user feedback. We needed a central location of truth. I made sure all teams that collected feedback such as marketing, support and product growth report their learnings into the innovation team. This feedback is analyzed and affinity mapped to be included and scored in the prioritization process.
Work with executive leadership to envision what's next for Copper
Aside from our feedback channels, I collaborate with Copper's CEO and CTO to envision the future of Copper. Whether this be new features or iterations on existing features that will give Copper big wins. This is just another way to get a steady stream of ideas that meet Copper's main goals into our pipeline.
Collaborating with marketing team to maintain brand consistency across product and company
As Copper expands its product, it has been essential to maintain and evolve its brand to incorporate new trends in the industry. Our target market is teens and parents, so we have to stay up to date as best as we can. The design team works across product and marketing to ensure we have a single voice and tone.
Mentor designers
One of the most exciting opportunities that I get is to mentor and lead a team of brilliant designers. I continue to push my design team to get out of their comfort zone. I focus design 1:1s on professional development as well as make sure they are working on the right projects to help them succeed in their career and get them to the level they want to accomplish.
Continue to build Copper's design team
I am honored to develop quite an amazing design team. I started off hiring junior designers who were fresh out of UX Bootcamps. These are some of the best types of designers to hire. Eager and ready to make an impact. I will continue to grow our design team with desired skillsets in research, user experience design and content design.
What I've accomplished as the Director of Product Design
Established design strategy, goals and design process
When I started at Copper there were no other designers, no direction for design, no design system and several inconsistencies across the product. I was able to create a foundation of what design at Copper stands for. I had the design team focus mapping out the information architecture to note all inconsistencies, developing a scalable design system, and incorporating a process that include engineering and marketing prior to finalizing designs.
Established Copper's first scalable design system
As previously mentioned, Copper did not have a design system. There was a mess within the Figma files of components of different sizes, elevations and typefaces. We started with the core basics to create a foundation such as typography, color, elevation, grid, iconography and illustrations. Next we used the information architecture to layout the current components, we then redesigned each component to create cohesion throughout the app.
Copper's feedback and innovation process
Another problem the product team faced was prioritizing and implementing new features into the app. Before I joined introducing features was done with little organization. I brought a new way of working in new features into the app by centralizing our feedback in one place, using a RICE framework to score new features and put those ideas through a new innovation process. This innovation process incorporates the design thinking framework (Empathize, Define, Ideate, Prototype and Test) Each designer will go through this process to validate each idea before it gets implemented into the product.
What I've accomplished as a product designer at Copper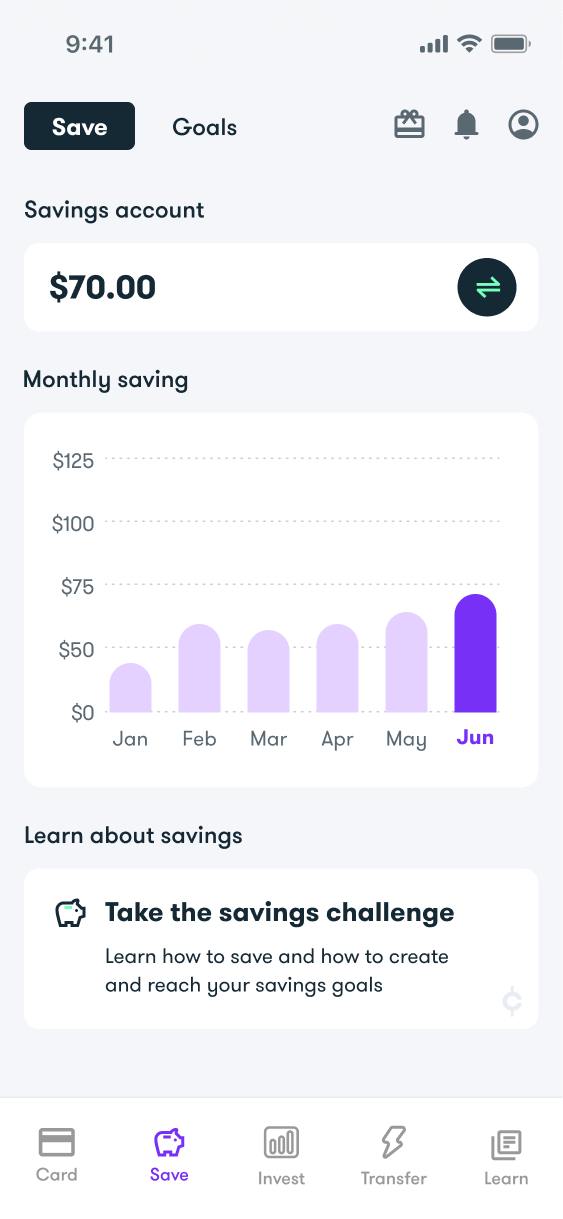 Copper Savings & Savings Challenge
My first design initiative at Copper was to introduce more financial literacy into the app. One of our core teen features is the ability to create savings goals. The savings feature is one of the most used and visited experiences within the app. We decided to add some financial education around the importance of saving for the things they need and want.

This savings financial education increased goal creation by 20% and increased money into savings account by 15%, all within the first three days of release.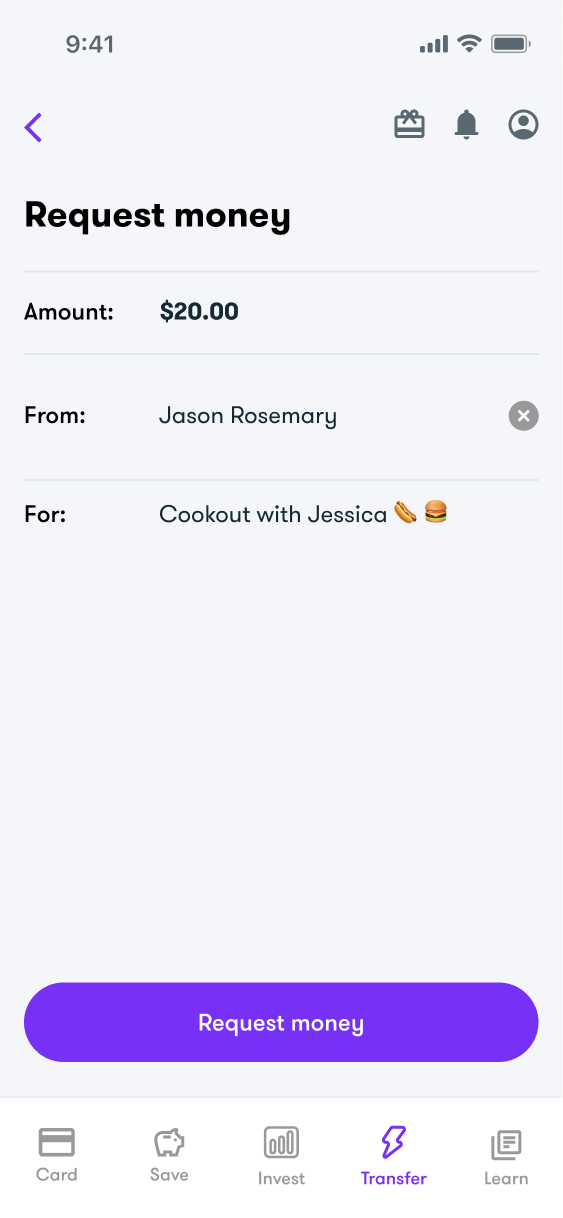 Copper's Peer-to-Peer payment functionality
Another recent addition to the Copper app was our peer-to-peer (p2p) functionality. We had this functionality embedded into the app for parents receiving and sending money within their family. We knew we needed to scale this to the entire Copper network due to our competitive research and user insights, so we tested this with 20 families. After testing we were able to tweak the designs to be more intuitive and add moments of education. We found out that the loading screen from sending a request took several seconds, so we decided to add financial educational tips to make the wait time seem less noticeable. It's also another great way to embed more education into the product.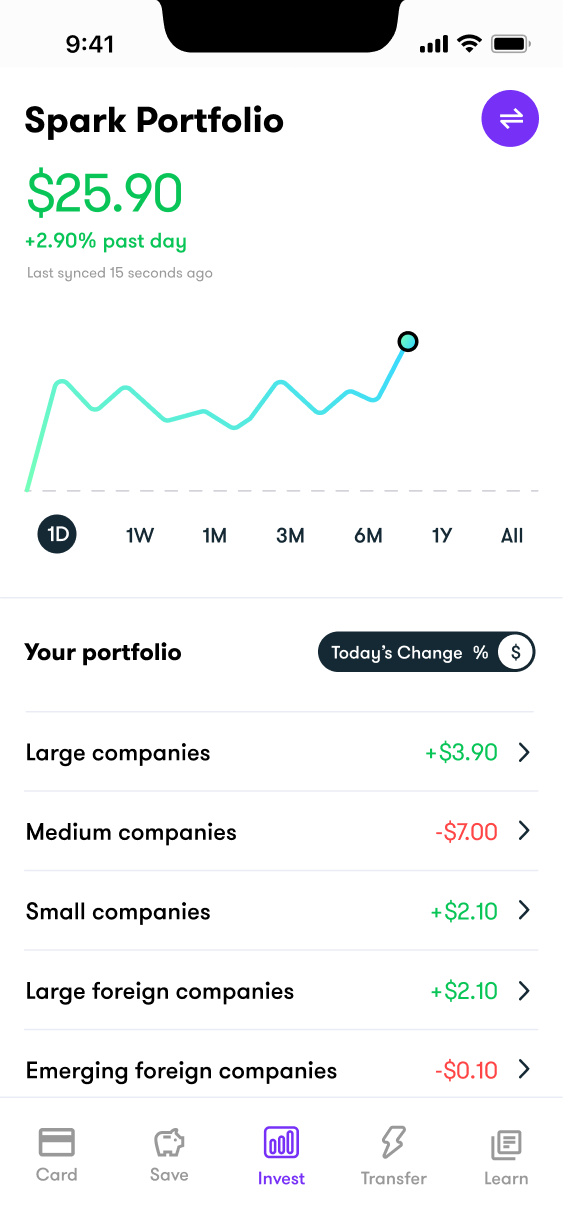 Copper Investing
I had the please to take on the investing initiative at Copper. I've had previous experience working within this space at Charles Schwab, so I took this initiative on. This was also the first project to go through Copper's new innovation process. While in the research phase, I learned that teens have little to no experience with investing and due to our demographics, the parents had about the same knowledge base. With this knowledge, I knew that if we created investing for teens, our product needed to be safe and it needed to build confidence within our teens prior to making major investing decisions. Our competitors in this industry have thrown this generation into the shark tank with little to no guardrails and education to teach teens the basics. This leads to more emotional trading which equals poor trading decisions and less trust in our investing product.

I decided to push our company to a safer investing tool that will take into consideration teens' interests and ability to handle risk. We decided to build a tool that will be hands off and automated. This will give us the time to teach teens how to invest before launching individual trading. This will boost our teen's confidence in investing, build trust within our parents and give us the time to slowly ease teens into investing with the right guardrails prior to investing individual stocks.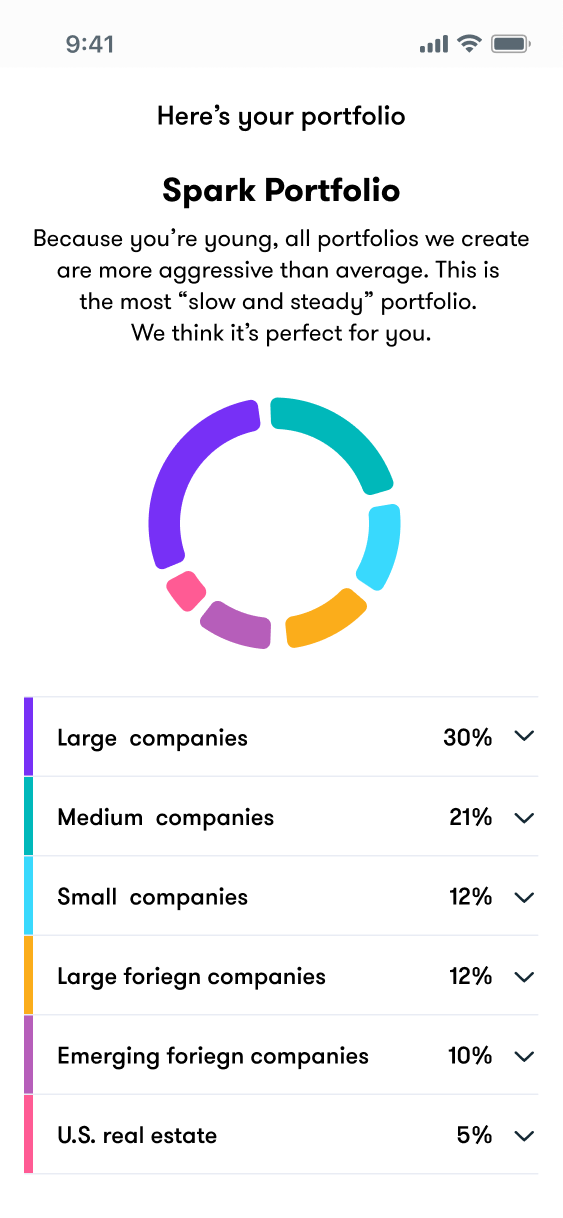 Copper app redesign
Our most recent initiative has been to rethink and redesign the existing Copper product. This felt like an almost impossible task given our deadline of 1.5 weeks. Our leadership team wanted to push the design team to rethink how our app works and how our users navigate through the app. I decided to use a Jobs-to-be-done (JTBD) framework. This allowed the design team to think through each individual core job, functional job, emotional job and social job that a teen and a parent goes through. Having a high level map of the information architecture was our first step at tackling this initiative. After we thought out all of our jobs for both teens and parents I decided to take a look at our approach. Our goal for the redesign was to build a product that would empower and inspire our teens to make sound financial decisions while we provide them a simplistic and intuitive experience, so they can be financial independent from their parents.
We would do this by first simplifying our current experience. Multiple CTAs and limited direction on what to do next has created confusions amongst both teens and parents. Our second approach was to make the product intuitive, as in, there are clear directions to complete each core and related jobs. Lastly, we knew that we were going to add more features as we expand the product, so the design approach had to provide a scalable experience.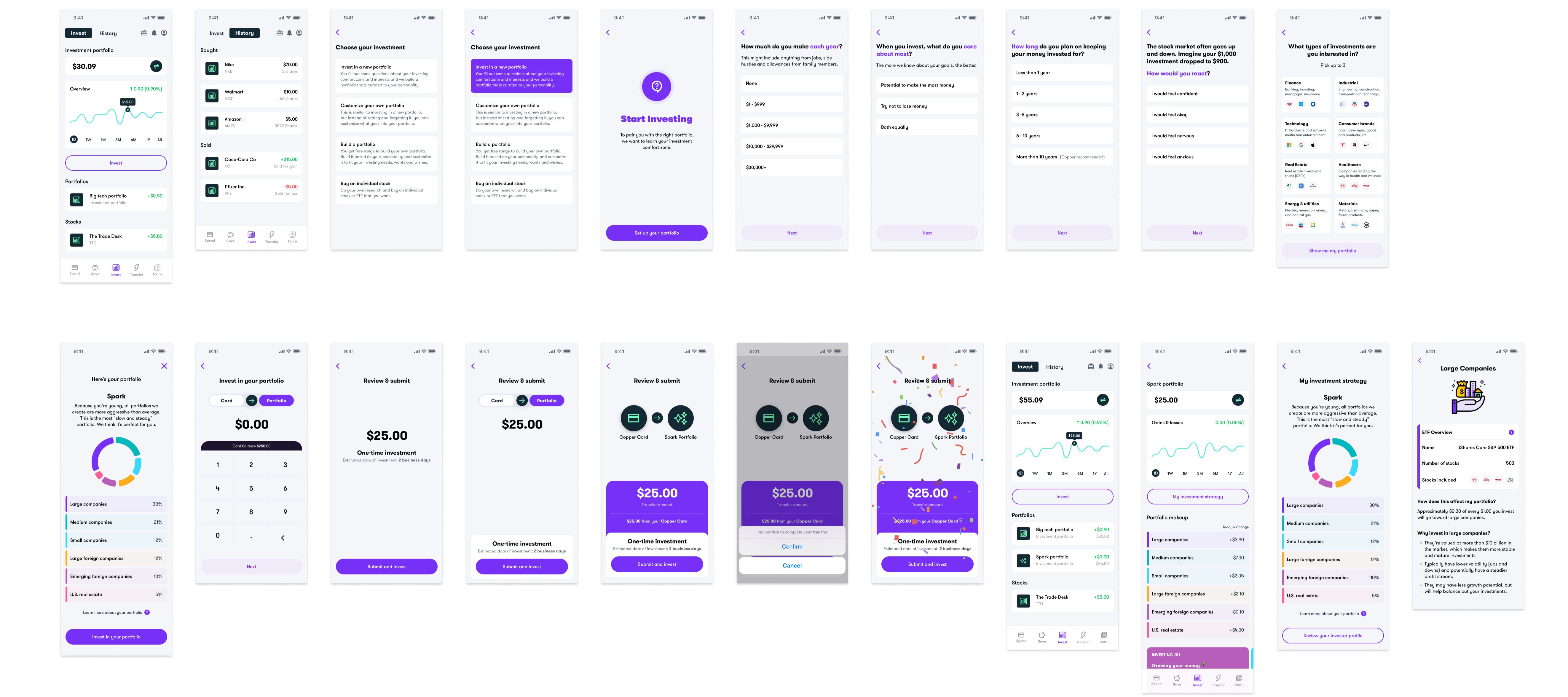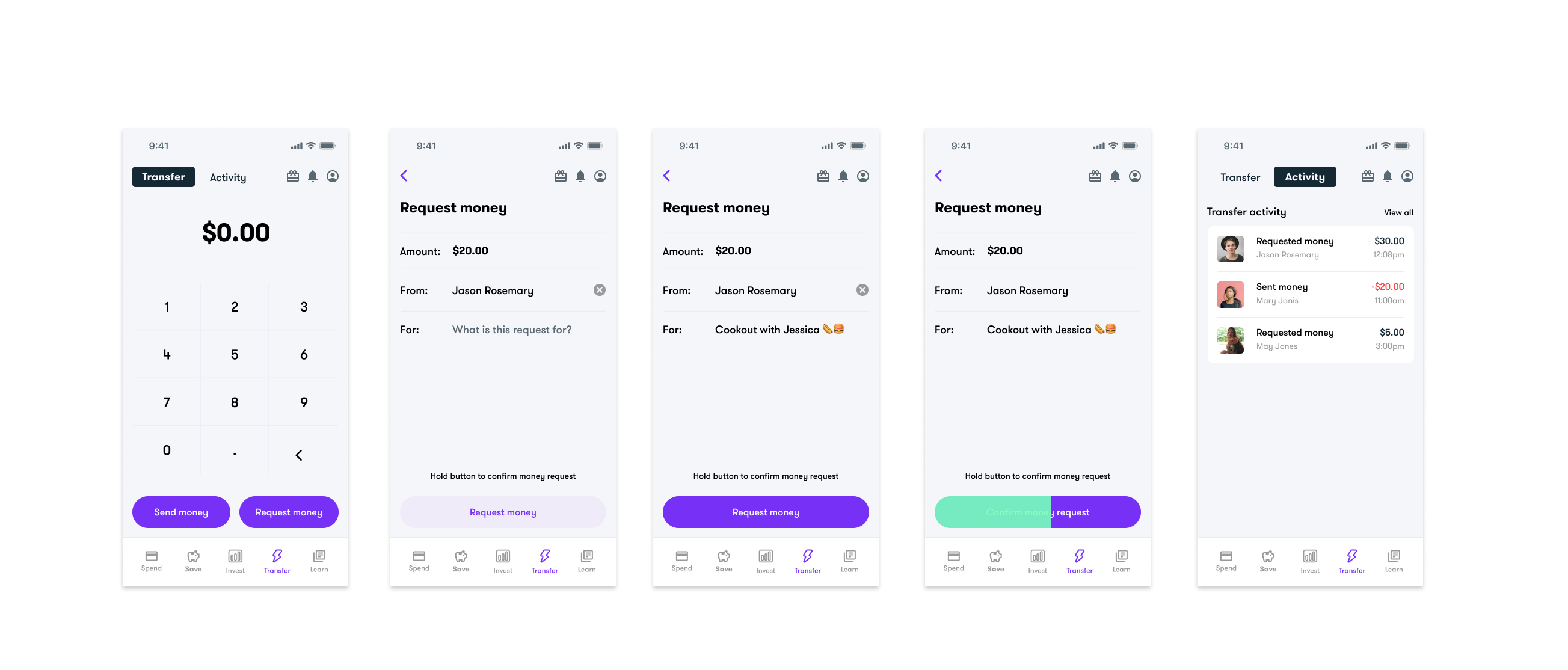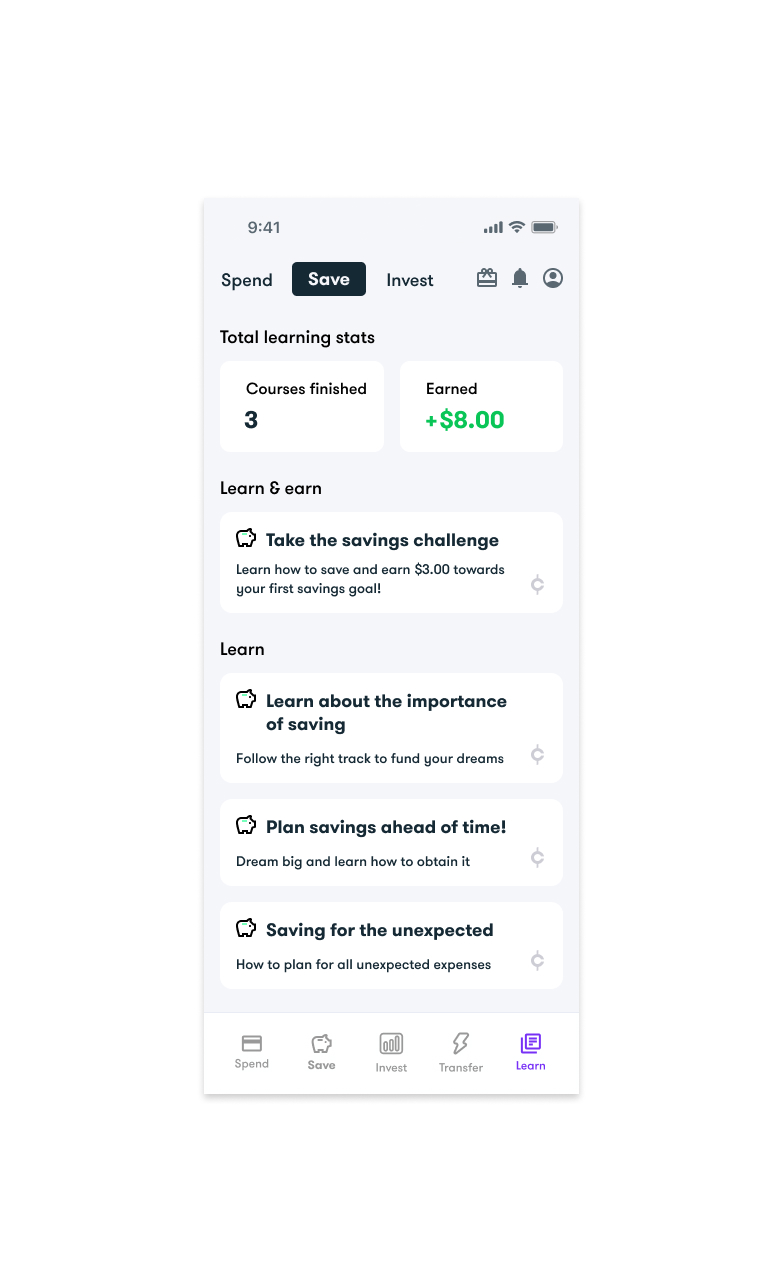 Innovation + design strategy
Our innovation and design process is embedded together for medium to large projects. For smaller projects that have more data behind their decisions do not require as much research and discovery as those that are more ambiguous. The innovation process starts with sending surveys to our users, user interviews, market research and and in depth analysis of competitors who have other tools that solve for our problem space. Once we gather our research we make an initial decision if this is the right problem we are trying to solve and if it's the right problem for Copper. If we move past our first evaluation phase, we move to defining the problem and ideating with a few members from the great organization. Once we converge on a few concepts that resonate with the team, we send those to our user panel, our Copper Innovators to give us feedback on which concept they prefer and what they like about each concept so that we can go with the best approach to solving the problem based on data and feedback. Once we have a concept that scores the best on our impact and effort assessment, we pitch that to leadership to get their feedback. After we determine the new feature, we will send that through the design process where a visual designer will convert the low-fi wireframes into high-fi mockups. In this process we will incorporate marketing and engineering to determine the simplest approach to gathering initial feedback from testing. It seems like a long process, but this usually takes 1-3 weeks in total based on our feedback throughout the process.


What's next for the design team?
Continue to grow an outstanding design team
Increase our research capabilities
Create product squads for each core business need