Invest with Copper
My goal for Copper's investment product was simple. Ease teens into investing by providing them the education and understanding of the stock market and how to trade prior to jumping into investing. Doing so will boost their confidence so that they will make wiser investment decisions.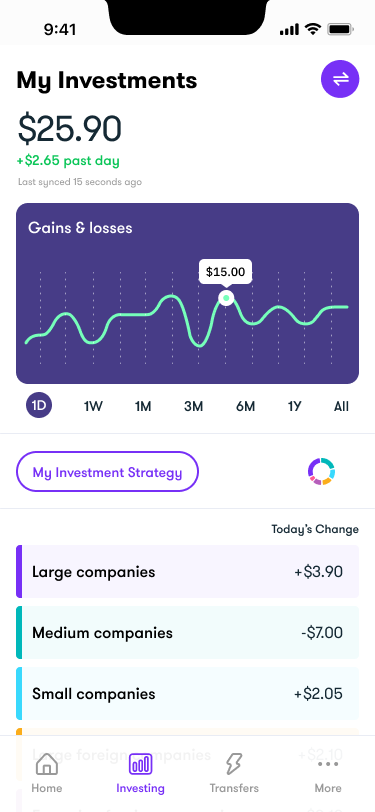 Company
Copper Banking
Year
2022
Roles
Director of Product Design
UX/UI Designer
UX Researcher
Project Manager
Tags
Product design, UX research, innovation, design system,
project management, design strategy, product strategy, innovation
Copper banking has been within the banking space for about two years, but knew they needed to stay relevant to the competition. Both Greenlight and Step are getting deeper into investing and Copper needed to catch up. I was tasked with thinking about how investing would work at Copper. That was the only requirement and I was told to research, define our scope, design a product and build.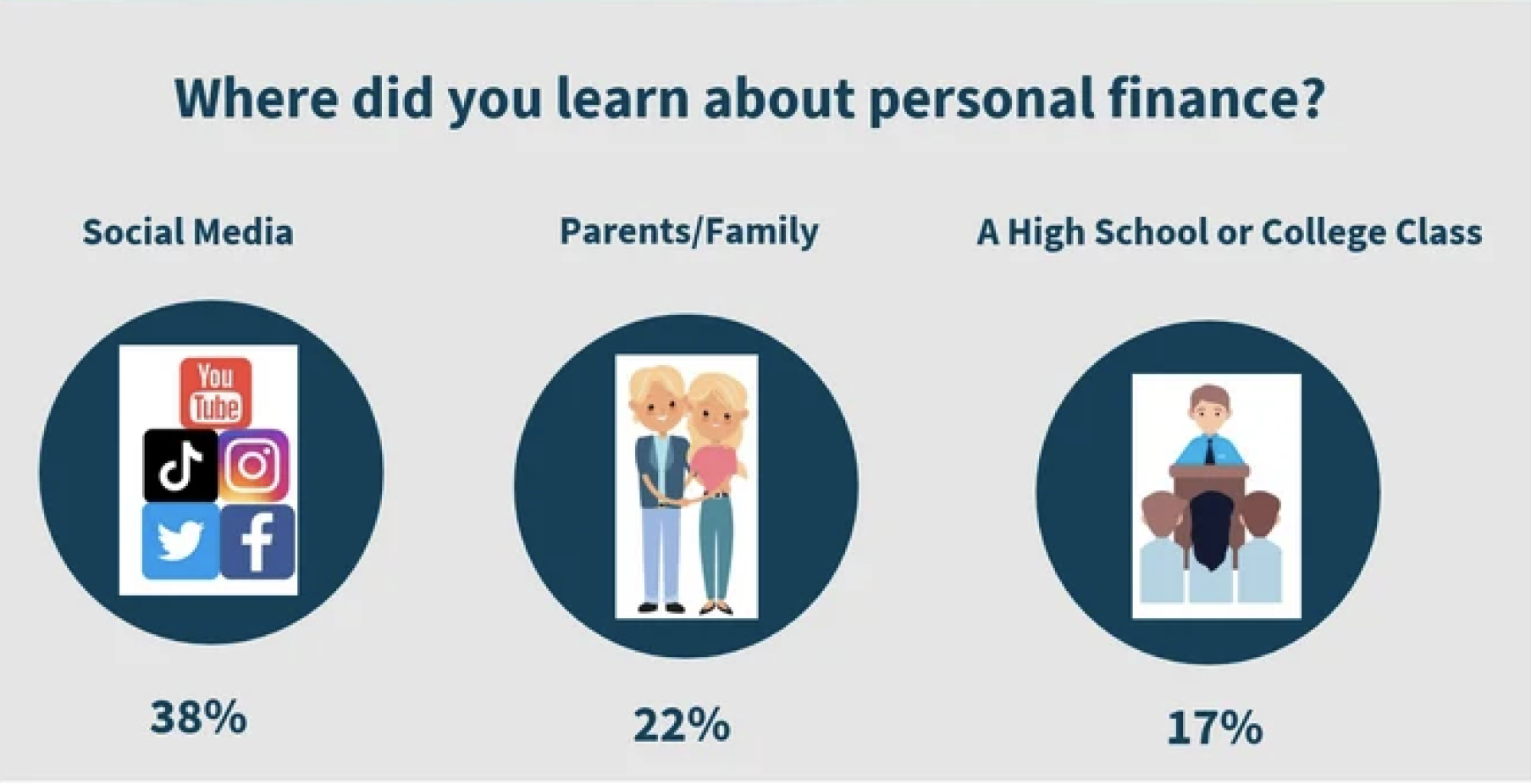 As you can imagine, trying to research a tool to help 13-17 year olds invest was bit challenging due to the limitations that were out there within the finance industry. Large banks and investment firms didn't touch the teen side of investing. The only products that they made accessible are custodial accounts where the parents are responsible over their teen's accounts. I did find a bit more information on investing for Gen Zers. Both Gen Z and Gen A are very similar as they have zero to very little experience investing. This means, they have very little confidence to make smart investing decisions. They however, are quick learners and very tech savvy which helps with educating teens on how the stock market works and how to invest.
Below are some interesting insights after conducting marketing research:
Teens get most of their financial education from their parents.

Teens use social media to gain ideas on what to invest in, but don't trust social media to validate their trading decisions.

Teens want to be able to personalize their investing assets (ESGs, thematic investments, trends in technology).

Teens are more likely to invest in companies that they know and trust.

Teens do not know when to buy or sell their stocks.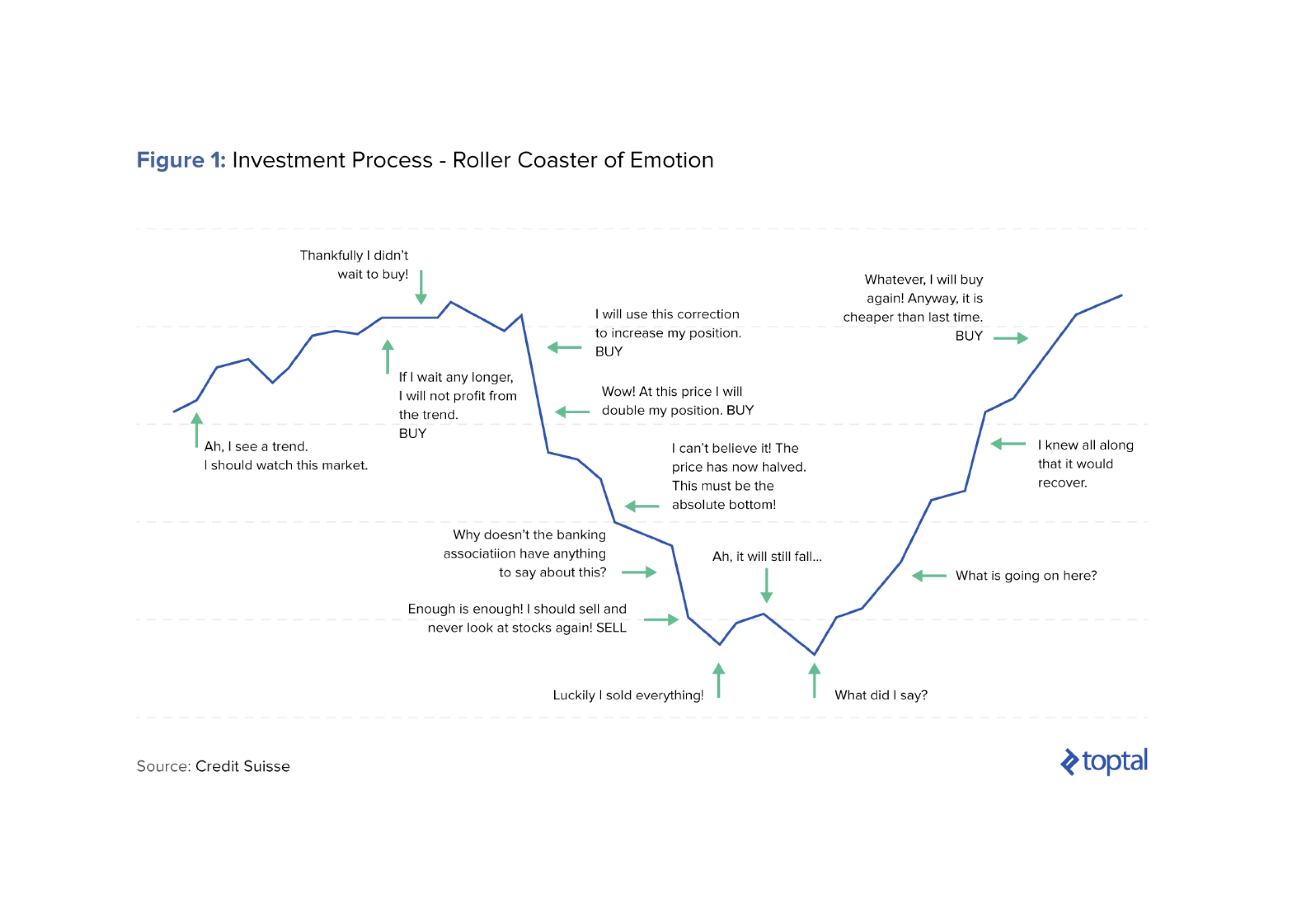 As you can imagine, getting user feedback and insights from teens can be hard with the limitations of the age range. I had to be careful how I approached gathering information. I also went on a search to find user testing software to help with surveys and interviews. I had meetings with 7 user testing companies before I bought a license for Usabilityhub. I was able to use our own users plus source a panel of 13-24 year olds. I sent out a survey to gather more insights on how teens are perceiving investing. The panel consisted of 21 teens and young adults.
These are the questions and responses that were part of the survey:
What's their investing experience?
a. 90% of teens have zero experience
with investing.


What tools do they currently use to invest?
a. eToro, Robinhood


What is their experience using these tools?
a. Most had issues with their investing experience, confusion and lack of
understanding of how to invest.


What type of companies would they like to invest in?
a. Companies that align with your needs - 90%


What factors are important to them when picking a stock or company to invest in?
a. It supports your values (ESG, female and veteran owned businesses) - 80%


When it comes to an investment product, what is most important?
a. Knowing when is the right time to buy and sell your stock - 60%


If they were given a clean slate, what type of investment tool would they use? What features? Why?
a. Research stocks, ETFs, view company earnings, crypto, visibility into friends
investments, education
Teen behaviors and habits
I spent a couple hours speaking with one of our financial consultant who specializes in banking and investing practices for children and teens. I had a few assumptions going into this call. The first being, I didn't think teens had the proper education to make smart investing decisions. A lot of times, teens can learn about finances from their parents, but due to our demographics, most of their parents didn't invest at all, so teens didn't have that guidances or visibility into how to invest. Secondly, I thought teens did not know what to invest in and that they needed that guidance and reassurance from an external source. And lastly, I thought teens would take more risk on due to not knowing the basics around investing and seeing meme stocks as being successful for a short duration. I also thought that since teens had zero-to-little investing knowledge, they didn't understand the meaning of taking on investment risk.

Here are a few key takeaways from my discussion with the financial consultant:
Teens are hesitant to make purchases because they lack the life experiences.

Teens need the education and they know this, but they are also eager to learn.

Teens are more acceptable to new technologies and digital tools.

Teens can't understand risk until they try and then lose money. They need a way to gauge their comfort levels. For instance, teens can't afford to make severe mistakes with the amount of income that they have. ie. losing a $300 paycheck to a bad investment is a log of money for a teen. However, a $300 loss for a parent isn't as significant.

Teens don't understand the risk when investing, as opposed to adults who typically have taken risk in the past (home loans, car loans, etc).
Type of investments that resonate with teens:
Index funds

Thematic investing

Investing in brands that they know

Savvy investments

ESG investments

Robo-advised/automated accounts
Direct competitors (Ages 13-17)
Greenlight
Greenlight has always been Coppers biggest competitor in the teen banking space. The main difference between Greenlight and Copper is that Greenlight put more emphasis on the parents to make their teen's financial decisions. Copper teach teens how to become financially independent from their parents.
Here are the top features that Greenlight has for investing:
Education-first

Trading individual stocks and ETFs

Fractional shares

Parents must approve all trading activity
Cost: ~$10 per month
Fidelity Youth account
Fidelity's Youth account is another close competitor to Copper. They are directed towards teens ages 13 - 17. The only catch here is that, the parents must have a Fidelity brokerage account in order for their teen to have a Fidelity Youth account. Their parent account is the insurance that a teen needs in order to obtain this account.
Here are the top features that the Fidelity Youth account has for investing:
Individual trading stocks, ETFs and mutual funds

Educational Center (more like a blog)

Parental visibility into teen's account and must approve all trading activity
Cost: Free for teens if parent has a brokerage account
Bumper
Bumper is a fairly new investing app for teens. This app is directed towards creating the first successful generation of young investors. As Copper is the first banking app built for teens, Bumper is the first investing app built for teens. All a teen needs is a sponsor to create an account for their teen. The sponsor doesn't have to be a parent.
Here are the top features that Bumper has for investing:
Education-first

Financial goals

Portfolio builder

Trading individual shares

Sponsor must approve all trading activity
Cost: Free, but planning on doing subscriptions
Bloom
Bloom is another new investing app for teens. They have almost the same product as Bumper - Teen focused and education-first. Bloom uses a very hands-on approach to teaching teens how to invest and what to invest in. They have similar features as the other competitors, but more restrictions on allowing what teens should to invest in.
Here are the top features that Bloom has for investing:
Education-first

Buy individual stocks

Fractional Shares

Earn stocks by learning

Investor community

Parent's open custodial account for teens

Parent must approve all trading activity
Cost: Free, but planning on doing subscriptions
Indirect Competitors (Traditional accounts ages 18+)
Traditional investing firms are on the indirect competitor list because these are all 18+ accounts. There are many institutions, but I selected the top that I felt had solid features and experiences that would be relatable for our investing product. These large financial institutions poses a number of accounts including custodial accounts. They also have several investing accounts for every type of investor. Charles Schwab, Fidelity, and Ally invest are known for their complex tools for advanced investors, but some institutions also provide simple tools for those investors who want a more hands-off approach to investing like Robinhood, Alinea Invest and Acorns. I will just list a few types of accounts and features from a few of these indirect competitors.
Charles Schwab
A few types of accounts and features from Charles Schwab:
SIP/robo-advised accounts

Thematic investing

Brokerage accounts

Education

Fractional shares

Retirement accounts
Alinea Invest
A few types of accounts and features from Alinea invest:
Playlists and thematic Portfolios

Robo-advised /automated investing accounts

Investor community

Copy trading

Crypto, ETFs
Robinhood
A few types of accounts and features from Robinhood:
Brokerage account

Simplicity of trading

Individual stocks, crypto, options and ETFs

Education
Acorns
A few types of accounts and features from Acorns:
Robo-advised/automated investing accounts

ETFs

Portfolio builder

Thematic portfolios
It was time to interview some teens
Interviews (10 teens ages 13-17)
Researchers won't know how the struggles of interviewing underage customers until they try it. I had to go through legal bells and whistles to obtain parental consent in order to interview and record our teen conversations. That is why it took me so long to find a tool to help with sourcing out a panel of teens and to be able to interview them via a webcam. Most of these tools did not allow for underage data collection.
After getting the proper permissions and parental consent I interviewed 10 teens to get a better understanding of their problems within investing so that I could find some key opportunities.
Here are some direct quotes from our teen customers:
"I've invested on Greenlight for about a year, but I still am not sure what I am doing. I just buy a company that I like, maybe $5.00 here and there and see how it performs after a couple weeks."
"I tend to make impulse decisions when I buy and sell my stocks. I usually rely on my emotions when selling a stock. I just don't want to lose any money, but I am also not making money either. Maybe it's not for me."
"I find ideas on what to buy through places like Reddit....I don't always trust what people say, but if I check out Youtube or TikTok to verify what those people are saying."
"I don't have an investing plan, what's that? I just buy what I see on social media. Sometimes I make money, but a lot of times I don't."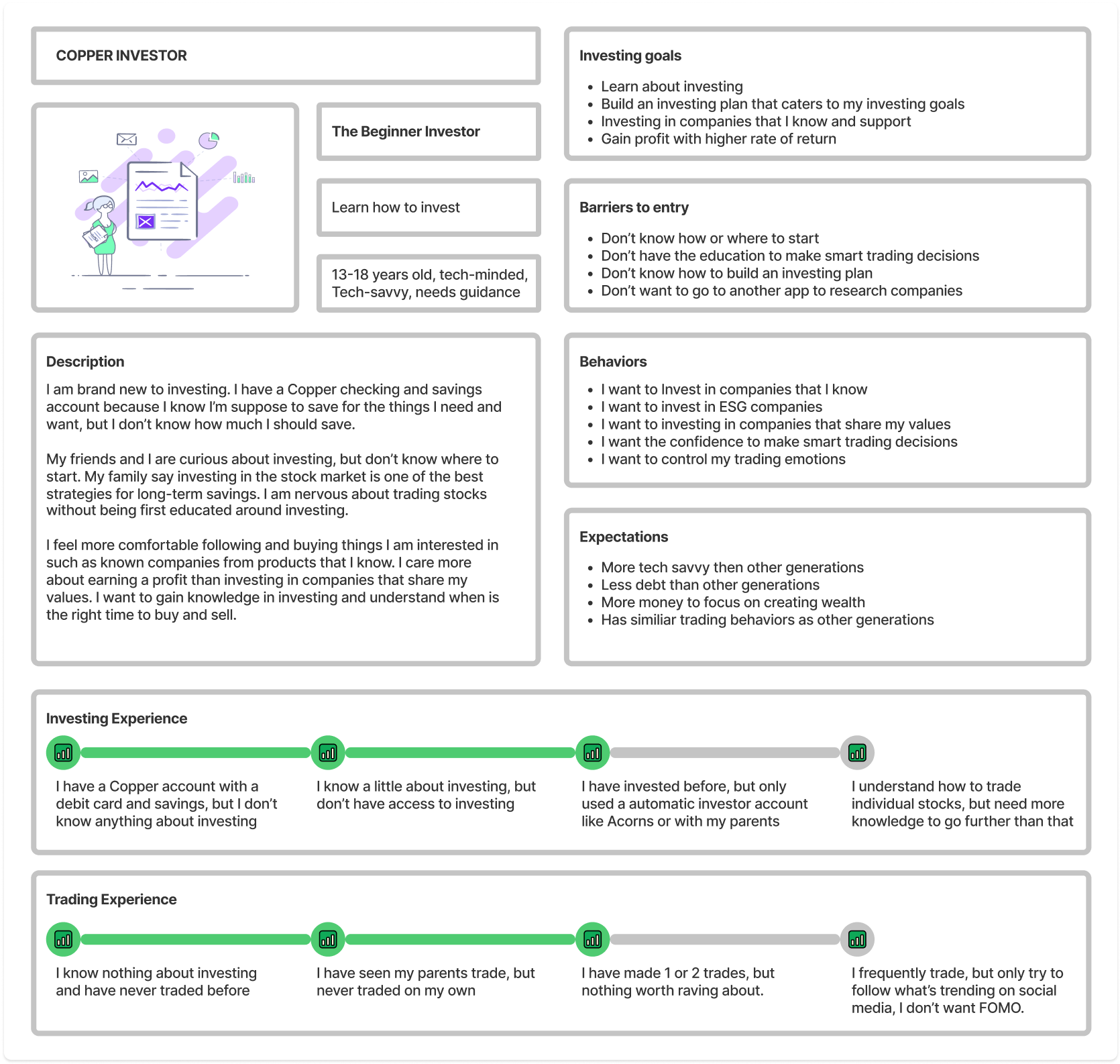 Proto-persona
Personas are always a great way to truly understand your customer or customers. I used a proto-persona for this project. The only difference is that standard personas classify one type of person, where proto-personas classify a group of people. Since our target audience was so vast of ages 13-17, I decided to do this approach. Even though there was a huge gap in ages, the overall investor type was identical.
Heres why:
Our Copper investor was between 13-17 years of age and is a beginner investor who had zero to very little experience investing in the stock market. They were tech savvy and tech minded, but needed guidance. They knew about investing and saw their friends trying it out with other apps, but they didn't have any idea what they were doing. Their friends were just buying meme stocks hoping that they could be rich quick.
The biggest barriers to investing were:
Not knowing where to start

Not having the proper education to make smart investment decisions

Didn't know how to build an investor plan

Didn't know who to trust for investment creation or validation
Here are their investing goals:
They wanted to learn more about the stock market and how to invest

They wanted to build an investing plan that catered to their needs, wishes and wants

They wanted to invest in companies that they know about and that they support

They want to gain profit and build wealth for their future. They want that quick win, but don't know how to achieve it or know if it's even possible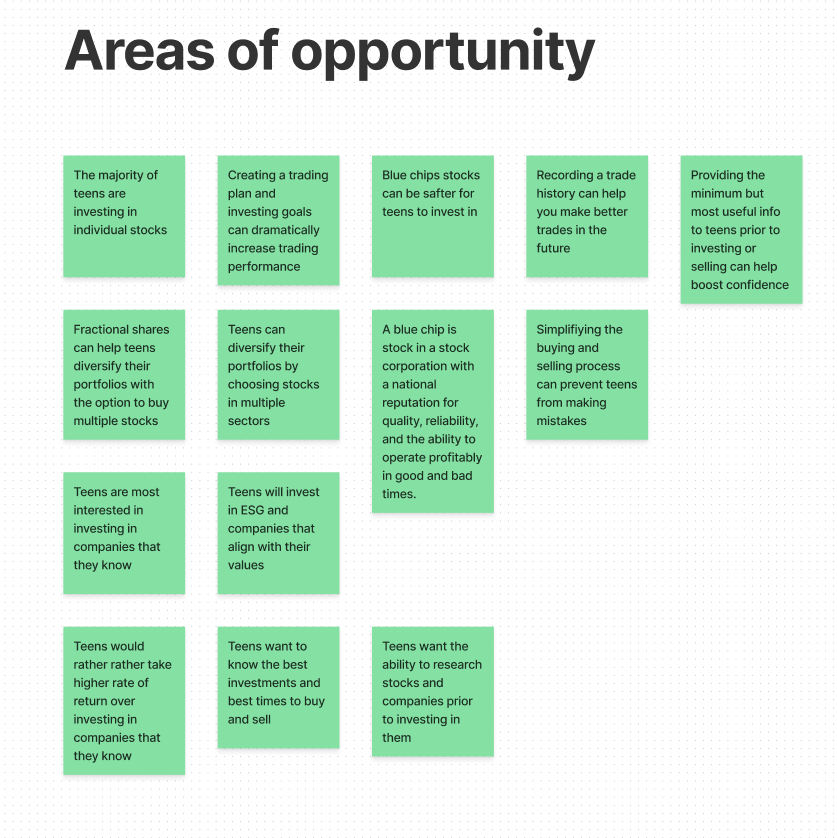 In order to define my problem space I needed to pull some opportunities from the research and data that I collected. I was able to use my research to validate all of my assumptions. It also provided some new ideas in other areas that I never thought about.
Here are a few opportunities that stood out to me:
Most of these direct competitors and traditional investing firms had a similar product and experience - throw their users in an open space of investing in whatever they wanted with little to no experience. What if we didn't do this and is this how we differentiate ourselves from the rest of our competitors?

Teens valued Blue chips stock when gathering data on our NPS survey.

Teens valued thematic investing and being able to feel like they are personalizing their investing experience.

Teens don't have the education or experience to make investing decisions. At least not for their first-time investment experience.
After going through all the research, interviews and opportunities, the problem that teens were facing was pretty simple. This problem was similar to what other audiences were facing within investing. Teens need the confidence to make smart investment decisions.
Confidence = smart investing decisions = growing wealth.
I create a few how might we statement that aligned with this goal of creating confident young investors.
Education-first approach
How might we give teens the proper education to build their confidence levels to make successful investment trading decisions?
Engaging experience
How might we provide an engaging experience for teens when trading stocks?
Research needs
How might we provide research and trading stats for teens to make successful stock trading decisions?
A guided experience
How might we provide the right guidance for teens to know when to make successful stock trading decisions?
Boost confidence
How might we give teens the confidence that they need to make smart trading decisions?
Guidance + confidence
How might we give teens the right amount of info to feel confident in their trade decision?
Brainstorming activity
I know what you are thinking. Why would you put an image in here that I can read. It's true. This activity was so large that I just wanted to show a glimpse of one of the ideation activities that I conducted with our team to eventually converge into several low-fi concepts.

Brainstorming is one of the best ways to get the creative juices flowing. I reached out to the company and asked several members to ideate with me. I found folks across marketing, creative, product growth and product. The objective was to ideate on the six how might we statements that I listed in the previous section. I time boxed 15 minutes for all individuals to come up with as many solutions as possible. After the exercise, I had each team member read their ideas so that the entire team could review them.
The next day I had the team do the second part of the ideation activity. This was to mash up 4-5 ideas to make a written concept. This written concept would be tested as a cage match against each other. I had to first teach the team about a concept and I did this by breaking it down as simple as possible:
What will this tool do for the user to solve this problem?
How will it solve the problem? (use 3 ideas from the previous exercise)
What is the desired outcome?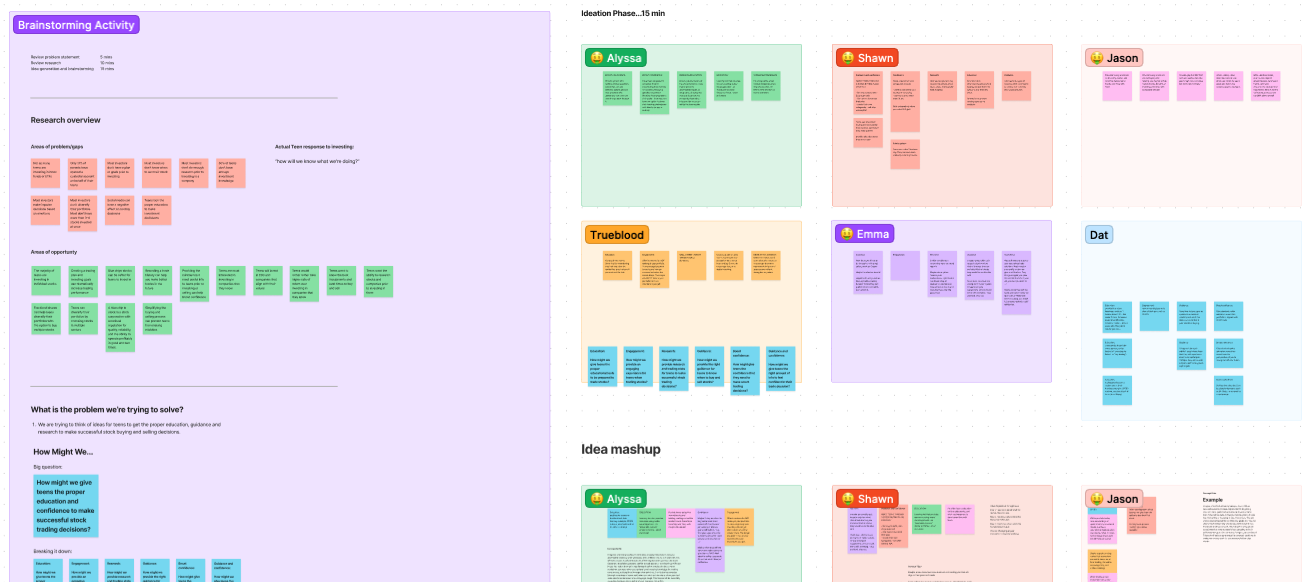 Benchmark (current tool in market)
Imagine a tool where you can invest in stocks and ETFs through whole shares or fractional shares. You can search through stocks and ETFs and explore what investments fit your goals. Once you you find the right stock, you can buy that stock and sell it whenever you want. You will make all the decisions in your portfolio with little guidance from Copper. You will be able to trade within your parent's trading parameters that they set ahead of time. This tool will give you the access to make trades freely based on your decisions.
Education + Rewards
Imagine a tool that provides you with easy to digest resources to help you understand investing, while giving you the confidence to do it on your own. You will have access to different avenues of learning like short quizzes, bite sized videos and true/false questions. You will be able to level up your skills and earn investing badges. You'll also be rewarded when you make investing and emotional decisions that you've learned through your learning. This investing education will create a strong foundations for smart investing habit that is so fundamental for your lifelong investments.
Investing Plan
Imagine a tool where you can build an investing plan that will align to your needs and goals. You will be able to take investing courses to understand the stock market and how to trade. You will take quizzes and build out your investing plan after each course. After each course and step in the plan, you will earn $5.00 worth of rewards towards your first stock purchase. You will be given an option to receive notifications when your stock aligns with your planning safeguards. (Ie. If you want to make a 20% profit on your stock, then your will receive a notification to sell.) This tool will help you build your confidence in knowing that your investing decisions are following an investing plan and all your decisions are backed up by your safeguards.
Community
Image a tool that breaks down the wall street jargon into everyday language so you can feel like you are on the same page as the wall street bros. You will be provided with reminders and educational tips along the way that will give you confidence to stay on path with your investing plan and goals. There will be ups and downs in the market but you will be able to share you wins, losses, worries, and predictions with a community of like-minded and same expert level teens to get you through it. Your investing goals might be individual but your journey is shared. Copper is here to support you every step of the way. Copper is empowering you to make educated investing decision not emotional.
Blue chips
Imagine a tool that will easily take you from n00b to successful investor in blue chip stocks (IBM, Amazon, Google, etc)! You will create goals and create a plan on how you will achieve them. You will be walked through, from beginning to end, the mechanism of investing in blue chip stocks. You will choose several blue chip stocks you want to invest into, and invest a whole stock or fraction of that stock. You will see a rating based on how successful you are going to be in achieving your investing goals. This tool will set you up to make smartest decisions by making your money work for you while investing in blue chip stocks.
Portfolio Builder
Imagine a tool that allow you to build a portfolio based on your personal interests and goals. You will be able to answer questions around your personal interests and values. We will provide a personalized portfolio that will contain thousands of stocks that you will be invested in. You will be able to add your free stock that you earned from your watchlist. We will also let you choose from other thematic investments so that you get to invest in what you want (ESG, black and female owned businesses, new in technology). We will give you the education needed to grow as an investor and make you feel confident that you are making the right investment decisions. This portfolio builder will be a hands-off experience and grow without you having to keep thinking what to invest in next.
The results are out and the winner is...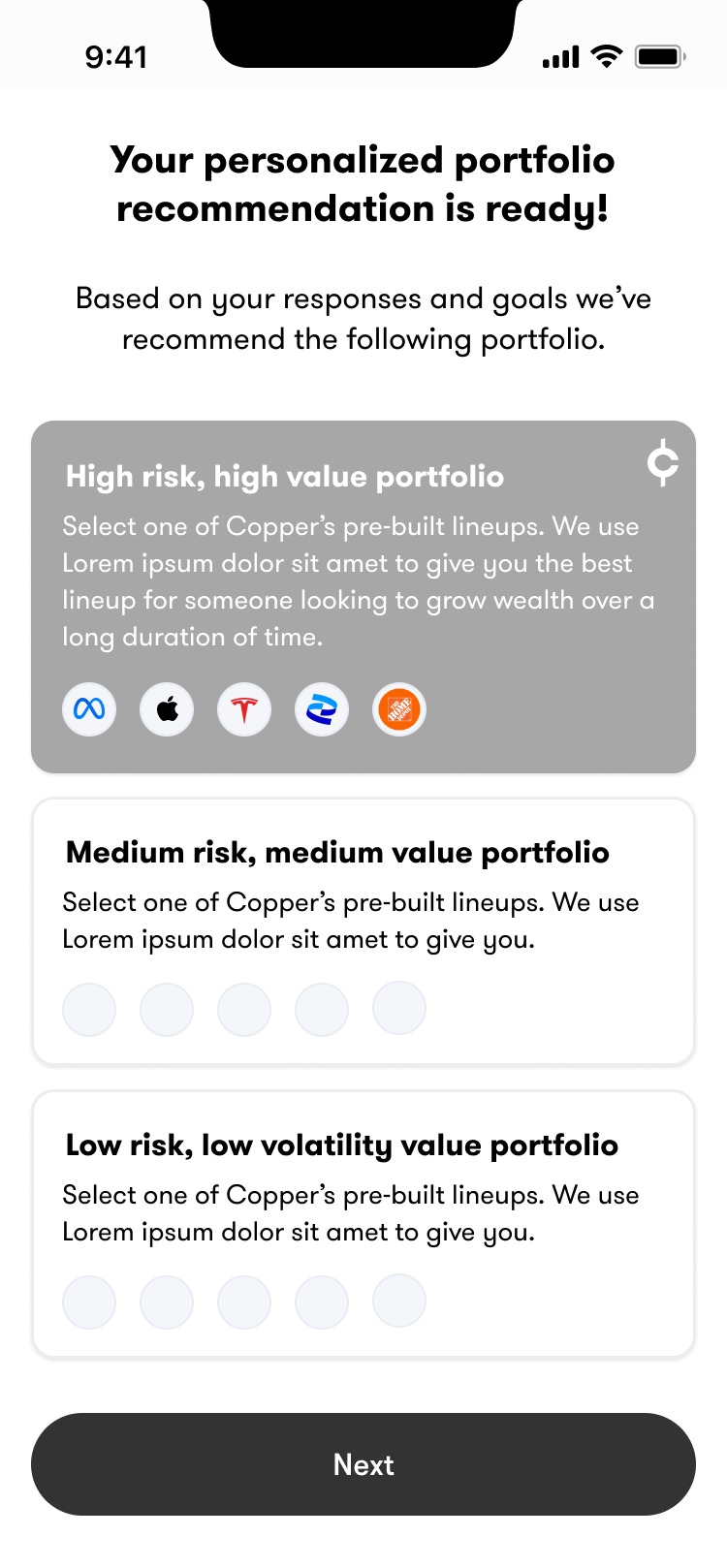 Teen's preferred the Portfolio Builder over all the other concepts
After a cage match of the six concepts of 50 participants ages 13-24, the result came back with the portfolio builder being the exceptional winner.
The next steps were to:
Define what this may look like at Copper (use low-fi design system toolkit)

Prototype, test, iterate, repeat (low-fi-mid-fi-high-fi designs)

Share to leadership (CEO + CTO) to get opinions

Bring in engineers to talk about feasibility, data collection, implementation
Design + Prototype + Test + Iterate
Portfolio Builder
There is so much that I can show here. To limit hours of looking at screens, I will just sum it up here. I started with low-fi designs and tested those with our Copper teens who were on our investing waitlist. The biggest part of this new investing features was to figure out how we would differentiate ourselves from our competitors. And this part took a bit of collaboration with my lead project manager that was recently hired to help with investing.
We decided to make our feature follow these parameters:
Provide teens with a thematic/risk-based portfolio made up of 6 ETFs

Make this feature teen-first. As in we found a way to bypass the need to ask for parental consent or permission to buy and sell their investments

Did not allow teens to buy individual stocks - based on all our research, I thought that this was our safest way to introduce investing to teens

Make investing as simple to teens and provide education while they are leveling up their investing journey - maybe in the next iteration, they can adjust their portfolio values? Maybe in the third iteration, they can build their own portfolio with the stocks and funds that they want to select.
Next, I broke up the entire product into experiences or our main core jobs (JTBD).
Our main experiences and jobs for teens:
Onboard teens on the investing feature

Build their portfolio (through a series of risk-based questions and personalizations)

Give teens a portfolio that fit their risk tolerance and personal interests

Give teens a view of their select portfolio

Invest in their portfolio

Show the performance of the invested portfolio

Give a way for teens to withdraw from their portfolio
Our secondary experiences or jobs for teens:
Provide teens a place to learn about investing

Give an option for teens to view into their portfolio (See what stocks they own)

Gamify the experience if possible
Our main experiences or jobs for parents:
Have parents go through an investing onboarding to create an account for their teens

Provide visibility into what teens are investing in

Provide visibility into their teen's risk assessment
Due to the limitations of access to my previous employer's files, I do not have the low or mid-fidelity designs. I only have the final designs for teens and parents. Please enjoy some stats about this process and the investing experience.
Teen investing onboarding
Teen investing experience (building portfolio and investing)
Parent investing experience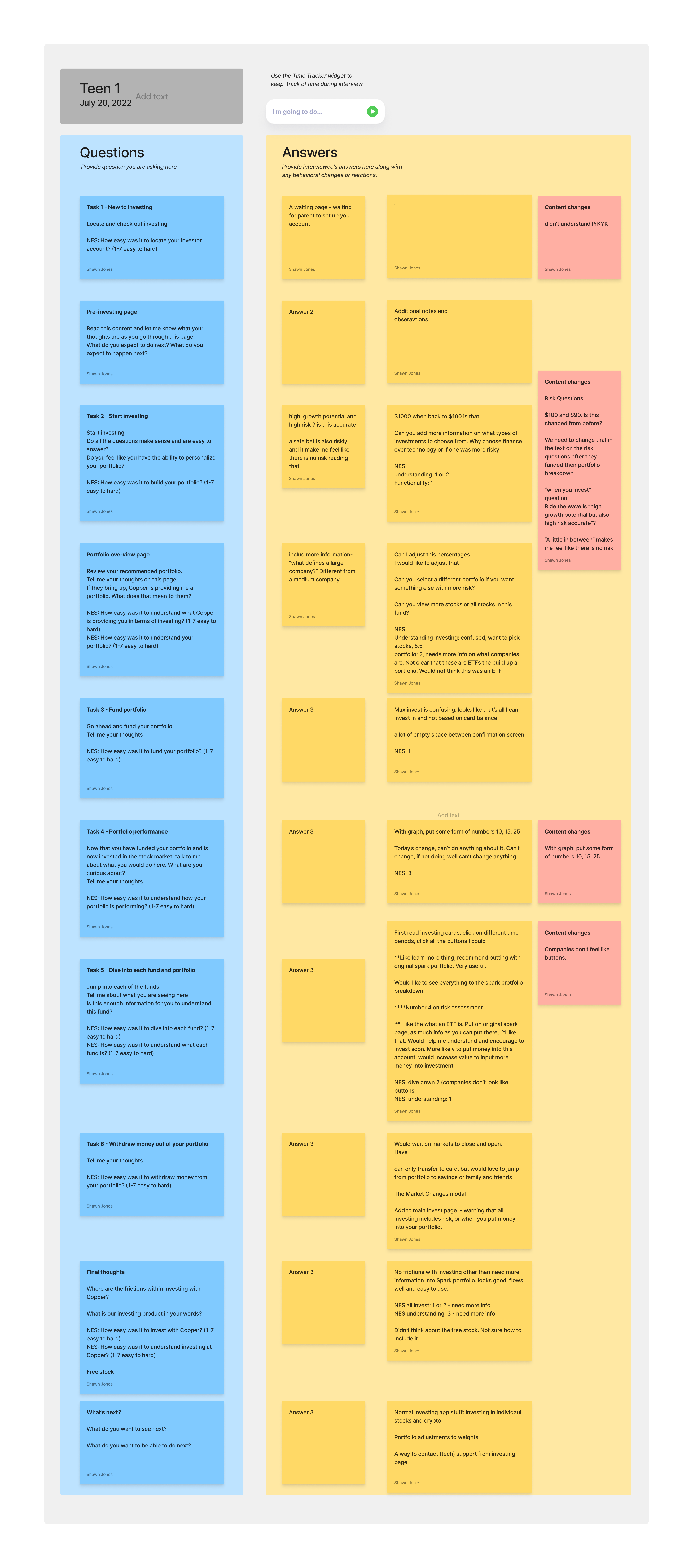 Testing designs are always the fun part because as a designer we are able to see if our designs are effective or not and how we might iterate on those to make our experience more efficient and effective. I ended up interviewing 20 teens and parents. The interviews took about 45 minutes and we incentivized our users by giving them a $10 gift card. I started by creating a framework for the interviews, which included setting up a FigJam board to collect feedback from interviews. I then created a script that I used for teens and a script for parents. I asked them a series of questions around several tasks that I wanted a user to complete in order to complete the entire investing experience. I added an Easy Score after each task so that I could know which part of the investing experience to prioritize first. An Easy Score is a great method on prioritizing iterations.
One of the areas that needed most iterations was on the task where we provide a portfolio for the teens. This was due to the teen's assumption going into our product. They assumed that they could invest in individual stocks. This was something that we knew was going to happen, but we built the tool around the teen's investing experience. We gave the teens a safe investment tool to learn investing prior to jumping into the investing world.
We iterated on the portfolio recommendation process by giving teens the proper education and information at the beginning of their onboarding. After iterating on this part of the teen investing process, we saw an Easy Score change from 6 to 2. The teens now knew exactly what they were getting into and how their money was being invested. They loved the idea of not having to search for stocks and that they could be more hands-off. This is equally as important because they are very busy with school, sports and other hobbies and they could afford more time to those things while growing their wealth in the background.
Engineering is currently developing the investing feature. I made sure to design the feature to be simple and easy to develop. This straw man feature had the core basics needed to get our vision across to our users. I worked with engineering to make sure the feature stays true to the designs. I built the plan with the Quality Assurance (Q/A) team to make sure the engineers were building the app to the exact specifications of the designs. Myself and the Q/A team have weekly checkins and input any errors on Figma where I then create a Jira ticket so that they engineering team could know what to fix.
Ending thoughts and learnings
This was one of the most exciting and collaborative projects that I have experienced. This was my first true experience of bringing a new massive feature from zero to 1. It was also an opportunity for me to grow my skills across disciplines from researcher to lead designer to product owner. At one point, I was having to dive into how to construct an investment portfolio. I found the best funds for our three recommended portfolios based on risk and time metrics. It was also gratifying to know that this product was based off my vision for Copper and how we could differentiate ourselves from the rest of the market.
Due to the sensitivity of this project, I could only share so much. I'd be happy to share more of my learnings and stats from our investing waitlist during a conversation.

Investing with Copper will be launching in September 2022.