Schwab's Action Center
Creating more engagement and interaction points between financial planning advisor and their clients
Company
Charles Schwab
Year
2019-2021
Roles
Senior UX Design Manager
UI Designer
Design Thinking Facilitator
UX Researcher
Tags
UX, UI, UX Research, Innovation, financial planning
Charles Schwab created a Financial Planning Action Center; a digital platform that allows clients who work with a Schwab Financial Consultant, Schwab Private Client Advisor, or Portfolio Solutions Group Consultant to track and complete tasks within their financial plan, communicate questions, and help work toward improving financial outcomes long-term.

The current financial planning is tool is a static experience. Investors may consult an investment professional to build a financial plan for their future. Currently, clients fill out over 40 questions within a program called MoneyGuidePro. The questions are based around a client's needs, wants and wishes. After their plan is created, clients get a likelihood of success score. After getting this score, they are given a pdf and printed document of their plan. At this point, clients usually throw this away or put it in a drawer where they never see again. When life events come up, they forget about their financial plan.

I was the lead designer on this initiative. I led the strategy and vision of the Action Center product. I also conducted research and worked with another designer to enhance the client experience.

Action Center was released on February 23rd, 2022.
The problem
How might we engage clients so that they know every step of their financial journey? How might we enable clients to interact with their financial advisors and planners when needed?
Our target audience:
Financial planning clients

Advisor-guided

Existing clients

Tech savvy
Current experience problems
MoneyGuidePro is the current tool that clients use to fill out their needs, wants and wishes and other financial planning goals. Clients answer a series of questions about their finances, lives, and family. A lot of these questions are challenging for even a financial planner to fill out. For example, one of the questions is "How long will you live in retirement", where a client is suppose to insert their retirement age as well as how long they think they will stay alive. This is an inappropriate question to ask our clients. We wanted to change some of these questions as well as creating a way for clients to stay more engaged after they fill out this MoneyGuidePro financial plan.
Financial Planning Action Center leverages technology to enhance client planning experience
To access Schwab's interactive Financial Planning Action Center, clients first schedule time to develop a customized financial plan based on their unique financial situation and goals. Once the financial plan is completed, clients will receive an invitation by email to access the Financial Planning Action Center through Schwab.com.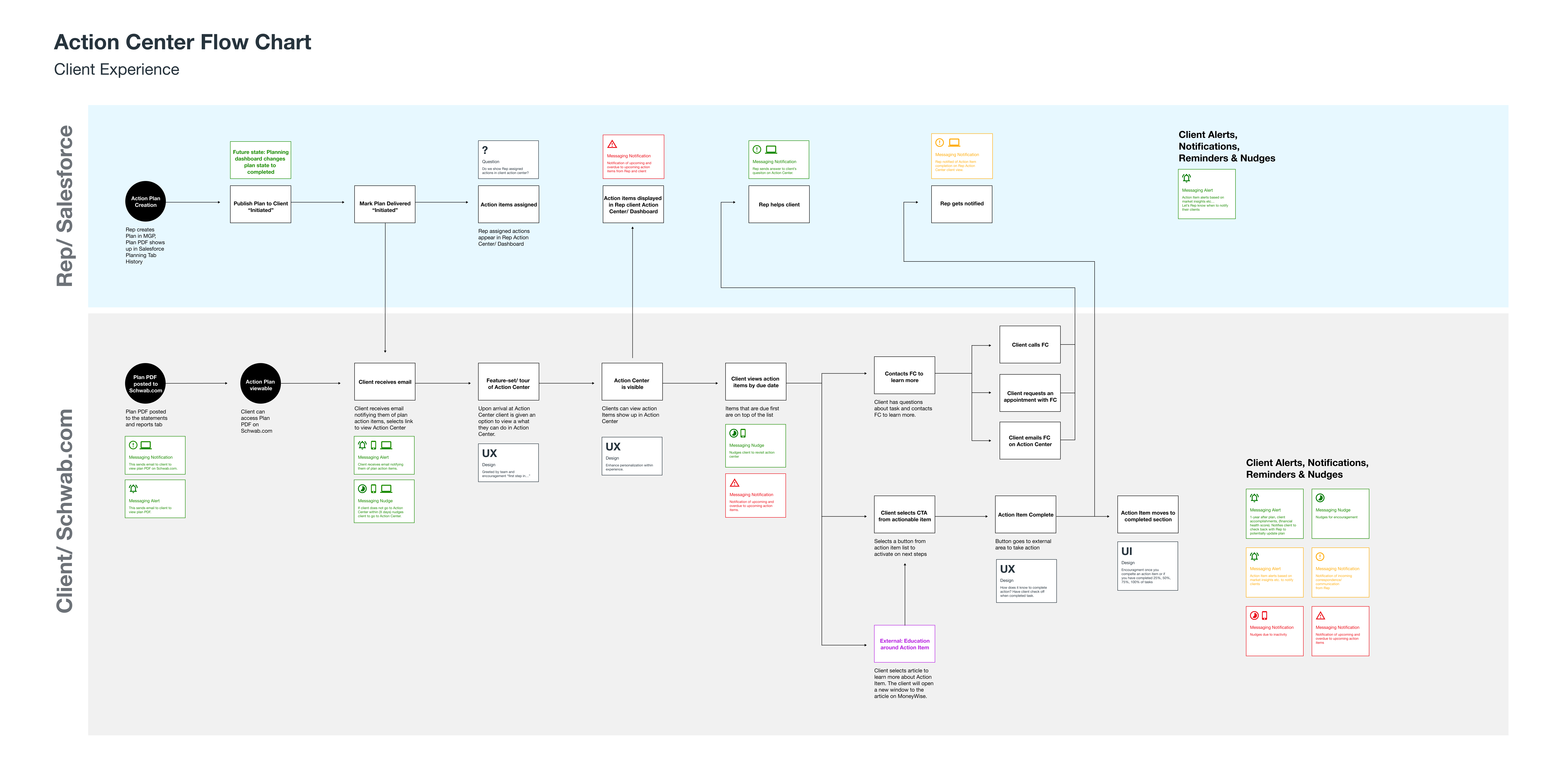 Key features of the Financial Planning Action Center include:
Digital financial planning dashboard: When accessing Schwab's Financial Planning Action Center, clients will see tasks to be reviewed, task status updates, and curated educational content. A Schwab Financial Consultant, Schwab Private Client Advisor, or Portfolio Solutions Group Consultant can add new suggested next steps and deadlines to the dashboard to help clients stay on track, such as planning for college or increasing monthly retirement savings by a target amount.


Client engagement enhancements: The Financial Planning Action Center helps inform conversation between clients and their investment professional. By displaying tasks that need to be completed and ongoing status updates, the planning experience becomes more engaging and interactive. Financial Planning Action Center also has a messaging feature to enable clients to get in touch with their investment professional, ask questions, or request an appointment.


Ongoing alerts and reminders: To help keep clients on track, the Financial Planning Action Center sends alerts and reminders by email and through the dashboard to keep them informed around incomplete tasks and target completion dates. It also gives clients the flexibility to change due dates or skip an action item as their priorities and needs change.


Time savings and planning efficiency: By enabling clients and their investment professional to review a range of tasks digitally, investment professionals can spend less time on data inputs and more time during appointments on what they do best – providing quality planning experiences.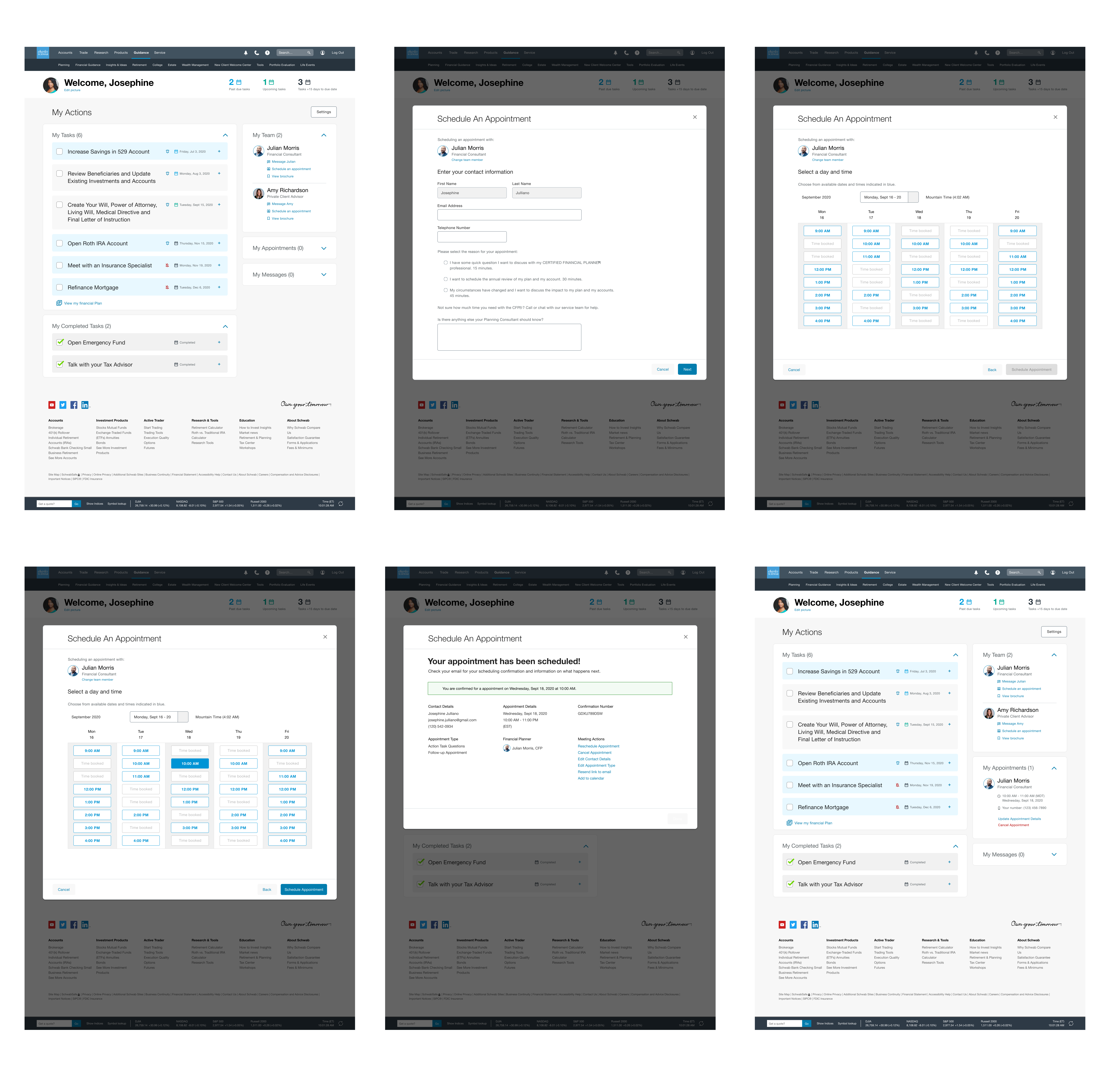 A huge success withing financial planning
Schwab has experienced unprecedented levels of client engagement with digital and mobile investing tools and services in recent years. Over the past year, there were 3.6 billion digital retail account logins across Schwab (up 33 percent year-over-year). Additionally, over 60,000 financial plans were created in 2021 through Schwab Plan, Schwab's free digital financial plan, further demonstrating the need for easy-to-use online planning tools. The Financial Planning Action Center is a new example of how the firm aims to meet investor needs to engage digitally around financial planning.